Laney Chang
Click the Buzz Me button to receive email notifications when Laney Chang appears in an article.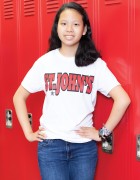 School Buzz Reporter
My name is Laney Chang, and I attend St. John's School. When I started writing for my school's newspaper as a freshman, I found that I enjoyed journalism, so I'm super excited to start reporting for School Buzz. When I'm not writing or editing articles, I'm usually singing (in either a choir or a shower), performing in our school's theater productions, or volunteering at the Houston Museum of Natural Science. Despite Houston's constant heat and humidity, I love living in this city to visit its amazing museums and eat in Chinatown.  
Articles Authored
November 2, 2020
September 10, 2019
Article Mentions
By
Jordan Magaziner Steinfeld
|
October 1, 2020
People in this article:
Zach Daube
,
Vivian Wu
,
Zaid Ali
,
David Bournat
,
Sophia Hernandez
,
Mizuki Kai
,
Ritsuki Kai
,
Zoe Kass
,
Abbi Turner
,
Blake Maillet
,
Rachel Phillips
,
Viola Holmes
,
Sana Malhotra
,
Alexis Westlake
,
Tracy Huang
,
Riya Keswani
,
Tina Li
,
Jessica Lin
,
Nitin Manian
,
Zehra Mirza
,
Surya Ramakrishnan
,
Gabriela Rodriguez
,
Dhruv Tekumalla
,
Miriam Yampuler
,
Katie Giveon
,
Halliday Mafrige
,
Caitlyn McConnell
,
Abby Cowan
,
Ryan Diamond
,
Rachel Gittleman
,
Lauren Haas
,
Simone Newar
,
Cassidy Rubenstein
,
Chris Lahoti
,
Ashley Joyce
,
Lily Cromeens
,
Lauren Fuller
,
Anna Magdalena Galli
,
Jaylenn Holmes
,
Eshaan Mani
,
Lauren Koong
,
Ethan Martinez
,
Kathryn Stone
,
Franklin Wu
,
Ellen Baik
,
Megan Benz
,
Orianna Fong
,
Hannah Kothari
,
Keeley Moore
,
Tulsi Parikh
,
Grace Stupel
,
Roohie Sheikh
,
Jasmine Sidhu
,
Abby Von Eik
,
Charlie McGill
,
Sutton Walsh
,
Mary-Ellen Abshire
,
Caitlyn Hsu
,
Laura Newcomer
,
Eleanor Yowell
,
Willow Bullington
,
Ysabel Born
,
Anna Frederickson
,
Maya Harpavat
,
Lilly Jarlsjo
,
Ava Phillips
,
Bailey Raymond
,
Anika Shethia
,
Emily Burnett
,
Laney Chang
,
Lauryn Kapiloff
,
Bailey Maierson
,
Wellsley Moore
,
Claire Pedrick
,
Rahul Rupani
,
Julia Smith
,
Louis Eagleton
,
Libby Nunez
,
Augustus Boettcher
,
Rushil Chetty
,
Carter McKenna
,
Kevin Mckenna
,
Aditi Iyer
,
Hursh Jha
,
Maria Morkas
By
Jordan Magaziner Steinfeld
|
October 1, 2019
People in this article:
Miriam Yampuler
,
Wellsley Moore
,
Libby Nunez
,
Laney Chang
,
Tyler Therriault
,
Maierson
,
Claire Pedrick
,
Aliya Robertson
,
Rahul Rupani
,
Liza Meyer
,
Morgan Brandt
,
Megan Chang
,
Ishani Shethia
,
Ariya Selvakumar
,
Jenna Baird
,
Simone Newar
,
Mary-Ellen Abshire
,
Zoe Kass
,
Reeti Mangal
,
Lemel
,
Freya Scott
,
Olivia Baba
,
Eugenie Pflieger
,
Bailey Junell
,
Eagleton
,
Nicholas Wesley
,
Jenna Talisman
,
Nina Varma