Rahul Rupani
Click the Buzz Me button to receive email notifications when Rahul Rupani appears in an article.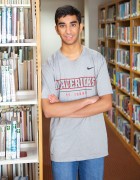 School Buzz Co-editor
My name is Rahul Rupani. I have been an active Boy Scout with Troop 125 for the past eight years and look forward to receiving my Eagle Scout soon. I am passionate about politics and government and am volunteering for a local political campaign for my district for the upcoming midterm elections. I am what many would call a "foodie" and savor all the wonderful restaurants located in Houston, particularly the Italian and Indian ones. In my free time, I like to explore books on current and international affairs, especially those concerning domestic and international security.
Article Mentions
By
Jordan Magaziner Steinfeld
|
October 1, 2020
People in this article:
Zach Daube
,
Vivian Wu
,
Zaid Ali
,
David Bournat
,
Sophia Hernandez
,
Mizuki Kai
,
Ritsuki Kai
,
Zoe Kass
,
Abbi Turner
,
Blake Maillet
,
Rachel Phillips
,
Viola Holmes
,
Sana Malhotra
,
Alexis Westlake
,
Tracy Huang
,
Riya Keswani
,
Tina Li
,
Jessica Lin
,
Nitin Manian
,
Zehra Mirza
,
Surya Ramakrishnan
,
Gabriela Rodriguez
,
Dhruv Tekumalla
,
Miriam Yampuler
,
Katie Giveon
,
Halliday Mafrige
,
Caitlyn McConnell
,
Abby Cowan
,
Ryan Diamond
,
Rachel Gittleman
,
Lauren Haas
,
Simone Newar
,
Cassidy Rubenstein
,
Chris Lahoti
,
Ashley Joyce
,
Lily Cromeens
,
Lauren Fuller
,
Anna Magdalena Galli
,
Jaylenn Holmes
,
Eshaan Mani
,
Lauren Koong
,
Ethan Martinez
,
Kathryn Stone
,
Franklin Wu
,
Ellen Baik
,
Megan Benz
,
Orianna Fong
,
Hannah Kothari
,
Keeley Moore
,
Tulsi Parikh
,
Grace Stupel
,
Roohie Sheikh
,
Jasmine Sidhu
,
Abby Von Eik
,
Charlie McGill
,
Sutton Walsh
,
Mary-Ellen Abshire
,
Caitlyn Hsu
,
Laura Newcomer
,
Eleanor Yowell
,
Willow Bullington
,
Ysabel Born
,
Anna Frederickson
,
Maya Harpavat
,
Lilly Jarlsjo
,
Ava Phillips
,
Bailey Raymond
,
Anika Shethia
,
Emily Burnett
,
Laney Chang
,
Lauryn Kapiloff
,
Bailey Maierson
,
Wellsley Moore
,
Claire Pedrick
,
Rahul Rupani
,
Julia Smith
,
Louis Eagleton
,
Libby Nunez
,
Augustus Boettcher
,
Rushil Chetty
,
Carter McKenna
,
Kevin Mckenna
,
Aditi Iyer
,
Hursh Jha
,
Maria Morkas
By
Jordan Magaziner Steinfeld
|
October 1, 2019
People in this article:
Miriam Yampuler
,
Wellsley Moore
,
Libby Nunez
,
Laney Chang
,
Tyler Therriault
,
Maierson
,
Claire Pedrick
,
Aliya Robertson
,
Rahul Rupani
,
Liza Meyer
,
Morgan Brandt
,
Megan Chang
,
Ishani Shethia
,
Ariya Selvakumar
,
Jenna Baird
,
Simone Newar
,
Mary-Ellen Abshire
,
Zoe Kass
,
Reeti Mangal
,
Lemel
,
Freya Scott
,
Olivia Baba
,
Eugenie Pflieger
,
Bailey Junell
,
Eagleton
,
Nicholas Wesley
,
Jenna Talisman
,
Nina Varma
By
Jordan Magaziner Steinfeld
|
September 28, 2018
People in this article:
Mary-Ellen Abshire
,
Zaid Ali
,
Jack Avedesian
,
Sugat Borthakur
,
Julia Boyles
,
Brady Brazda
,
Ryan Chang
,
Allison Clark
,
Rory Coyne
,
Lauryn Curl
,
Katie Davis
,
Andrew Duong
,
Bronwyn Fogarty
,
Katie Giveon
,
Puneetha Goli
,
Geneve Goltz
,
Tate Grant
,
Eric Hang
,
Arielle Harris
,
Celia Houston
,
Elliott Jones
,
Zoe Kass
,
Payton Kim
,
Reena Kudchadker
,
Hallie Lyons
,
Halliday Mafrige
,
Eli Maierson
,
Connor McGovern
,
Kevin Mckenna
,
James McWhinnie
,
Connor Morley
,
Stevie Nates
,
Isabelle Nuzzo
,
Michelle Pakel
,
Elyse Pedrick
,
Davis Rae
,
Julia Rae
,
Aliyah Robertson
,
Rahul Rupani
,
Liana Salehian
,
Merriam Scafide
,
Dania Siddiqi
,
Anna Siegel
,
Ishani Shethia
,
Jenna Talisman
,
Amber Thomas
,
Kelly Thomas
,
Abbi Turner
,
Vivian Wu
,
Miriam Yampuler