Dania Siddiqi
Click the Buzz Me button to receive email notifications when Dania Siddiqi appears in an article.
School Buzz Reporter
My name is Dania Siddiqi, and I am currently a sophomore at St. Agnes Academy. I started to develop a love for writing just around the same time I developed a passion for speaking. I found that I when I write speeches for class down, my speaking points flourish during class presentations. I am excited to write for School Buzz because I am new at St. Agnes, and I think that exploring writing while discovering my new school will be a great experience for me. I play field hockey, but this year I am the Junior Varsity Gold team manager. I am also on the Speech and Debate team. A fun fact about me is that I am Muslim and I have gone to three very different Christian schools. Being in an environment that I am not used to has been an amazing experience and has taught me and those around me to be kind and open-minded. What I love about living in Houston is the diversity! I live in a 15-mile radius from one synagogue, two Hindu temples, three Buddhist temples, four mosques and countless churches. Only in Houston can you find people from different backgrounds coming together to create a welcoming community. What makes St. Agnes stand out is how diverse our student body is! There are around 950 young women with many different faith and cultural backgrounds and yet we all come together every day. Not only that, the girls here play a variety of sports from archery to horse-back riding. There is such a diversity in background as well as what we are interested in. 
Articles Authored
June 1, 2018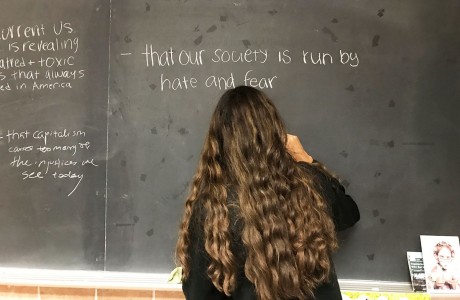 December 11, 2017
October 2, 2017
Article Mentions
By
Dania Siddiqi
|
June 1, 2018
By
Annie Blaylock McQueen
|
August 22, 2016
People in this article:
Rafiq Hamzeh
,
Michael Artlip
,
Madelyn Scholtes
,
Abbey Sizemore
,
Madeline Bollinger
,
Abby Lynch
,
Laith Elserag
,
Catherine Andrews
,
Tara Arora
,
Charlotte Hoebig
,
Spencer Scheps
,
Diego Garcia-Moros
,
Nicholas Janssen
,
Jamesy Trammell
,
Lauren Lotze
,
Gigi Gaetti
,
Abby Bailey
,
Joseph Stiles
,
Connor Hrachovy
,
Riley Harrison
,
Audrey Leonard
,
Will Walmsley
,
Giselle Henry
,
Natalie Gonzales
,
Ashley Mamuko
,
Emma Birdwell
,
Lani McHenry
,
Dania Siddiqi
,
Raegan Roylance
,
Paul Champagne
,
Sterling Smith
,
Josh Boihem
,
Duncan Green
,
Jake Klucznik
By
Jordan Magaziner Steinfeld
|
March 3, 2016