Claire Lemel
Click the Buzz Me button to receive email notifications when Claire Lemel appears in an article.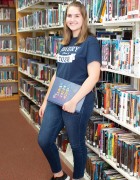 School Buzz Reporter
Hi! My name is Claire Lemel and I am a senior at the Emery/Weiner School. Outside of school, I enjoy doing musical theatre, baking, writing yelp reviews, and snuggling my crazy cat, Digit. A fun fact about me: I am slightly obsessed with wedding dresses and engagement rings (though I don't intend on getting married anytime soon)! In the future, I plan on studying Communications and Journalism and I hope to one day work as a Broadcast Journalist. I love creative writing in school and I am excited to explore Journalism through the School Buzz!