Brady Brazda
Click the Buzz Me button to receive email notifications when Brady Brazda appears in an article.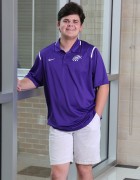 School Buzz Reporter
I am a senior at The Kinkaid School this year. When my mom entered a funny story I had written into an essay contest in third grade and it won was when I thought writing was a cool thing to do. Knowing that someone (other than her) liked my writing and that it was published in a book was exciting. Two years ago, my older sister, who was Editor-In-Chief of the school newspaper, said how fun it would be to take journalism together. So, I enrolled, and I was the only freshman. I will be returning in my fourth year as a staffer of The Falcon and student in journalism. I look forward to being a School Buzz reporter so that my writing will improve and I will have the chance to highlight Kinkaid as such a standout high school. It offers such a variety of classes and activities to be involved in, ones that can be new for students. I had never done anything musically and ended up learning and playing cello in orchestra, took art classes such as an intro mixed media, printmaking, and (this year) ceramics 3. Lacrosse, football, and soccer were also new sports that I tried and really enjoyed. I will be playing in varsity tennis this year. My hobbies include following all sports, playing some video games, and volunteering in the city's youth tennis program called NJTL. I work for the Juan Bracho Tennis Academy in Bellaire during summers and every Sunday during the school year with younger tennis players. A fun fact about myself is that I love to cook and I met Guy Fieri when he came to Houston to tape Diners, Drive-ins, and Dives at Kenny and Ziggy's..
Article Mentions
By
Brady Brazda
|
October 22, 2018
People in this article:
Tyler Baldridge
,
Gleith Cozby
,
Callie Rosenthal
,
Tatum Branaman
,
Jake Adamson
,
Brady Brazda
,
Kate Carmain
,
Charlotte Carr
,
Merritt Cozby
,
Nicholas Dillon
,
Arden Fayard
,
Jonathan Frumovitz
,
Gabriella Fuller
,
Lila Griggs
,
Alice Hogan
,
Jackson Lane
,
Allison Le
,
Jacob Magelssen
,
Jack Mitchell
,
Lauren Moak
,
Ameer Mustafa
,
Chase Pelter
,
Katherine Sarvadi
,
Molly Smith
,
Emma Stout
,
Skylar Swanson
,
Louisa Zaharia
By
Jordan Magaziner Steinfeld
|
September 28, 2018
People in this article:
Mary-Ellen Abshire
,
Zaid Ali
,
Jack Avedesian
,
Sugat Borthakur
,
Julia Boyles
,
Brady Brazda
,
Ryan Chang
,
Allison Clark
,
Rory Coyne
,
Lauryn Curl
,
Katie Davis
,
Andrew Duong
,
Bronwyn Fogarty
,
Katie Giveon
,
Puneetha Goli
,
Geneve Goltz
,
Tate Grant
,
Eric Hang
,
Arielle Harris
,
Celia Houston
,
Elliott Jones
,
Zoe Kass
,
Payton Kim
,
Reena Kudchadker
,
Hallie Lyons
,
Halliday Mafrige
,
Eli Maierson
,
Connor McGovern
,
Kevin Mckenna
,
James McWhinnie
,
Connor Morley
,
Stevie Nates
,
Isabelle Nuzzo
,
Michelle Pakel
,
Elyse Pedrick
,
Davis Rae
,
Julia Rae
,
Aliyah Robertson
,
Rahul Rupani
,
Liana Salehian
,
Merriam Scafide
,
Dania Siddiqi
,
Anna Siegel
,
Ishani Shethia
,
Jenna Talisman
,
Amber Thomas
,
Kelly Thomas
,
Abbi Turner
,
Vivian Wu
,
Miriam Yampuler
By
Jordan Magaziner Steinfeld
|
September 29, 2017
People in this article:
Eric Hang
,
Miriam Yampuler
,
Marie Collazo
,
Anna Rosenfeld
,
Deena Ali
,
Kelly Thomas
,
Sarah Birenbaum
,
Nicki Miller
,
Reena Kudchadker
,
Claire Furse
,
Emily Villarreal
,
Bronwyn Fogarty
,
Andi Minter
,
Jenna Talisman
,
Katie Davis
,
Liana Salehian
,
Maya Kanani
,
Madeline Muschalik
,
Zaid Ali
,
Prithvi Krishnarao
,
Eli Maierson
,
Allison Clark
,
Amin Abou-Gallala
,
Abigail Standish
,
Brady Brazda
,
Gracie Blue
,
Mackenzie McAnear
,
Lila Gutman
,
Kelli Reichert
,
Susannah Wilson
,
Emily Marquines
,
Mary Boneno