Ryan Chang
Click the Buzz Me button to receive email notifications when Ryan Chang appears in an article.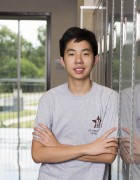 Contributing writer
|
School Buzz Reporter
Born and raised in Houston, Texas, Ryan Chang has always loved writing. He spent much of his childhood reading books and writing short stories about his favorite characters. That love of writing has led him to become one of the Online Editors-in-Chief of his high school's newspaper, The Review. Ryan believes that writing is essential for educating and informing communities, and this belief has led him to pursue writing for The Review, The Buzz, and the DeBakey Cardiovascular Journal. A senior at St. John's, Ryan enjoys writing, playing tennis, running, and watching movies.