2018 Buzz Summer Interns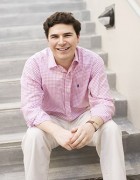 Click the Buzz Me button to receive email notifications when this writer publishes a new article or a new article in this column is published.
You probably saw our articles on The Buzz Magazines' website and photos of us on social media throughout the summer as we've worked daily to publish Buzzworthy stories. I've been part of a team of seven other interns this summer ranging from high school to college aged students. We've gone out and explored Houston and written about the latest buzzworthy things happening this summer. From spotlighting Buzz residents to giving tips and tricks to escape the summer heat, Buzz interns have written numerous articles that were featured in Morning Buzz, some of which were among the most-viewed stories on The Buzz's website this summer.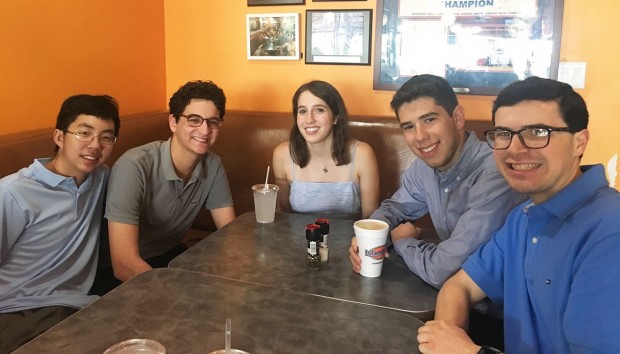 Starting with me, my name is Benjamin Cohen. I am a rising sophomore at The University of Texas at Austin majoring in broadcast journalism. After interning at The Buzz in the summer of 2016 when I was a rising senior at The Emery/Weiner School, I decided to return this summer to further my writing and gain more experience. I have certainly noticed a difference between my internship in 2016 and my internship this summer; I am much better at pitching stories and completing articles in a timely manner. I have found that as I grow older, I gain a better understanding of life and a new sense at how to approach a story, both of which played into my internship this summer. I am proud to say that I achieved many of my goals while interning at The Buzz this summer, including getting more writing and reporting experience that will help me as I continue my studies in broadcast journalism. (See all Ben's articles here.)
Here's a bit more about the other interns that I worked with this summer:
Abby is an incoming freshman at American University in Washington D.C. A recent graduate of The Emery/Weiner School where she served as School Buzz editor, Abby first spent a week at the Buzz during Emery's senior year internship week. "During that week, I developed a new love for writing articles and sharing what's happening with the Buzz community," Abby said. After enjoying her time during the spring, Abby decided to return to further develop her writing and love of exploring all that Houston has to offer. Abby's goal going into this summer was to gain writing and reporting skills, along with having some stories featured in The Buzz. She is happy to say that both of those goals were achieved, and she is most proud of earning many bylines and gaining invaluable writing samples. When she wasn't at The Buzz, Abby could be found working out at LA Fitness in the morning, walking her Pembroke Welsh Corgi, trying out new restaurants and working at Altar'd State as a sales associate. Abby enjoyed her time at The Buzz and one of her favorite experiences was checking out the Big Bambú Exhibit at the Museum of Fine Arts with fellow Buzz intern Kelly Thomas. 
A rising senior at St. Agnes Academy and School Buzz editor, Kelly is driven by her passion for photography and writing, which led her to The Buzz internship program. "I am most proud of the articles that I've worked on," she said. "Working at the Buzz is a unique opportunity, since not many other places give high school students the opportunity to have their articles published. So, I feel especially proud of having had the opportunity to have my articles published." Throughout the summer, Kelly learned many valuable lessons, including how to develop a story from a small idea to a finished article that's interesting. Going into this internship, Kelly's goals were to get her writing published and be able to have some of her photos published as well. She is proud to have achieved both of those goals and to have learned so much during her time at The Buzz.
Nathan is a recent graduate of The Emery/Weiner School and an incoming freshman at Boston University. Following Emery's internship week program, in which Nathan spent a week at The Buzz, "I enjoyed it so much that I decided to continue interning here over the summer," said Nathan. After spending over a month at The Buzz this summer, Nathan has picked up many of the aspects that make a great journalist. He learned how to come up with article ideas on the spot and run with them, no matter where the story might take him. Nathan also found that one of the most challenging parts was coming up with compelling story ideas. Aside from the internship, Nathan enjoys hanging out with his friends, going to the movies, and spending time with his family. Nathan is very excited to continue his interest in writing at Boston University, where he is majoring in journalism.
Jack is entering his senior year of high school at The Emery/Weiner School, and after interning at The Buzz this summer, said he feels more confident in his ability to be a journalist in the future. Jack came into this internship with goals to get hands-on experience with journalism, improve his communication skills and work well with a group of others. Jack is proud to have accomplished these goals and to have learned so many valuable lessons. Working alongside other interns, Jack explained, "I have learned how to function better as a group and improved my communication and research skills. Being with the Buzz has been exciting and an adventure each and every day, and has taught me lessons about how to conduct journalism in the future." He is most proud of his article about volunteer opportunities because the hard work he put into compiling the information paid off in the end, when the finished story was published. He will be part of Emery's School Buzz team this year.
Julia is an incoming senior at Memorial High School. Julia decided to intern at The Buzz because of her interest in journalism and her drive to learn more about the industry. Among the many things that Julia learned while at The Buzz, she explained, "I have learned more about how to appeal to a specific audience and how to keep them intrigued in my writings." While the most challenging part of the internship for Julia was how self-driven the internship was and how you had to be very creative with your topics to make them interesting, Julia is proud that through this experience, her writing has grown. In addition to The Buzz internship, Julia also took summer classes at New York University in New York City. Julia hopes to continue pursuing her interest in journalism through her work on the school yearbook, her new role as Student Body President and through the School Buzz blog.
Ryan is a rising senior at St. John's School who enjoys writing, soccer and movies. After hearing about The Buzz summer internship program from a friend, Ryan joined the team of interns hoping to hone in on his reporting and writing skills. Ryan's time at The Buzz was insightful. "I've learned how to cover events throughout the city and write about them in a way that appeals to a specific audience," he said. Ryan noted that the most challenging part was finding article ideas, but after a successful summer at The Buzz, Ryan is proud that he was able to achieve his goal of reporting in the city, and will continue as a School Buzz correspondent.
Eli is a rising senior at St. John's School. This was Eli's second summer interning at The Buzz. He decided to return this summer because he has a genuine passion for journalism. He noted, "Working at a real magazine has helped improve my writing and my brainstorming." During his time as an intern, Eli learned how to write in a way that appeals to the Buzz audience. Out of the many things that Eli did during his internship, he is proud of the fact that he was able to cover the temporary exhibits at the Houston Museum of Natural Science two summers in a row (see this year's article here and last summer's article here). Eli also experienced quite the adventure while covering the Memorial Fourth of July Parade, which went on as planned even though heavy rain caused street flooding throughout the city. "I can't lie; being stuck in an Uber for nearly three hours during the floods on the 4th of July wasn't my best summer experience. In hindsight, however, my voyage with my driver Tilahun was easily the most memorable," Eli said. Outside of The Buzz, Eli enjoys writing, basketball, and watching movies that he later reviews for St. Johns' school newspaper.
High school students, if you're interested in gaining hands-on journalism experience, check out the School Buzz blog and apply now.
Want more buzz like this? Sign up for our Morning Buzz emails.
To leave a comment, please log in or create an account with The Buzz Magazines, Disqus, Facebook, Twitter or Google+. Or you may post as a guest.