Intern Chronicles: Fourth of July Adventure
Click the Buzz Me button to receive email notifications when this writer publishes a new article or a new article in this column is published.
The Buzz Magazines assigned intern Eli Maierson, an incoming senior at St. John's School, to cover the Memorial Villages' parade on Fourth of July along with his friend Eric Hang, also an incoming senior at St. John's. We knew there were chances of rain and told Eli and Eric to prioritize their safety and head home (or stay home in the first place) if the weather worsened. Little did we know the rain would be continuous and streets would flood. See below for Eli's chronicle of his Fourth of July adventure:
7:45 a.m.: I roll out of bed, exhausted, but excited to cover the Memorial Villages' parade for The Buzz Magazines.
7:55 a.m.: I eat a quick breakfast as I review my plan for the day: Uber to the parade, take pictures, Uber back and be home by 10:45 a.m. I was so naive.
8:20 a.m.: I hop in an Uber and get to the parade in only 20 minutes.
8:45 a.m.: It is already drizzling, and there is no cover from the rain. I realize far too late that I am woefully unprepared.
8:55 a.m.: A group of runners slosh through puddles. I question their sanity.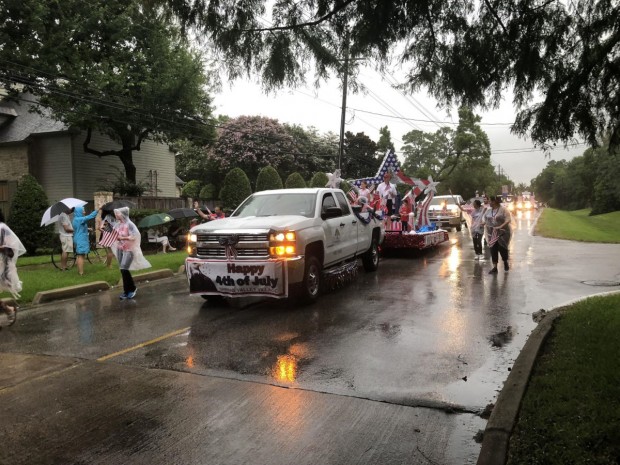 9 a.m.: The parade kicks off as brave men and women ignore the rain to celebrate their country.
9:25 a.m.: The brave men and women are gone. It's pouring and I'm alone waiting for another Uber.
9:37 a.m.: I blindly stumble my way across the street and finally enter the Uber. I meet a lovely man named Tilahun.
10:04 a.m.: We pull into the parking lot of an office building to see if the rain will die down. Spoiler alert: it doesn't.
10:16 a.m.: We start traveling down the access road instead of avoiding the flooding through the highway. I question this decision.
10:25 a.m.: We pull into a different parking lot to see if the rain will stop. Spoiler alert: it still doesn't.
10:26 a.m.: Tilahun laughs as we drive into two-foot deep waters. His bravery fascinates me; I'm scared out of my mind.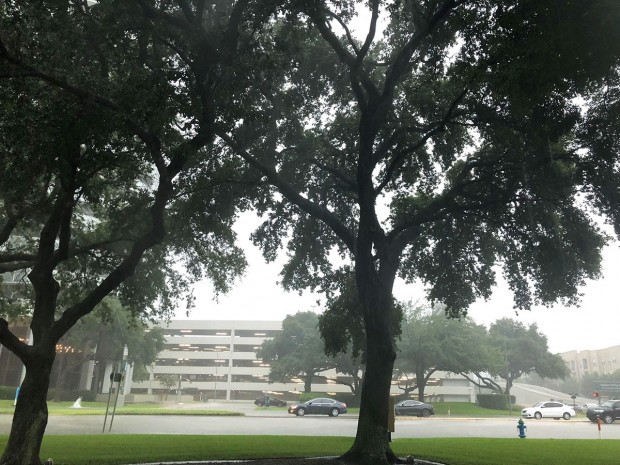 10:36 a.m.: I start planning how much I want to tip Tilahun. I am completely prepared to give up my college tuition for him.
10:37 a.m.: We enter Highland Village and pass Pinkberry (which I get later that night to celebrate my survival). Also, it's the one-hour anniversary of me entering the Uber!
11:03 a.m.: In order to pass the time, I strike up a lively conversation with my dad about how disgusting hot-dog eating competitions are.
11:08 a.m.: We stop in yet another parking lot. My dad leaves the house to try to pick me up.
11:15 a.m.: Cars are stranded all over Edloe, so we try to wait out more of the storm.
11:20 a.m.: Tilahun and I don't talk much, but we're still best friends.
11:43 a.m.: My dad is a mile away and the water is too deep to get to each other. Hour 2 in the Uber comes and goes.
12:00 p.m.: It's still raining.
12:01 p.m.: It's still raining.
12:02 p.m.: It's STILL raining!
12:14 p.m.: The water on Edloe dies down a bit. After some death-defying driving, we are back on our way.
12:23 p.m.: I feel like I'm crossing the Red Sea, but this time they forgot to part it.
12:30 p.m.: My dad meets us at Kirby and Plumb, and the Uber adventure is finally over. Total runtime is 2 hours and 53 minutes.
12:44 p.m.: Finally home! Time to celebrate by lying in bed for 5 hours.
See Eli and Eric's recap of the Memorial parade. Our other Buzz interns were troopers, too; see the recap of the West U bike parade and the Bellaire parade. 
(Don't worry, Eli, we're covering that Uber bill. Plus writing all of our dedicated interns one heck of a college recommendation letter.) 
Want more buzz like this? Sign up for our Morning Buzz emails.
To leave a comment, please log in or create an account with The Buzz Magazines, Disqus, Facebook, Twitter or Google+. Or you may post as a guest.