Tate Grant
Click the Buzz Me button to receive email notifications when Tate Grant appears in an article.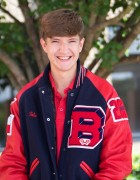 School Buzz Reporter
My name is Tate Grant. I'm a native Houstonian. Prior to enrolling at The Briarwood School, I attended elementary school  in Cy-Fair ISD. I like dogs and I have a Westie named Clyde. I also like all sports, especially tennis which is a favorite. I love spending time at my bay house in Sargent and enjoy all water sports. I am an active member at Second Baptist Church - Cypress campus - where I volunteer working with 1st through 4th graders. I am looking forward to my junior year at The Briarwood School and writing for School Buzz. Go Mustangs!
Article Mentions
By
Jordan Magaziner Steinfeld
|
September 28, 2018
People in this article:
Mary-Ellen Abshire
,
Zaid Ali
,
Jack Avedesian
,
Sugat Borthakur
,
Julia Boyles
,
Brady Brazda
,
Ryan Chang
,
Allison Clark
,
Rory Coyne
,
Lauryn Curl
,
Katie Davis
,
Andrew Duong
,
Bronwyn Fogarty
,
Katie Giveon
,
Puneetha Goli
,
Geneve Goltz
,
Tate Grant
,
Eric Hang
,
Arielle Harris
,
Celia Houston
,
Elliott Jones
,
Zoe Kass
,
Payton Kim
,
Reena Kudchadker
,
Hallie Lyons
,
Halliday Mafrige
,
Eli Maierson
,
Connor McGovern
,
Kevin Mckenna
,
James McWhinnie
,
Connor Morley
,
Stevie Nates
,
Isabelle Nuzzo
,
Michelle Pakel
,
Elyse Pedrick
,
Davis Rae
,
Julia Rae
,
Aliyah Robertson
,
Rahul Rupani
,
Liana Salehian
,
Merriam Scafide
,
Dania Siddiqi
,
Anna Siegel
,
Ishani Shethia
,
Jenna Talisman
,
Amber Thomas
,
Kelly Thomas
,
Abbi Turner
,
Vivian Wu
,
Miriam Yampuler