Advice for Freshmen from a SJS Senior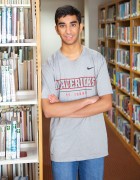 Click the Buzz Me button to receive email notifications when this writer publishes a new article or a new article in this column is published.
All of us have been there. The transition from middle to high school is daunting…I know. I've been there myself. As a freshman, you will find yourself trying to navigate the waters of the giant ocean known as high school. Have no fear, hopefully these tips will help you through the beginning of this intricate journey.
Recently, I had a conversation with Mehak Batra, a senior at St. John's School. Batra, who has been a student at St. John's School for three years, shared some tips she believes all freshman could benefit from. 
Community is Key
 
"It's really important to be involved in the school community, whether it's going to football games, joining cultural clubs, or engaging with community service," Batra said. "School community is really important and the more integrated you are in the school community, the more positive you feel about it and yourself."
Batra, who transferred to SJS as a sophomore, believes that integrating herself into the community helped ease the transition. 
"One of the most important parts of feeling comfortable at St. John's was being told to really interact with everybody," Batra said. 
Don't put all of your eggs in one basket
"Another part of doing well in high school in general is to branch out just so you know that you've tried everything else out. I'm a debater, I love history and English, but I tried out harder STEM classes just to give myself a challenge and I really enjoyed those," she said. "Trying different things out, putting yourself out there, and challenging yourself can sometimes be the most enjoyable things you do in high school and really change your perspective on a lot of other things." 
Time Management is your Friend
"It is different for everybody. Time management can [include] scheduling when you need to go see a teacher or when you need to come to school on time, things to keep yourself at pace so you don't get overwhelmed one day and just break down. Time management also goes hand in hand with mental wellness."
Batra strongly believes that effectively balancing school and your outside life can lead to a less overwhelming day. 
"If you need a fifteen minute break, schedule that in so you feel you have a time and space where you feel okay and comfortable," Batra said. "Schedule time for yourself and your mental health so you don't feel stressed."
Know Your Limits 
"Do not push yourself to take the hardest classes and bulldoze your way through high school. High school is definitely an experience and if you are going to survive four years of it, you need to do things that might not be the hardest things but make you interested. Remember that life is about balance. Personally for me, the years I take harder classes, even if they are all great classes, I feel stretched and I'm not able to devote the time I want to that "one class."
"Really invest in want you want to invest in and have fun where you need to have fun," Batra said.
My final thoughts:
When I entered high school, I had no clue what to expect, however, despite all the horror stories I heard about homework and expectations, I tried to keep an open mind through it all, and I highly encourage you to do the same. Do not let you weakness or previous experiences from middle school be the reason you don't try something new. Stepping out of your comfort zone and meeting new people can be one of the most rewarding experiences of your life, but most importantly, go have fun!
Want more buzz like this? Sign up for our Morning Buzz emails.
To leave a comment, please log in or create an account with The Buzz Magazines, Disqus, Facebook, Twitter or Google+. Or you may post as a guest.