Riya Keswani
Click the Buzz Me button to receive email notifications when Riya Keswani appears in an article.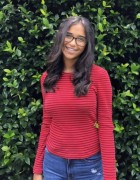 School Buzz Reporter
My name is Riya Keswani and I'm a sophomore at Carnegie Vanguard High School. I discovered my love for writing at a young age when I used to write stories for my sisters to perform. Since then, my passion for writing has evolved into a love for journalism and the press. When I'm not writing, I love to play volleyball, watch old films, interior decorate, sing, and play the drums. I moved from a small town to Houston four years ago and I immediately loved the city life and diversity in terms of people, food, and places. Carnegie is the perfect school for me because it really embodies the diversity of Houston through its students. 
Article Mentions
By
Jordan Magaziner Steinfeld
|
October 1, 2020
People in this article:
Zach Daube
,
Vivian Wu
,
Zaid Ali
,
David Bournat
,
Sophia Hernandez
,
Mizuki Kai
,
Ritsuki Kai
,
Zoe Kass
,
Abbi Turner
,
Blake Maillet
,
Rachel Phillips
,
Viola Holmes
,
Sana Malhotra
,
Alexis Westlake
,
Tracy Huang
,
Riya Keswani
,
Tina Li
,
Jessica Lin
,
Nitin Manian
,
Zehra Mirza
,
Surya Ramakrishnan
,
Gabriela Rodriguez
,
Dhruv Tekumalla
,
Miriam Yampuler
,
Katie Giveon
,
Halliday Mafrige
,
Caitlyn McConnell
,
Abby Cowan
,
Ryan Diamond
,
Rachel Gittleman
,
Lauren Haas
,
Simone Newar
,
Cassidy Rubenstein
,
Chris Lahoti
,
Ashley Joyce
,
Lily Cromeens
,
Lauren Fuller
,
Anna Magdalena Galli
,
Jaylenn Holmes
,
Eshaan Mani
,
Lauren Koong
,
Ethan Martinez
,
Kathryn Stone
,
Franklin Wu
,
Ellen Baik
,
Megan Benz
,
Orianna Fong
,
Hannah Kothari
,
Keeley Moore
,
Tulsi Parikh
,
Grace Stupel
,
Roohie Sheikh
,
Jasmine Sidhu
,
Abby Von Eik
,
Charlie McGill
,
Sutton Walsh
,
Mary-Ellen Abshire
,
Caitlyn Hsu
,
Laura Newcomer
,
Eleanor Yowell
,
Willow Bullington
,
Ysabel Born
,
Anna Frederickson
,
Maya Harpavat
,
Lilly Jarlsjo
,
Ava Phillips
,
Bailey Raymond
,
Anika Shethia
,
Emily Burnett
,
Laney Chang
,
Lauryn Kapiloff
,
Bailey Maierson
,
Wellsley Moore
,
Claire Pedrick
,
Rahul Rupani
,
Julia Smith
,
Louis Eagleton
,
Libby Nunez
,
Augustus Boettcher
,
Rushil Chetty
,
Carter McKenna
,
Kevin Mckenna
,
Aditi Iyer
,
Hursh Jha
,
Maria Morkas