Charlie McGill
Click the Buzz Me button to receive email notifications when Charlie McGill appears in an article.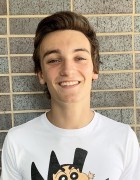 School Buzz Reporter
Hi my name is Charlie McGill, and I'll be one of the school journalists for The Post Oak School this year. A little bit about myself: I love to write, and it's something I've wanted to do since I was little. Reading novels got me very interested in creative writing, even though today I'm more interested in essay writing. I love to play basketball, I play for my school and AAU, and I love discuss politics and real world issues. I'm a huge cat lover; my cats are my favorite beings on this Earth. Lastly, I go to the most unique school in Houston. My favorite part of my school is its internship programs, which allow me to work with awesome organizations such as The Buzz or UH.