School Buzz
Meet our 2020-21 correspondents
Click the Buzz Me button to receive email notifications when this writer publishes a new article or a new article in this column is published.
When The Buzz's editorial team considered the new class of correspondents for the 2020-21 School Buzz blog – our program for high school students to report on what's happening at their campuses – we realized it wouldn't be like any other year. This fall, some students and teachers are in physical classrooms, wearing masks; some are learning virtually only; some are taking a hybrid approach. (And who knows if things will have changed by the time this issue goes to press?) 
Every fall for the last seven years, The Buzz has coordinated a group photo shoot to kick off a new year of School Buzz, a fun excuse to meet the new student reporters and editors in person and catch up with those returning from the previous year. This fall, we skipped the group photo shoot due to Covid-19 concerns. In our communication with the 2020-21 correspondents, we shared our belief that this group's articles for School Buzz will be more important than ever. Their stories, capturing students' perspectives on school during the pandemic, will be even more valuable and interesting to the larger community, and we encouraged them all to take advantage of this opportunity through their reporting. 
And already, they have begun. At thebuzzmagazines.com/school-buzz, you'll find stories about ways students have stepped up to help, learned new skills and transformed school traditions, clubs and events. Through this blog, students have a platform to highlight their schools, friends, teachers and viewpoints and share them with all of us. Check out the School Buzz blog to read their stories.
Here, some of our correspondents reflect on how they spent their extra time during quarantine and what they're looking forward to reporting on this year: 
Vivian Wu
The Awty International School, editor
"These unprecedented times have taught me the importance of initiating communication. Surrounded by other kids in school, it was easy to feed off of other people's energy at the picnic tables during lunch or on the field during lacrosse practice. However, quarantine forced everyone into isolation and made communication harder. During Zoom classes, it wasn't uncommon for silence to follow the teacher asking a question, and in group chats [with my friends], it wasn't uncommon to struggle with a lack of topics to talk about. But as this new reality becomes the norm, I've learned that putting effort into communication is key to building and maintaining relationships. Simple actions like emailing teachers to catch up over the summer or sending voice memos about your funny dreams to the group chat make all the difference in times like this when we need one another more than ever."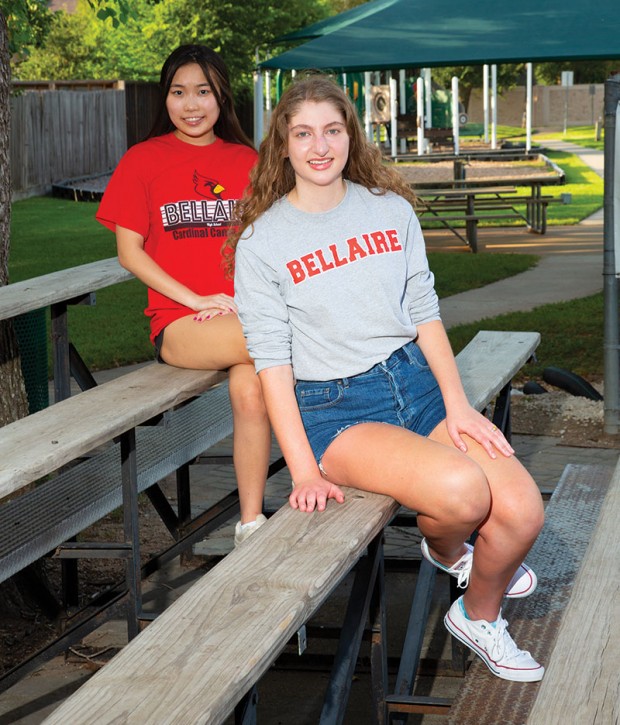 Mizuki Kai
Bellaire High School, co-editor
"The pandemic brought an unexpected reunion of my family. My freshman year, my dad moved away to Tokyo for his job. Now, he works in Boston, and I only get to see him once a month. With this pandemic, my dad flew into Houston mid-March and has been staying with us since, working at home. My mom has also been working at home, along with me and my brother with online school. My family has grown closer than ever before, and this pandemic brought us together for my final year of high school before I leave for college."
Zoe Kass
Bellaire High School, co-editor
"A few months ago, I was content not to think about taxes until I was, well, a tax-paying adult. That is until I joined fellow menstrual equity advocates to establish the Texas Menstrual Equity Coalition – a group of individuals and organizations fighting to end period poverty. During the pandemic, we have been meeting virtually with lawmakers about writing and refiling a bill ending the Tampon Tax. I've spent my summer researching Texas's budget, trying to wrap my head around why billboard rent, dandruff shampoo, and architectural fees are tax-exempt, but pads and tampons are not! I've learned that lawmakers are rarely excited about tax cuts and are more than happy to use a pandemic as a reason not to make them – even when this unconstitutional tax hurts their already suffering constituents. My 'taxing' summer has broadened my horizons and kept me socially connected; I just hope it pays off (literally)!" 
Abby Cowan
The Emery/Weiner School, reporter
"The best thing the Covid-19 pandemic gave me was time – to learn, to think, and most importantly, to try new things. Before the pandemic, I was stuck in the rut of my routine. I would go to school, then tennis practice, do my homework, and do it all again the next day. Weirdly enough, the pandemic brought me time to pursue endeavors I always wanted to try but never could find the time to before. Rather than make life more mundane, the stay-at-home order became the impetus for change that I was craving. With the cancellation of my summer plans, I had to seek opportunities at home. I got a job, an internship at The Buzz Magazines, and finally started a passion project, an Instagram food blog called @abbysapron. I had never carved out the time for these pursuits before the pandemic, and without Covid-19 I may never have."
Miriam Yampuler
Carnegie Vanguard High School, editor
"Wake up at 5:30 a.m. to run. Catch the bus by 6:30. Read and answer any emails during the 1.5-hour ride. Take classes until 4, using lunch periods to study and run clubs. Go to dance until 6. Walk to a coffee shop to do homework and make it home by 9 to do more work. This non-stop lifestyle was all I was used to. When Corona threw a wrench in my plans, everything stopped at breakneck speed. Now with days filled with family and work instead of school, this pause in life has allowed me to understand that productivity does not estimate my worth. I am learning that so many things in life matter more than accolades and constant studying: family, friends and health." 
Caitlyn McConnell
Duchesne Academy of the Sacred Heart, editor 
"This summer was supposedly my last as a camper at Camp Lonehollow. I was looking forward to escaping the harsh reality of our world today and spending time with friends who were not on a screen. When our camp permanently closed because of Covid, I turned to my passion in film – watching countless movies and writing a screenplay inspired by my camp experiences. Next year, I'm proposing a classic film club at Duchesne, to collaborate with my Duchesne classmates who share a love of movies. Time will tell if my screenplay is any good. The thing I most look forward to is getting back on campus with my classmates and sharing experiences in person!" 
Kevin McKenna
Strake Jesuit College Preparatory, sports reporter 
"Coronavirus precautions caused the cancellation of my summer volunteerism as a counselor at Camp Blessing, which helps special-needs youth. My brother Carter [who's also on the Strake School Buzz team] and I wanted to make a difference in our community but realized we would have to accomplish this through safe boundaries. We created an outreach program called "Men for Elders" to connect with Strake Jesuit's oldest alumni (Class of 1965-69) via emails, phone calls and letters. Our goal was to provide a listening ear during times of social distancing, but it has become a program we want to continue regardless of the public health climate. Many of our alumni enjoyed the companionship, evidenced by calls often lasting over 30 minutes. Carter's Buzz article about our program was shared by Strake Jesuit through social media and on the Jesuit's national Twitter account with 30,000 followers. Recognition aside, I am pleased to do something positively impacting our community." 
Eshaan Mani
The Kinkaid School, editor 
"In 2020, the world has become more dependent on technology than ever before. Despite the minor annoyances, I think we can all say that we're grateful for technology. Imagine doing 'this' (by which I mean school from home, WFH and pretty much everything contactless) without the help of tech, even 10 years ago! During the coronavirus pandemic, I've had a chance to create my own studio with my family, a technological endeavor I would never have had the chance to undertake if it had not been for the events of 2020. I bought a dual-mic setup, one for recording and one for podcasting, a green screen (for Zoom pranks and for recording fun videos), and a lighting kit. And I've had the chance to shoot and edit over 20 videos on four different platforms and use my studio nearly twice a week since setting it up in late June. It's truly been a unique and fun experience, from collaborating with family members for the setup to recording videos and playing around with editing."
Lauren Koong
Lamar High School, editor
"We have been in quarantine for almost half a year now. In this time at home, I have learned a lot, both about myself and new skill sets, but, most importantly, to look on the bright side. The Covid-19 pandemic negatively impacted hundreds of thousands of families across the United States, but it allowed the Black Lives Matter movement to gain the global traction that it did. As most people were at home, with little to nothing to do, Americans were able to collectively focus on the issue of police brutality and come together to incite positive social change. With all this time in quarantine on my hands, I was able to educate myself about Black history in the United States and the racial injustices that plague America. While the coronavirus pandemic has caused much suffering and pain, let us focus on the good that has come out of it." 
Sutton Walsh
The Post Oak School, reporter
"During this time of frustration, separation, and Holy cow, did I forget my mask again?, my family was viewing the pandemic as the contagious curse of the century. In an effort to spur conversation at Family Dinner #93, my mom suggested that we create a list of the positive things that have come out of the quarantine. I didn't think my eyes could have rolled further back into my head, but to my surprise, 10 minutes later, the list was growing faster than local Covid-19 cases. From reorganizing our entire house to a new ritual of daily walks with our puppy, we discovered that what we had originally considered to be a downer was, in fact, quite the opposite. The pandemic had turned us upside down by shifting our view away from meaningless distractions and revealing to us that our true priorities lie in our own home." 
Maya Harpavat 
St. Agnes Academy, editor 
"As Houston was shut down by the coronavirus, I found myself more interested in creative writing. This is something that I picked up more in high school, as I became the editor of the SAA School Buzz team, but over quarantine, I explored creative writing much more. I love historical fiction and taking a setting or a character and rewriting the story from a different perspective that was previously unthought of. During quarantine, I founded a nonprofit called Write The Future to spread my love of writing to kids in my neighborhood. We met on Zoom for two weeks, and seeing how people who previously hated writing began to enjoy it was probably the highlight of my summer!" 
Bailey Maierson
St. John's School, co-editor 
"This summer, while reading Toni Morrison's Beloved for my English class on 'Dreams and other Archetypal Schemes,' I learned a valuable life lesson: that while in troubled times we inevitably look to the future as a source of optimism, it's also important to be present and look for some source of happiness each day. When I recall the last few months of my junior year before quarantine, my memories feel bittersweet. Reflecting on joyous times often made me anxious about the state of the pandemic and whether I possibly could have a somewhat normal senior year. Similar to the novel, I learned to adapt to my surroundings and try to live in the moment. I worked to make the most of my summer by spending time with my brother before his return to college and take up new hobbies, like sewing and embroidering. In this unprecedented time, Morrison and her powerful novel provided me with a temporary respite from my current mental state."
Lauryn Kapiloff
St. John's School, reporter 
"As an editor-in-chief of the St. John's yearbook, I have seen how the pandemic has impacted plans for this year's book. From school starting virtually to the cancellation of sports seasons, fine arts events, and other extracurricular activities, the content that is usually included in the yearbook has been greatly reduced. In the midst of the disappointing outcomes of the pandemic, I recognize that this year will be one for the books, and it is important to produce a yearbook that reflects this. The process has not been easy, but it has taught me to stay resilient and creative when faced with a challenge. I look forward to seeing the product of my staff's hard work at the end of the year, as well as looking back on what will be a very unique senior yearbook for years to come."
Our 2020-21 correspondents
The Awty International School
Zach Daube
Vivian Wu
Bellaire High School
Zaid Ali
David Bournat
Sophia Hernandez
Mizuki Kai
Ritsuki Kai
Zoe Kass
Abbi Turner
The Briarwood School
Blake Maillet
Rachel Phillips
The British International School of Houston
Viola Holmes
Sana Malhotra
Alexis Westlake
Carnegie Vanguard High School
Tracy Huang
Riya Keswani
Tina Li
Jessica Lin
Nitin Manian
Zehra Mirza
Surya Ramakrishnan
Gabriela Rodriguez
Dhruv Tekumalla
Miriam Yampuler
Duchesne Academy of the Sacred Heart
Katie Giveon
Halliday Mafrige
Caitlyn McConnell
The Emery/Weiner School
Abby Cowan
Ryan Diamond
Rachel Gittleman
Lauren Haas
Simone Newar
Cassidy Rubenstein
Episcopal High School
Chris Lahoti
Houston Christian High School
Ashley Joyce
Incarnate Word Academy
Lily Cromeens
Lauren Fuller
Kinder High School for the Performing and Visual Arts
Anna Magdalena Galli
Jaylenn Holmes
The Kinkaid School
Eshaan Mani
Lamar High School
Lauren Koong
Ethan Martinez
Kathryn Stone
Franklin Wu
Memorial High School
Ellen Baik
Megan Benz
Orianna Fong
Hannah Kothari
Keeley Moore
Tulsi Parikh
Memorial Private High School
Grace Stupel
Michael E. DeBakey High School for Health Professions
Roohie Sheikh
Jasmine Sidhu
Abby Von Eik
Post Oak High School
Charlie McGill
Sutton Walsh
Saint Thomas' Episcopal School
Mary-Ellen Abshire
Caitlyn Hsu
Laura Newcomer
Eleanor Yowell
Second Baptist School
Willow Bullington
St. Agnes Academy
Ysabel Born
Anna Frederickson
Maya Harpavat
Lilly Jarlsjo
Ava Phillips
Bailey Raymond
Anika Shethia
St. John's School
Emily Burnett
Laney Chang
Lauryn Kapiloff
Bailey Maierson
Wellsley Moore
Claire Pedrick
Rahul Rupani
Julia Smith
St. Pius X High School
Louis Eagleton
Libby Nunez
St. Thomas High School
Augustus Boettcher
Strake Jesuit College Preparatory
Rushil Chetty
Carter McKenna
Kevin McKenna
The Village School
Aditi Iyer
Hursh Jha
Maria Morkas
Editor's note: If you're in high school and love to write or take photos, it's not too late to join the program this year. See thebuzzmagazines.com/school-buzz and contact Buzz associate editor Jordan Magaziner Steinfeld with any questions at [email protected].
People in this article:
Zach Daube
,
Vivian Wu
,
Zaid Ali
,
David Bournat
,
Sophia Hernandez
,
Mizuki Kai
,
Ritsuki Kai
,
Zoe Kass
,
Abbi Turner
,
Blake Maillet
,
Rachel Phillips
,
Viola Holmes
,
Sana Malhotra
,
Alexis Westlake
,
Tracy Huang
,
Riya Keswani
,
Tina Li
,
Jessica Lin
,
Nitin Manian
,
Zehra Mirza
,
Surya Ramakrishnan
,
Gabriela Rodriguez
,
Dhruv Tekumalla
,
Miriam Yampuler
,
Katie Giveon
,
Halliday Mafrige
,
Caitlyn McConnell
,
Abby Cowan
,
Ryan Diamond
,
Rachel Gittleman
,
Lauren Haas
,
Simone Newar
,
Cassidy Rubenstein
,
Chris Lahoti
,
Ashley Joyce
,
Lily Cromeens
,
Lauren Fuller
,
Anna Magdalena Galli
,
Jaylenn Holmes
,
Eshaan Mani
,
Lauren Koong
,
Ethan Martinez
,
Kathryn Stone
,
Franklin Wu
,
Ellen Baik
,
Megan Benz
,
Orianna Fong
,
Hannah Kothari
,
Keeley Moore
,
Tulsi Parikh
,
Grace Stupel
,
Roohie Sheikh
,
Jasmine Sidhu
,
Abby Von Eik
,
Charlie McGill
,
Sutton Walsh
,
Mary-Ellen Abshire
,
Caitlyn Hsu
,
Laura Newcomer
,
Eleanor Yowell
,
Willow Bullington
,
Ysabel Born
,
Anna Frederickson
,
Maya Harpavat
,
Lilly Jarlsjo
,
Ava Phillips
,
Bailey Raymond
,
Anika Shethia
,
Emily Burnett
,
Laney Chang
,
Lauryn Kapiloff
,
Bailey Maierson
,
Wellsley Moore
,
Claire Pedrick
,
Rahul Rupani
,
Julia Smith
,
Louis Eagleton
,
Libby Nunez
,
Augustus Boettcher
,
Rushil Chetty
,
Carter McKenna
,
Kevin Mckenna
,
Aditi Iyer
,
Hursh Jha
,
Maria Morkas
Schools in this article:
The Awty International School
,
Bellaire High School
,
The Briarwood School
,
British International School of Houston
,
Carnegie Vanguard High School
,
Duchesne Academy of the Sacred Heart
,
The Emery/Weiner School
,
Episcopal High School
,
Houston Christian High School
,
Incarnate Word Academy
,
Kinder High School for the Performing and Visual Arts
,
The Kinkaid School
,
Lamar High School
,
Memorial High School
,
Memorial Private High School
,
Michael E. DeBakey High School for Health Professions
,
The Post Oak School
,
Saint Thomas' Episcopal School
,
Second Baptist School
,
St. Agnes Academy
,
St. John's School
,
St. Pius X High School
,
St. Thomas High School
,
Strake Jesuit
,
The Village School
Want more buzz like this? Sign up for our Morning Buzz emails.
To leave a comment, please log in or create an account with The Buzz Magazines, Disqus, Facebook, Twitter or Google+. Or you may post as a guest.