Gabriela Rodriguez
Click the Buzz Me button to receive email notifications when Gabriela Rodriguez appears in an article.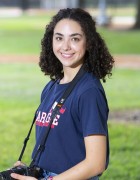 School Buzz Reporter
Hi, I'm Gabi Rodriguez, a senior at Carnegie Vanguard. I first discovered my interest for writing quite recently, during our journalism unit end of freshman year. I found myself loving the process of pursuing stories, meeting new people and glimpsing into their lives, and incorporating them into an article subject to my passion. At school I'm in journalism and photography, and I'm eager to create new content and hopefully grow as a writer and aspiring photographer. In my free time, I also love taking pictures, running track and field, and exploring
Houston.