Claire Pedrick
Click the Buzz Me button to receive email notifications when Claire Pedrick appears in an article.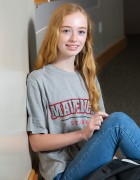 School Buzz Reporter
My name is Claire Pedrick, and I am a junior at St. John's School this year. I started writing and drawing in journals since preschool, and I have been hooked ever since. I am so thankful that The Buzz has provided me an opportunity to explore my love for journalism more. Alongside writing, I also enjoy playing school soccer in the winter and working on the yearbook staff year round. One of my favorite parts about living in Houston are the endless amounts of great restaurants.