From Bellaire to Baylor College of Medicine: Interviewing BHS Alumni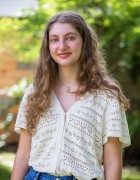 Click the Buzz Me button to receive email notifications when this writer publishes a new article or a new article in this column is published.
The first semester is only halfway over and many students are already anxious for summer to return. Swamped with homework and studying, AP and Pre-AP students at Bellaire High School may be questioning why they've committed themselves to such high-pressure, heavy-workload schedules. For many, the answer is obvious: take advanced classes, get good grades, go to a good college, and embark on a prestigious career. This trajectory is a demanding one, but for many students, this path has paid off. 
Rachel Graubard, Lindsey Alter and Andrew Alter began their first day at Bellaire not only knowing each other but also knowing what they'd be doing in the years that followed their graduation four years later. "We all decided we wanted to be doctors back in elementary school," says Lindsey Alter about the plan that they devised many years ago. It is both impressive and surprising that the trio has managed to fulfill that goal, staying together throughout elementary school, middle school, and high school at Bellaire.
Now as Baylor College of Medicine third-year medical students, they are together fulfilling the dream they shared as kids. Though the Bellaire alumni may have had a solid plan from the get-go, many students today lack their direction. Although dedicated to a path in medicine, they are unsure of how to turn their four years at Bellaire High school into attendance at a top medical school.  
All three med students reflect on their time at Bellaire as one of great importance to the years that followed. "It was by far the most challenging yet rewarding class I took," says Rachel about taking Calculus. "It taught me how to push past the frustration when I didn't immediately understand the concepts and spend extra time outside of class to practice on my own."  On top of the challenges provided by their core classes, the three see their year taking AP Biology as one that gave them foundations for higher-level science.
"AP Biology definitely gave a great foundation for college biology courses, and really all of the science classes at Bellaire were taught well and helped a lot in pre-med courses in college," says Andrew, echoing a sentiment shared by Rachel and Lindsey. 
Though the knowledge gained throughout high school is valuable in later schooling, study skills are just as vital. "Start developing good study habits now and take all of your classes seriously. Use your summers to volunteer, work, and travel." Lindsey advises. By being active throughout the year, students can gain substantial experience in handling the stress and commitment that will continue to grow during years in training. Summer programs, volunteering, and shadowing are all options that are widely available throughout Houston. With almost every major hospital in the Medical Center offering summer or year-round teen volunteer programs, these promise the opportunity for high school and college students to explore and grow their scope of the world of medicine.
Though it may be overwhelming to imagine an experience more stressful than the AP and Pre-AP path at Bellaire High School, medical school at Baylor College of Medical School is much more demanding. "It's compared to drinking out of a fire hydrant because you're flooded with so much information at such a fast pace," says Rachel. Andrew adds that there is a bright side to all of their efforts. "The work in med school is definitely harder, but it's also more fun than high school homework." In high school, students explore a wide range of subjects, whereas, in medical school, students have the opportunity to learn about a subject they are passionate about. Though they look forward to rewarding careers as doctors, hard work and stress will still be a factor in everyday life. "At the end of four years, you're expected to be responsible for the medical care of others," Rachel added. 
The Baylor-Bellaire students provide valuable insight for overwhelmed high schoolers, whether they are going to be pursuing careers in medicine or not. Eventually, our efforts will pay off, even though the results might not seem obvious for many more years. Like Lindsey, Andrew, and Rachel, we'll be thankful for the grueling years at Bellaire, and excited for the even more grueling years to come!
Want more buzz like this? Sign up for our Morning Buzz emails.
To leave a comment, please log in or create an account with The Buzz Magazines, Disqus, Facebook, Twitter or Google+. Or you may post as a guest.