Bellaire Residents Unite for Justice
Click the Buzz Me button to receive email notifications when this writer publishes a new article or a new article in this column is published.
Wearing masks and carrying handmade signs, hundreds of Bellaire residents of all ages, ethnicities and ideologies gathered by the gazebo in Zindler Park on Friday evening, standing in solidarity for justice and equality. 
This citizen-organized event, in some ways mirroring community gatherings across the country, was a response to the recent killing of George Floyd. A 46-year-old black man who died while in Minneapolis police custody on Memorial Day, Floyd was raised in Houston, and a video of his final eight minutes has sparked a nation-wide movement for racial justice.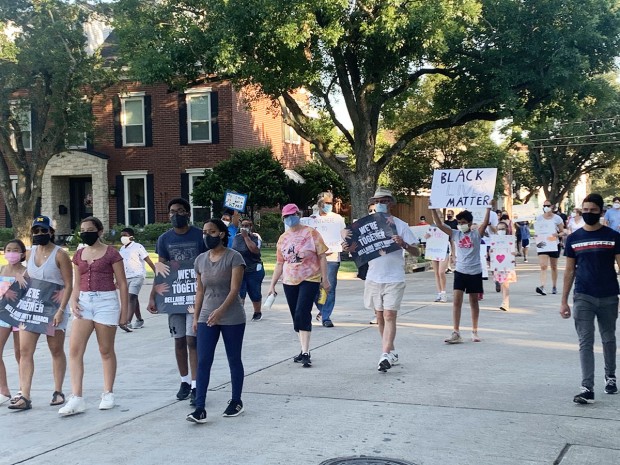 Here in Bellaire, a group of five residents worked together, and with a group of volunteers, to organize a family-friendly event that began with a one-mile march from City Hall and culminated with passionate speeches by Bellaire High School students and a communal singing of Bill Withers' classic "Lean On Me."
A striking feature of the march, which proceeded down S. Rice before turning west onto Evergreen St., was the number of children present. Children and adolescents were not only aware of George Floyd's identity, they articulated an urgency to act and to show their support for the Black Lives Matter movement. 
"Unity means taking action and standing up for those most affected by inequality, even if we're not the one being affected," BHS student Omar Busaidy said in a speech following the march. "Unity is about coming together as a community to protect and support one another."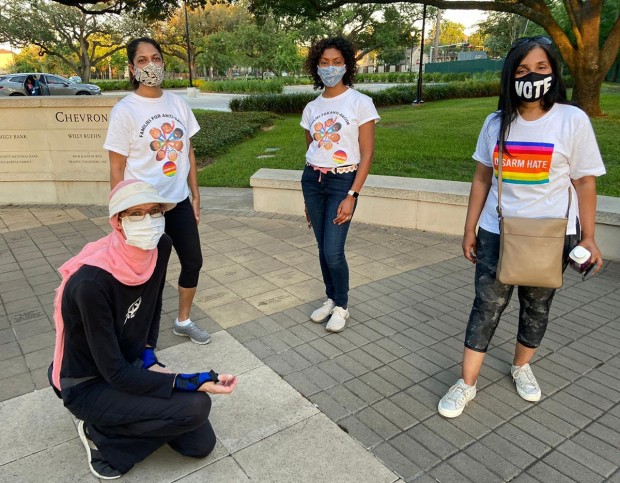 Event organizers said it was, in fact, their own children who were the genesis for the Bellaire Unity March. Sneha Bhavsar – who worked with Sonu Mathew, Katharine Gratwick, Whitney Guarisco and Swati Narayan to organize the Unity March – said her 12-year-old daughter Esha inspired her own initiative to organize. 
"My daughter had been asking to go to a protest downtown to show her support for the Black Lives Matter movement," Sneha explained. "I, at that point, didn't feel quite comfortable with her going, so I thought, why don't we get together with our community here in a way that allows you to show support in a family-friendly, peaceful way." 
The event came together rather quickly. A proposal, signed by more than 100 Bellaire residents, was sent to the city on Sunday, June 7. Over the next five days, organizers worked with the city, including the department of parks and recreation and the police department, to work out details – ranging from the march route, to how to maintain proper Covid-19 precautions to what to do if someone experienced heat exhaustion during the march.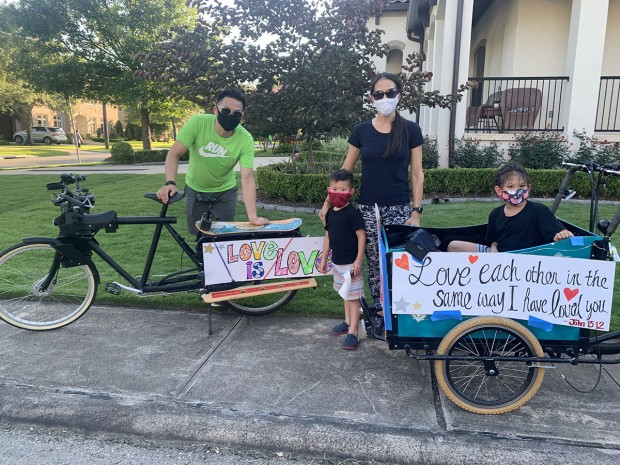 The hasty organization of the event was in no way apparent on Friday evening, when it seemed that each and every detail had been considered. A team of volunteers, wearing vests borrowed from the department of parks and recreations, dispersed among the marchers and carried masks, offering them to anyone who may have forgotten theirs at home. Signs were placed along the route with discussion questions for people to consider as they walked. There was even a cooler with water bottles available. 
"Given that we are in the middle of a pandemic and there is extreme heat even at 6:30 in the evening, we wanted to do all we could do to keep the attendees safe and still be able to promote good social distancing," said Swati, an event organizer. 
Event organizers attributed part of the success of the Bellaire Unity March to the partnership with the city, including the police department, which had a number of officers lining the route and helping block off street traffic to make way for the marchers. 
Bellaire Chief of Police Byron Holloway said it was the police department's duty to respect the citizens' constitutional right to voice their concerns, and he also empathized with the particular apprehensions of people of color. 
"Parents have enough to worry about with raising children and grandchildren, and the color of their child's skin should not be one of the things they have to worry about," Chief Holloway said. "I've talked to a lot of people and that's what they are worried about – the world that they and their children are growing up in." 
Bellaire Mayor Andrew Friedberg also demonstrated his support, attending the event with his own family and offering opening remarks, where he highlighted justice, equality and inclusiveness as "Bellaire values." 
Overall, event organizers said they were pleased with the event and that they hope it will spark important conversations among neighbors. 
"We don't see this as a be-all and end-all," said Sonu. "We are very happy and proud of what we were able to accomplish, but there is so much more to do." 
People in this article:
George Floyd
,
Omar Busaidy
,
Sneha Bhavsar
,
Sonu Mathew
,
Katharine Gratwick
,
Whitney Guarisco
,
Swati Narayan
,
Esha Mathew
,
Byron Holloway
,
Andrew Friedberg
,
Kavi Shah
,
Kishan Shah
,
Jatin Shah
,
Linda Lamb
,
Brent Lamb
,
Matthew Wollner
,
Adam Wollner
,
Vincent Wollner
,
Andrew Sedaris
,
Christopher Sedaris
,
Ella Sedaris
,
Charlotte Eshelman
,
Freddie Vaughan
,
Emily Vaughan
,
Jennifer Vaughan
,
William Vaughan
,
Steven Vaughan
,
Ed Lai
,
Flora Lai
,
Max Lai
,
Celeste Lai
,
Veronica Sitton
,
Sebastian Sitton
,
Ellie Hill
,
Zachary Hill
,
Aria Parikh
,
Tulsi Parikh
,
Esha Bhavsar
,
Maya Bhavsar
,
Yasmeen Ofleh
,
Milan Narayan
Want more buzz like this? Sign up for our Morning Buzz emails.
To leave a comment, please log in or create an account with The Buzz Magazines, Disqus, Facebook, Twitter or Google+. Or you may post as a guest.