Unsung Heroes of the Memorial Community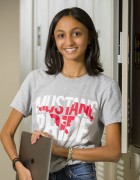 Click the Buzz Me button to receive email notifications when this writer publishes a new article or a new article in this column is published.
As we dig ourselves out of our pandemic holes, we begin to reenter the real world. And with the real world comes real struggles, real adversity, and real pain. We tend to forget about the support system our community provides--one much closer than you might realize. At your local drugstore. Within the church your family attends every Sunday morning. Even behind the glass doors of the school around the corner. The familiar faces who turn your bad days better and your better days into the best.
If you're reading this, chances are these people have already left a mark on your lives.
You know her, you love her, she probably has your order memorized by now. Minnie Mewar has been a CVS associate for 35 years and counting, putting a smile on members of the Memorial community for over three decades. She always finds a way to treat you like the most important customer she's assisted all week. 
When I called her for an interview, she asked me was about how my homecoming weekend went. And I thought to myself "aren't I the one who's supposed to be asking the questions?" That captures Minnie. Selfless and thoughtful.
Born and raised in a small town in India, Minnie mentioned how her background has influenced the way she serves Memorial today. 
"Everybody knows each other--they are not your neighbors, they are your family," she said.
From a region where a sense of unity and togetherness is as vital as life itself, Minnie ingrains this practice into everyday life. Through her service, she aims to form a bond with her community, where the people she looks after aren't strangers but family. 
"My theory is be kind. Be kind. Be kind. If for some reason a customer doesn't like you, then you start showing kindness and eventually they start to love you too!" she said. Living in today's world, we can easily feel isolated in a society where so many of us appear complete. It's important to cherish unexpected companions, like Minnie, who remind us how special we are. 
If you're not convinced yet, a few years ago Minnie called my mom and asked why we hadn't stopped by for our weekly milk run at CVS. After hearing that my mom was suffering from shingles, Minnie personally delivered the order to our house. I can guarantee, there's nothing that a box of your favorite chocolates and a conversation with Minnie can't fix. 
Memorial Drive Presbyterian Church, another staple to our neighborhood, has proved to be a safe haven for numerous families. Kelly Quarando, a current youth leader at MDPC wants you to know that she has the best job in the world. Everyday, she has a desire to share her faith and to spread joy within her youth outreach program.
"It's not just for show. This is genuinely how I live," Kelly said. Her devotion to Memorial isn't just for show either. At every dance showcase, football game, or music recital, students can find her friendly face in the crowd.
As she reminisced on her childhood during our interview, she shared how her tough experience in high school inspired her to be a shoulder to lean on for students today. 
"When I was a teenager specifically, I really just needed people in my life who I could go to that weren't my parents, that's why I do what I do," she said. "My Uncle Matt worked at Pine Cove for 17 years and showed me what it was like to be a true Christ follower." 
Kelly has supported me and my friends through thick and thin and allowed us to put our guards down without fear of judgement or petty gossip. By strengthening teenagers' faith, Kelly has helped us grown into better people.
Jesus Ochoa has selflessly served Frostwood Elementary on the janitorial staff since the summer of 1981. According to the young Frostwood Tigers and teachers, Jesus Ochoa, nicknamed Mr. Jesse, has soared above and beyond wiping tables and hitting the lights at the end of the day. I didn't even attend Frostwood as a child, but I felt the love he feels for the entire community in our fifteen-minute interview.
"The community is my life. The children are my life," he said
When asking him what he gained from all that he's given, he responded by praising the community for the invaluable memories he's collected over the past four decades. 
"We have people from all different countries who come into Frostwood and make beautiful memories," he said. "No matter who you are or where you come from, my goal is when you come into my school, you are happy." 
A common quality among these three individuals is the unconditional love for what they do and who they serve. However, they contribute to a massive population of unsung heroes living under our noses. 
Superheroes don't necessarily need to parade around in a cape or shoot lasers out of their eyes, but may be saving the world one smile at a time. To those of you who don't receive enough credit for all the credit you give us, I think I speak for the entire community when I say--thank you. 
Want more buzz like this? Sign up for our Morning Buzz emails.
To leave a comment, please log in or create an account with The Buzz Magazines, Disqus, Facebook, Twitter or Google+. Or you may post as a guest.