Taylor's 'Big Reputation' at Memorial High School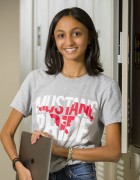 Click the Buzz Me button to receive email notifications when this writer publishes a new article or a new article in this column is published.
As you (and the rest of the planet) must know, our favorite country-pop-indie-you name it artist Taylor Swift has recently blessed our ears with the revival of her 2012 studio album, "Red (Taylor's Version)."
This past spring marked the very first rerecording of a past album that she shared with her fans, beginning the reclaim of ownership over her music that her past record company denied her. She left us astonished and at the edge of our seats for new music and more chances to reminisce on our childhood through the songs that played on repeat for so many years.
But our fearless worldwide sensation has been painting love stories for over a decade, inspiring us young girls to speak up and feel comfortable in our own skin. She stands as the face and fame behind the millions of "Swifties" that have collectively formed Taylor Nation.
This community reaches all the way to Memorial High School, where countless Swifties (myself included) thank Taylor forever & always for encouraging us to pursue our wildest dreams.
One superfan, Macy Gregory, credits Taylor Swift's music and career growth to her personal progress during a stage of life where we often don't give ourselves enough credit.
"She embodies perseverance. Even at her low points, she still manages to come out on top and reminds me how there are obviously going to be bad moments in your life, but you can always write a song about it," said Macy. Taylor Swift has proved to millions of girls like Macy that our individual truths are intended to be fulfilled – and written about.
As well as guiding us onward, Swift continues to gift us nostalgic glimpses of our youth every time a classic song plays on the radio. "Never Grow Up" and "Back to December" are two favorites because I like looking back to points in my life when I was younger, and both of those songs are about reminiscing on your "past self" Macy mentioned.
Time and time again, Macy finds a purpose behind the fierce album covers.
"Anything Taylor Swift has tried to do she has conquered. I think that she is the only person who has perfected every single thing she's put out there," Macy said. "I have a million favorites of Taylor Swift; I can't say that about any other artist. She is one of a kind."
If you're not convinced that Macy's made of pure Swiftie blood, maybe her handmade replication of Taylor Swift's iconic look in "You Belong With Me" for Halloween will do the trick...and she wins extra points for providing the posters. 
Lucy Huthnance, a current junior at Memorial High School, is in the same boat as Macy when it comes to Taylor Swift. As devoted fans (or future fans after reading this), we're fully aware that Taylor effortlessly shapeshifts into countless genres of music and thus has coined different eras throughout her career - eras that every teenage girl can remember experiencing or can expect to confront in the future.
Lucy said that "Speak Now" resonates most with her, personally, "because it still feels very young but also coming of age and really relevant during high school." Although she has displayed versatility in her successful approaches to all styles of music, a common trend throughout each record is the compassionate shoulder she offers for her fans to lean on and the strength in staying true to yourself. She may write songs about her life, but she guarantees that we can find the stories of us within each piece. Lucy feels that rather than mindlessly listening to the lyrical gold that Taylor shares, we've grown up with her. From what was once a "girl and a guitar" is now an idol who will go down in history as Artist of the Year and Woman of the Decade, to name a few casual accomplishments.
"In albums like 'Reputation' you can hear her confidence growing and in 'Folklore' and 'Evermore' you can tell how advanced her songwriting abilities are." Speaking of her infinite achievements, Taylor has impressed us yet again by maintaining the legacy of her early music by renewing the albums released under her first record deal . . . and by single-handedly writing the most worthwhile 10 minutes of your life in the form of a song. "If 'All Too Well (10 Minute Version)' isn't playing in my earphones, it's running through my mind all day. And I really like the idea behind reviving her old albums because owning all of her art is really important. Even for Swifties now it feels like a whole new album," said Lucy. 
I'm not kidding when I say we're overflowing with Swifties here at Memorial. Another junior, Caroline Shoaf, vows that she is your regular "little teenage girl living her ordinary little teenage life with 1989 playing in the background." She has organized a wall of fame in honor of the superstar herself, decorated with an image and lyric from her favorite songs. Like most fans, Caroline entered this world as a Swiftie but continues to truly appreciate the artistry hidden behind each and every chord. 
"When I was little, I didn't know anything about her except that I liked her music. But as I started getting older, I began looking up to how genuine she is." Aside from the 200+ (and counting) songs she has composed for us, Taylor advocates for minority rights, feminism and "opens up about struggles that are important for people to hear," Caroline added.
With her grace in addressing the difficult topics that encompass today's world comes her ability to comfort her listeners through each melody. Despite the differences we may face, her music attaches an enchanting tune behind the smiles we wear, the pain we conceal, and the memories we carry forever.
Call it what you want, but Taylor Swift is truly incomparable. After 11 brilliant albums, 41 Grammy nominations, the thousands of stories she's shared and the millions she's yet to discover, the phenomenon herself has reached uncharted musical territory. Empathizing with each and every fan - whether live in concert or through a set of headphones - she motivates us to accept ourselves regardless of the judgement around us.
Miles away and oceans apart, being wonderstruck by Taylor Swift on stage and off is a feeling we know all too well.
Want more buzz like this? Sign up for our Morning Buzz emails.
To leave a comment, please log in or create an account with The Buzz Magazines, Disqus, Facebook, Twitter or Google+. Or you may post as a guest.