Teal Pumpkins Make Halloween Less Nutty
Click the Buzz Me button to receive email notifications when this writer publishes a new article or a new article in this column is published.
Halloween trick-or-treating is an awesome neighborhood tradition inspiring happy Jack-O-Lantern grins on kids and adults of all ages. Discover ways you can make the night sweeter and safer for kids with food allergies.
If someone in your family has food allergies, like Zach Kroencke, your family may have created their own unique ways to make Halloween safe. Zach, and his younger sisters, Eve, a sophomore at St. John's, and Zoe, a freshman at St. Agnes, loved trick-or-treating as kids. Zach may be a fierce senior lacrosse player at St. Thomas High School now but back in preschool and elementary he was an even fiercer ninja, vampire and Boba Fett on Halloween night. When Zach was a baby, his parents, Kristy and Greg Kroencke, discovered he had severe food allergies. As a child, on Halloween, the Kroenckes wanted to be careful to avoid candy with ingredients dangerous to Zach but still wanted to let their kids go trick-or-treating around West U with their friends. So, they established family rules: Everyone could go house to house but not eat any of their candy on Halloween night. Before going to bed, the kids would leave their candy out for the Halloween Witch who would come during the night to pick up the candy and share it with kids that didn't get to go trick-or-treating and, in place of the candy, the "witch" would leave non-food treats like matchbox cars or Barbie dolls.
Bellaire High School sophomore Elaine Kugler's house has always been meticulously nut-free due to her severe allergies to peanuts and a host of other nuts. Elaine and her older brother, Ben, a Bellaire senior, always looked forward to trick-or-treating as kids. Their parents, Claire and Eric, were nervous about Elaine being exposed to candy with nuts. They came up with a game plan for her to be safe but also get to enjoy Halloween night. The deal was that Elaine and Ben weren't allowed to touch or eat any of their candy until they got home. Then they would sort their candy with anything containing nuts (usually all the good chocolate stuff) going to Ben and Elaine getting whatever was left that wouldn't make her sick. 
Fast forward a decade and Elaine now serves on the Texas Children's Hospital Food Allergy Program Teen Advisory Board and hopes to help younger kids with allergies avoid getting stuck with the not-fantastic dregs of their sibling's trick-or-treat stash. The leadership program promotes food allergy awareness in the community and mentoring to other food allergic children. 
Texas Children's Hospital hosts the Food Allergy Family Network FAFN whose leaders' goal is to provide peer support and share experiences about living with food allergies. Mike Oldham is the Central Houston FAFN Representative. About 13 years ago, Mike and his wife, Kristi, realized their younger son, Oliver, had allergies when he ate a cupcake at a friend's first birthday party and broke out in hives. The family assumed the red food coloring was the culprit but it ended up being an egg allergy, which led to the discovery of a laundry list of other food allergies. 
Having been in the food allergy parent trenches for many years, Mike is enthusiastic to help share his experiences and encourage hope for families just starting their food allergy journey. His son, Oliver, now an eighth grader at Kinkaid, is one of only two teenagers that serve as junior leaders with the adults on the Texas Children's Hospital Food Allergy Family Network Leaders. Oliver and his older brother, Kenan, a sophomore at Kinkaid, are both members of FAFN's teen advisory board.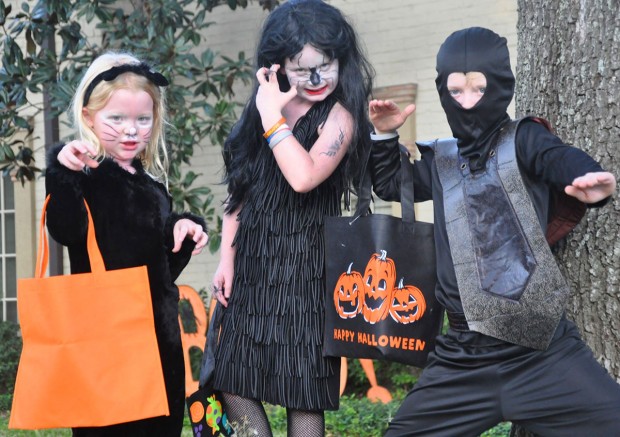 Thankfully Zach, Elaine and Oliver's siblings do not have food allergies and are supportive of their siblings but are still affected by allergies every day. (For example, Ben happily eats peanut butter at friends' homes since he can never eat it home and risk Elaine having a reaction.)
Mike is optimistic about the strides that have been made in food allergy awareness, research and support over the past decade. Mike shared that with Halloween season, the Texas Children's Hospital FAFN is happy about growing excitement of the Teal Pumpkin Project (TPP) created by the Food Allergy Research & Education (FARE). The Teal Pumpkin Project creates a safer, happier Halloween for all kids. Putting a teal pumpkin on your doorstep signifies that you have non-food treats available, such as glow sticks or small toys. This simple act promotes inclusion for trick-or-treaters with food allergies or other conditions. 
Amanda Cantley's five-year-old daughter, Elle, has multiple severe allergies (dairy, egg, peanut, tree nuts, sesame and banana) that were diagnosed at seven months old. To help raise awareness, their family hosts a Teal Pumpkin Project (TPP) party in their Memorial home. Amanda shares, "Each year, we pass out flyers at school and to neighbors about the TPP. We also hold a Team Elle Belle teal pumpkin party! We invite family and friends to the party to paint teal pumpkins, play games and have non-food treats and a few allergy friendly snacks." A good time is had by all and more people know to put a teal pumpkin on their porches.
Indrani Maitra, who lives in West University and is a sophomore at St. John's, enjoys spreading awareness regarding food allergies. It is a cause close to her heart because she had severe food allergies to eggs, dairy and tree nuts when she was a child. Indrani shared, "They really had an impact on my life as a child, and I want to try as hard as I can to let other kids with FA like me to live happier and support-filled lives." 
Indrani created a project called Teal it Forward where she coordinates teal pumpkin painting activities to help spread awareness and it gives people a teal pumpkin to put on their porch. 
Kellie Zettlemoyers, a volunteer for FARE, shared, "Our daughter Jordan is allergic to 13 different foods so life is an adventure to say the least! Each year we make sure her Halloween costume includes gloves of some kind so that she can go trick-or-treating with friends, one year a mime, another year a spy, etc. Upon returning home, I switch out her collection of candy for safe treats." The Zettlemoyers always have non-food treats for trick-or-treaters to help food allergy kids have safe Halloweens.
If you don't have access to a teal pumpkin, you can also print out a sign to put out from FARE's Teal Pumpkin Project website.
This year, being a bit blue on Halloween will help make trick-or-treaters, their families and you happier than a costume shop owner in October!
Want more buzz like this? Sign up for our Morning Buzz emails.
To leave a comment, please log in or create an account with The Buzz Magazines, Disqus, Facebook, Twitter or Google+. Or you may post as a guest.