Caroline Larrabee
Click the Buzz Me button to receive email notifications when Caroline Larrabee appears in an article.
School Buzz Reporter
Hello! I am Caroline Larrabee, a senior at the Spring Branch Academic Institute at Stratford High School. I have always been a passionate writer, maintaining diaries since the fifth grade. Now that I have become more involved in my community, journalism has become a perfect outlet to share my passions with my peers. At Stratford, I am the newspaper editor-in-chief, choir president, National Honor Society vice president, and more! When I am not writing, I love traveling, attending concerts, and watching movies with my friends (especially Princess Diaries). I cannot wait to share more about my community through the School Buzz!
Article Mentions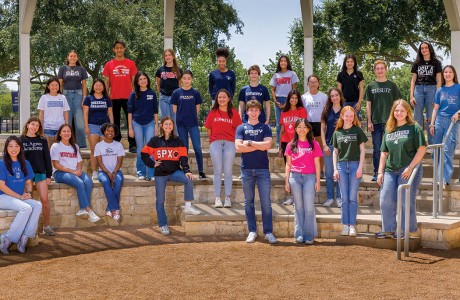 Meet our 2023-24 correspondents
By
Caroline Siegfried
|
September 26, 2023
People in this article:
Ava Nair
,
Alina Syed
,
Gregory Shafir Zelitt
,
Melanie Fung
,
Shyla Jogi
,
Charles Yu
,
Anjali Martinez
,
Beatrix Gnemi
,
Isabel Fernandez-Cueto
,
Julia Harfenist
,
Tessa Harfenist
,
Dani Barg
,
Eli Karpas
,
Donna Xue
,
Matthew Jeong
,
Jordan Muscal
,
Oliver Oldham
,
Eshaan Mani
,
Aleisha Paulick
,
Asia Williams
,
Alden Farrow
,
Keira Donovan
,
Kelsy Donovan
,
Emma Lai
,
Audrey Nguyen
,
Elsie Wire
,
Alexandra Wong
,
Madeleine Skaufel
,
Maggie Hester
,
Nia Shetty
,
Caroline Larrabee
,
Catherine McClees
,
Sophia Wagner
,
Anika Engler
,
Carver Hix
,
Solemei Scamaroni
,
Agnes Tang
,
Eden Williams