Awty's Class of 2021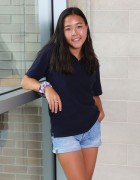 Click the Buzz Me button to receive email notifications when this writer publishes a new article or a new article in this column is published.
As a graduating senior this year, I finally got to experience the college application process that I had interviewed previous seniors about in past years' article. I will not only be asking questions in this article but answering the questions too—definitely a full circle moment! Awty's class of 2021 grew so much closer with one another, and we've learned to appreciate every passing day despite not getting typical senior year traditions such as fall trips and homecoming. As we put on our caps and gowns for graduation, it's time to reflect on the challenges and learning outcomes of the college application process this year. College acceptances were particularly impressive this year, and there is no shortage of pride and joy going around. Students are headed off to schools including University of Chicago, Columbia University, University of Pennsylvania, Harvard, Rice University, UT Austin, MIT, Caltech, UC Berkeley, Washington University in St. Louis, and more. For this article, I will be interviewing Angelina Lee and Max Lasco. Angelina is known to be incredibly kind and caring and has a passion for the intersection of art and STEM, specifically within the field of architecture. Max is the student body president, a cross-country runner, and swimmer. He's known to be one of the most charismatic students in our class. Read on to learn about these talented seniors' college processes and their time at Awty: 
Where will you be attending and what major will you be pursuing? 
Vivian: Northwestern University, Industrial Engineering and Management Sciences 
Angelina: Stanford University, Architectural Design Engineering / Product Design + Management Sciences and Engineering / Economics minor 
Max: US Air Force Academy, Political Science 
What was the hardest part of the college application process? 
Vivian: Coming up with my common app essay was the hardest part of the process. I journaled over ten entries about different elements of my life for inspiration, but when the time came to expand on them for my common app essay, nothing felt right. This frustration was hard to deal with because it led me to realize not everything about the college application process can be controlled in the same way I earned my grades and leadership positions. Finding the perfect common app essay requires more than just hard work. It requires deep self-reflection and lots of creativity. In the end, my common app essay was actually the result of a midnight rant I wrote to myself about my struggles with opening up. I was then able to tie this idea of vulnerability into other aspects of my life, such as my favorite artist Harry Styles, my best friend Dalya, and my experience of becoming a cheerleader. 
Angelina Lee: Finding the anecdotes and words that most accurately described myself. I wrote nine completely different common app essays before I came up with the perfect personalized format using an extended metaphor that would unite my three main characteristics. I then proceeded to write another nine drafts of that version to replace whole paragraphs, edit sentences, and swap words before the final upload. 
Max Lasco: As someone who pursued all three service academies on top of applying to regular colleges, it was hard for me to navigate the distinct service application processes which include the regular academic and written components as well as a physical and a congressional track at the same time. 
What did you learn about yourself from this process? 
Vivian Wu: My initial major was chemical engineering, but as I attended virtual sessions and learned more about the classes I would take, projects I would do, and the potential jobs I would pursue as an engineer, I began to question my college plan as I realized I didn't want to be just an engineer and discovered an additional interest in business. However, I soon learned that I did not have to necessarily choose between the two. One of the purposes of college is to explore your range of interests through minors, certificates, courses, internships, clubs, and more. So while applying to Northwestern University, I chose the major Industrial Engineering and Management Sciences, which is the perfect bridge between my two interests, and looked into different minors and certificates such as the Business Institutions minor and Financial Economics Kellogg certificate. Ultimately, I learned that I am fully capable of crafting a path unique to me and my future success. 
Angelina Lee: Although the beginning was slow as I began to compose random descriptive phrases and list relevant ideas, I eventually found the process to be somewhat captivating. When you are forced to talk about yourself, you first need to assess how you perceive yourself before you figure out how to convey that to others. In this six-month writing process, I discovered and confirmed my priorities and passions by putting them into words. 
Max Lasco: I would say that there is a lot of valuable self-reflection involved in the process between college interviews and writing supplements. In high school, it is easy to become engrossed with everyday academics, sports, and other extracurriculars; the college application process forced me to think deeply about what I want to do with my future. 
How did certain benefits of Awty lead to your acceptance? 
Vivian Wu: Awty's rigorous IB program helped me stand out in the college application process. I was able to talk about endeavors that I otherwise would not have accomplished at another school, like my Global Politics internal assessment on the rise of anti-Asian hate crimes amidst COVID-19, or my chemistry exploration on acid rain, which led me to learn about the consequences of Galveston oil refineries being sulfur oxide sources. In addition, the extracurriculars available allowed me to participate and thrive in a range of settings. I was able to connect to my Chinese-American heritage by rowing in the Dragon Boat Festival and dancing in the Chinese New Year assembly. I was able to improve my artistry by playing in orchestra and band and dancing in the ensemble. And lastly, I was able to grow in leadership skills by founding Power of Music, being part of the student ambassador executive team, and leading the varsity cheer team. All of my activities, besides writing for School Buzz, were in school, and I think this helps to showcase how students can really take advantage of opportunities that are readily available. 
Angelina Lee: In my application, I emphasized my interdisciplinary interests, which I supported with my IB course selection, research opportunities within those courses, and internships. For example, my Visual Arts Extended Essay evaluated the evolution of Olympic stadiums through the comparison of the Roman Colosseum and the Bird's Nest. My Visual Arts Comparative Study assessed three kinetic artists who use technologies and industrial mediums that challenge the traditional norm. My Math Internal Assessment looked at modeling the soap film-inspired tensile roof of the Munich Olympic Stadium and posited how meshes are created in CAD softwares. Treat your Awty IB requirements as another opportunity to showcase your passions. 
Max Lasco: I believe Awty's unique international focus helped me stand apart from other students. At Awty, I not only learned Spanish and French but traveled to both Spain and France for language immersion with my classmates. These were not only amazing experiences, but they also gave me a lot of valuable content to write and talk about within my college writing and interviews. 
What will you miss about Awty? 
Vivian Wu: I will definitely miss the traditions and activities that I immersed myself in during my time here, such as performing in senior homes with fellow student musicians, eating too much food from the international festival booths, and cheering on game days. I will miss my talented classmates, from jazz musicians to ranked fencers, but I am also looking forward to witnessing their talents touch all corners of the world. 
Angelina Lee: Definitely my classmates and teachers. Throughout my seven years at Awty, I've made life-long friendships and developed close relationships with my teachers. 
Max Lasco: Awty has always been like a second home for me. The community at Awty is very welcoming and close-knit. I will miss all my friends and teachers! 
What are you looking forward to in college? 
Vivian Wu: I am excited to partake in new traditions, like Northwestern's dance marathon and Dillo Day festival, while making new friends with students and faculty. I am also excited to seize the newfound freedom and focus on my independent growth while navigating the journey towards adulthood. 
Angelina Lee: I'm most excited by the expanded course selection and the larger community that college offers. Additionally, there's the independent navigation of daily life away from home, yet also the comfort of having another supportive family as you explore, succeed, and fail. 
Max Lasco: I am looking forward to leaving my comfort zone and making new friends as well as new experiences. I want to continue growing in new and different ways! 
What advice would you give to any students approaching the college application process? 
Vivian Wu: I would suggest starting the essay writing process early on, but to start it without looking at the prompts. You need to take some time to first reflect on your last four years, and then you can worry about how to convey these thoughts through the common app and supplements. Therefore, it can be effective to just jot down short entries during the end of junior year and beginning of the summer between junior and senior year. Perhaps write about a challenge you overcame or an object that represents a part of who you are. When you then start to read the prompts from the schools you've chosen, you will be able to choose from your inventory of entries and connect them to the prompt rather than have to brainstorm from a blank slate. 
Angelina Lee: 1. Start early (summer after junior year) so you have enough time to experiment with your writing, be frustrated, and then refocus… all numerous times. 2. Save all of your drafts — you never know when you could copy/paste a version as a response to another prompt. 3. Research your colleges beforehand so you can develop a personal ranking, allowing you to eliminate applications from your to-do list and instead focus your time on the colleges YOU actually want to attend.
Max Lasco: I would advise any students approaching the college process to apply to as many schools early action as possible, not to be confused with the binding early decision. This is because you will hear back much sooner (January-February) and give you much-needed peace of mind for your latter half of senior year. Also, even if you get deferred, many colleges will consider you a second time for regular decision. At the same time, early action deadlines come very early in senior year, so setting time aside during the summer to finalize plans is very valuable. 
The insights of these seniors demonstrate the hard work and growth that the class experienced this year. As a proud graduating member of Awty's Class of 2021, it's been an emotional end to an incredible journey, and I can't wait to see everyone share their talents with the rest of the world.
Want more buzz like this? Sign up for our Morning Buzz emails.
To leave a comment, please log in or create an account with The Buzz Magazines, Disqus, Facebook, Twitter or Google+. Or you may post as a guest.