Nicole Dunkel
Click the Buzz Me button to receive email notifications when Nicole Dunkel appears in an article.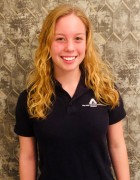 School Buzz Reporter
Hi! My name is Nicole Dunkel and I'm currently a sophomore at the Awty International School. I was born in Houston but my dad is from Indiana and my mom is from Uruguay. I first developed an interest in writing when I was in middle school and have stuck with it ever since. Along with writing I love to play soccer and I also love to play the guitar and the drums. I love reading (my favorite book is Slaughterhouse-Five) and I love watching movies. I love how big Houston is and how so many cultures are represented here. I get to learn about a variety of these cultures by going to Awty. I am currently learning Spanish and hope to continue to immerse myself in the language. I write for my school's newspaper and hope to contribute great articles and stories to School Buzz about Houston and Awty alike.