Advice from a High School Senior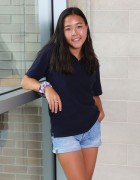 Click the Buzz Me button to receive email notifications when this writer publishes a new article or a new article in this column is published.
As I start my last year of high school and approach the end of an amazing journey, I've taken some time to reflect on the lessons I've learned so far. From the bottom of my heart, here are some words of advice for navigating the high school journey.
Acknowledge what's permanent and what's temporary.
It's important to always look at things in perspective. While something may feel like a burden right now, realizing it will pass soon will keep you from feeling overwhelmed. For example, the drama is temporary as it always peaks in freshman year and deescalates when everybody matures.
If you go into high school with the mindset that the drama will soon mean nothing, you can spend your energy on more worthwhile things like maintaining genuine friendships or developing better time management, which are two skills you can carry with you for the rest of your life. By focusing on the permanent and tangible, you are already one step ahead in leading a high school journey you can look back on and be proud of.
Compare yourself to yourself.
It's easy to get caught up in the excited whispers after the whole class gets back an important test grade. It's also natural to then start comparing yourself to your peers, which can either make you feel horrible about yourself or boost your ego. However, only you know your exact circumstances, such as the amount of work you put in or your natural understanding of the subject. For all you know, the student who got a higher math grade may have been competing in math competitions for years while you've struggled with math all your life, or the student who got a lower chemistry grade may have forgotten about the test until the night before while you studied for a week in advance.
There are so many variables that factor into your peers' performance you are unaware of, thus deeming the comparisons you make in your head unreliable and fruitless. Instead, try to think, "Based on the amount of time and effort I put in and taking my strengths and weaknesses into account, did I receive the grade I deserved?" It's ultimately your life, so motivate yourself to do better because you want to do better for yourself, not because you want to do better than others.
Take initiative.
Taking initiative is such a powerful and important skill you can apply in any part of your life. For high school specifically, taking initiative does not only indicate starting a club or hosting a charity drive. You can take action in so many other creative ways. For example, if you overhear your friends complaining about how the school dance was cringey, you can gather ideas to improve the dance and raise money through an open mic performance rather than complaining with them. If you witness your peers making offensive jokes in class, you can take initiative to stand up for what's right rather than silently judging them. By engaging actively rather than passively, you will be able use your full potential and set yourself apart as someone who goes the extra mile.
Treat people with kindness.
Lastly, please appreciate the support network around you. So many people contribute towards your high school experience whether it's the school's faculty, your parents, your sports coach, your classmates, or others. You truly don't know what you got until it's gone, so treat every single person you come across during these four years with kindness. Once you leave high school behind and venture out into the real world as an adult, you'll thank yourself for being present and cherishing others when you did.
Thank you for taking the time to read and good luck on your high school journey!
Want more buzz like this? Sign up for our Morning Buzz emails.
To leave a comment, please log in or create an account with The Buzz Magazines, Disqus, Facebook, Twitter or Google+. Or you may post as a guest.