It Started at Family Camp
From talent show to mom-daughter singing duo
Click the Buzz Me button to receive email notifications when this writer publishes a new article or a new article in this column is published.
Like any performer with an imagination, long before she was a professional musician, teenage guitarist and singer Claire Justice picked out a band name. While attending family camp at Laity Lodge, a Christian retreat center in the Hill Country, she and her mom, Lindsey, stood at the headwaters of the Frio River, looked at a massive cliff face and envisioned the caverns throughout the canyon.
"If we are ever in a band, we have to call it Cliffs and Caves," Claire said.
One year later, that daydream became reality when the mother-daughter duo returned to family camp and entered the talent show. Lindsey remembered Claire's idea and entered their act as "Cliffs + Caves." They performed a cover of English singer-songwriter James Bay's alternative-rock song Let It Go and were so moved by the experience of singing together on stage, they decided to turn Cliffs + Caves into something real. 
They came home, created an Instagram page and started making videos at their home in Memorial. The production was anything but high tech. To get a good angle, they set Lindsey's phone on an old, broken ladder, and held it upright with a box of chicken stock. 
Their indie-folk appeal spread beyond friends and family, and their Instagram page was spotted by Grammy-nominated producer Jamie Candiloro. Within months they traveled to meet him at his Hollywood studio, and began working on their first EP release. Since then, they have created two extended-play albums and performed dozens of times in venues around Texas, including McGonigel's Mucky Duck in Houston off Kirby and the House Pasture in Concan.
They have always loved music. Before becoming a professional singer, Lindsey, an interior designer, sang at church and family weddings. Claire's pre-professional credits include choosing the radio station in the car, rolling down the windows, and singing loudly while riding with her mom. Husband/dad Tye and son/little brother Blake don't consider themselves musical people, but Lindsey says Blake has a great voice, and Tye does a pretty perfect George Strait impression.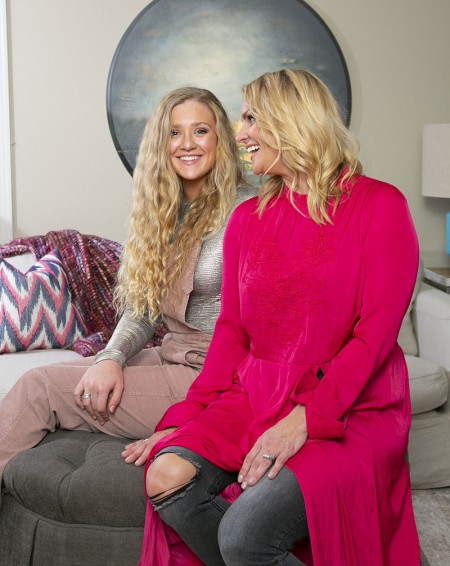 Claire, now a sophomore at Memorial High School, composes the music for Cliffs + Caves while Lindsey writes most of the lyrics. They both sing, taking the lead role on lyrics for different songs. The result is a soulful sound that makes you wonder if it's R&B, folk or rock. Their new EP, Capsize, comes out this month on cliffsandcaves.com and music platforms like Spotify, iTunes and Apple Music.
The duo relies on Lindsey's calm demeanor and love of structure and organization to create set lists and schedule performances. Claire, who balances music with an already full schedule of high school classes, basketball, volleyball and soccer, offers an outgoing confidence and willingness to try new things and accept criticism.
"I get nervous every time I sing," said Lindsey, while Claire performs boldly and loves it. When Cliffs + Caves performed at an open-air venue in the Hill Country town of Concan, a scheduling mishap left them without time for a sound check. Going on stage without that preparation panicked Lindsey, and she told Claire she couldn't do it. Claire turned to her mom and said, "Suck it up, Buttercup. We're doing this." And they did. 
With Capsize coming out soon, mother and daughter are up working late most nights. "This is a win for me," says Lindsey. "I mean, who gets to hang out with their teenage daughter as much as I do?" Lindsey gets to peek at circulating memes and who Snapchats late at night. "I'm in the know," she said. 
Capsize shows their growth since the early days at the talent show. Working with a new producer, Chris Jacobie, they focused on digging deeper to create stronger lyrics and music. Their challenge is finding a way to sing like they speak and not settle for the obvious. "This EP is different from the first," said Claire. "We have a lot less noise going on and a lot more feeling in the words." 
In a couple of years, Claire heads to college, which will bring a new perspective and perhaps more songwriting material. "We know it's completely in God's hands, wherever He wants to take this," Lindsey said. "We are just enjoying each moment as it comes."
For more Cliffs + Caves
Follow Cliffs + Caves to add their songs to your playlists on Spotify, iTunes, Apple Music and Tidal Music. Connect with Cliffs + Caves on Instagram and Facebook and see their website here.
Want more buzz like this? Sign up for our Morning Buzz emails.
To leave a comment, please log in or create an account with The Buzz Magazines, Disqus, Facebook, Twitter or Google+. Or you may post as a guest.