The King is in the Building: Happy Birthday, Elvis!
Click the Buzz Me button to receive email notifications when this writer publishes a new article or a new article in this column is published.
Put on your blue suede shoes and rock 'n roll with some Elvis fans' memories in honor of the King's birthday, Jan. 8. He would've been 84 this year.
Phyllis E. Childress is a River Oaks girl now, but grew up in Corpus Christi. On April 16, 1956, Phyllis, a high school student at the time,  was lucky enough to get a ticket to Elvis' performance at the Corpus Christi Memorial Coliseum. Tickets were $1.50. Over a thousand people were turned away at the ticket office. "My girlfriends and I had really good seats – like on the 4th or 5th row, center orchestra – so we could really, really see Elvis." She described that he was wearing brown slacks with a narrow white belt and a matching brown silk shirt with large white polka dots, a "very classy and sophisticated look considering his later taste in bejeweled white outfits with brightly colored scarves," she said. "From my view, I was certain that he was singing directly to me. As I remember the occasion, at the beginning we could hear the words he was singing but then screamed our heads off once he began rolling and thrusting his hips. I also remember that I cried – with ecstasy – throughout the rest of the concert."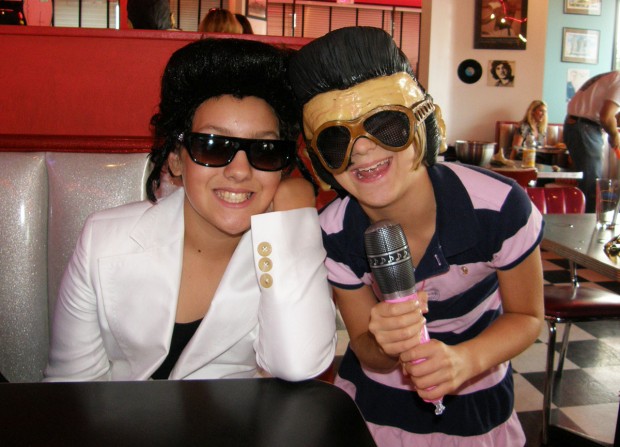 Houston native and Lamar High School alumni, Bev Taylor, proudly admits that she and her friends were some of the teenage screamers in the crowd on the infamous evening of Oct. 14, 1956. Elvis'  sold-out (9,000 people) concert at the Sam Houston Coliseum (where Hobby Center now stands downtown on Bagby St.) ended abruptly when a mob of about 1,000 teenagers rushed the stage and Elvis and his band had to be taken away by police escort. She didn't rush the stage but remembers being in the crowd. "We had seen Elvis on The Ed Sullivan Show, which caused such a stir. All he did was shake his hips!"
"When the coliseum doors opened there was a mad run to get as close to the stage as possible. It's been 60 years but I still remember a girl in front of me with one of those box type purses that were popular back then. I can still see that purse today. She had a metal nail file sticking out of it, and I kept thinking I was going to get poked by it during the concert. I made sure to keep my distance," Bev remembers. 
Later in life when they were both respectable wives and mothers, Bev and Marilyn Lyne, one of the original concert-goers at that October 1956 show, went to see Elvis at the Astrodome during Rodeo Houston. Bev shared, "Marilyn and I had fun embarrassing our husbands, with all of our screaming and misbehaving. Marilyn kept yelling at a man in front of us to sit down so we could see Elvis. He didn't so she threw a whole box of popcorn at him." 
The group enjoyed seeing Elvis perform in Houston numerous times over the years, including at the University of Houston. Bev still treasures her Elvis original Sun Records label, which produced 45 singles.
Tillie Wiedemann, retired City of Bellaire receptionist and a Bellaire High School alumni, shared that she and her friends were crazy about Elvis even before he became a household name. They had heard him sing on the Shreveport-based Louisiana Hayride radio show and, in October 1955, some of the Louisiana Hayride singers performed at the Houston music venue, Magnolia Gardens. Tillie reminisced, "My friends and I were too young to go in, but I remember we sat in the parking lot of Magnolia Gardens just to get a glimpse of Elvis getting in and out of his car." 
Tillie is still such an Elvis fan that her cell phone ringtone is Elvis singing "Moody Blue." Tillie's love of Elvis is infamous from her collection of the King of Rock 'n Roll's memorabilia she kept at her City Hall desk the past few decades. "Friends and residents have always been so nice and gifted me with Elvis collectibles over the years. Former mayor, Cindy Siegel, even gave me a pair of Elvis slippers to celebrate my retirement!"
Tillie was honored the year the Bellaire L.I.F.E program (Living Information Fun Enrichment for anyone 50 years and older) had an Elvis Birthday Party and borrowed Tillie's Elvis collection for decorations. 
Over the years, Tillie and her fellow Elvis fan friends have gathered on Jan. 8 to celebrate Elvis' birthday (as well as Aug. 16, the anniversary of his death). Tillie has special Elvis-themed clothes and jewelry that she wears for these occasions. One favorite meet-up spot has been Chuy's restaurants because of their annual Elvis Birthday specials. If you dress up as Elvis or Priscilla the restaurants will give you a free entrée as well as other food and drink specials to honor the King.
Not many people can say they were born in the same town as Elvis, but West University's own Dale Waller can. 
"I don't have a lot of Elvis-related memories from growing up in Tupelo, Mississippi - believe it or not, I never visited the birthplace (now the birthplace/museum/gift store/chapel/campground complex) until I was in college and a visiting friend wanted to see it! I do remember that every year on the anniversaries of Elvis' birth and death, the town was overrun with busloads of tourists - mostly from overseas - who traveled a long way to visit Tupelo and Memphis (Graceland) and danced to Elvis music in the shopping mall."
Dale's parents were born and raised in Tupelo – they met as pre-schoolers- and were in junior high school when Elvis first hit the music charts. "People often ask me if my parents grew up with Elvis, but sadly they don't have any stories about hanging out with Elvis as kids - he was about 8 years older than them, and his family moved away to Memphis when he was 13, so their paths never crossed. The closest I can claim to a connection is that everyone in my family has shopped at the Tupelo Hardware Company where Elvis bought his first guitar as a child." 
Dale shared that her parents still talk about attending the big Elvis concert at the Mississippi-Alabama Fair in 1956, when Elvis returned to Tupelo for the first time after becoming famous. "My dad said the hordes of screaming teenage girls were overwhelming. My mom, of course, was one of the screaming girls! In 1981, for the 25th anniversary of the concert at the fair, one of the stores in town displayed a giant mural of a crowd photo from the fair and my parents found themselves in it!"
In Houston, if you visit Amazing Place, a local nonprofit offering daytime programs for adults with memory loss, on Jan. 8, you might want to wear your poodle skirt or at least some bobby socks. Because "Elvis will be in the building." 
A few years ago, always-up for-fun-and-fellowship Rayna Williams, Participant Program Leader, thought the Amazing Place participants would enjoy celebrating Elvis' birthday. Rayna and some fellow coworkers channeled their inner Elvis and it's become an annual event fit for a King ever since. Rayna and others perform Elvis songs and everyone has a good time dancing and singing along. 
Elvis (aka Rayna) shared, "I love dressing up as Elvis. It gets many of the participants up and dancing. So many have special memories of Elvis and of being in love." 
Her coworkers dress up in their Elvis and '50s clothes and help with the skits. Rayna's personal favorite songs to perform are "Jail House Rock," "Love Me Tender" and "Blue Suede Shoes." Her hot tips for being Elvis include swinging your hips, moving those snarled lips, knowing the lyrics to the songs and looking the ladies in the eyes when you serenade them. 
Rayne said, "Seeing the smiles on their faces is priceless." 
Clayton Finney loves listening to music and collecting all things '70s, so yes, he is an Elvis fan. Clayton has many of Elvis' albums and even the record player to play them (as well as machines for any 8-Track or VHS or Beta tapes you might need). It's still a very special memory for Clayton that, in his 20s, he and his dad, Gary Finney, who lives in Arkansas, took the pilgrimage to Memphis and Graceland together. Father-son bonding at its best.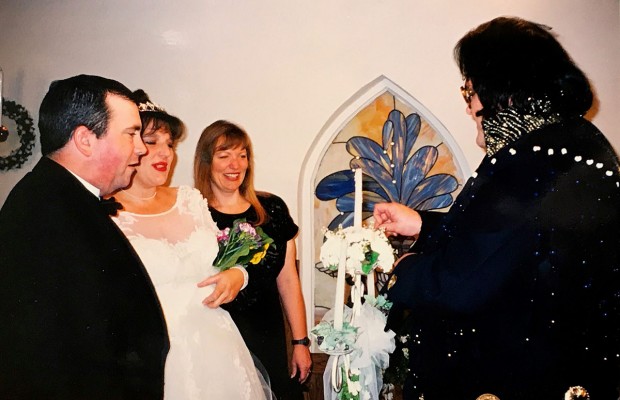 For me personally, I'm an Elvis fan because I like how he makes people smile and feel young again. One of my favorite bucket-list moments was in November 2001 when my husband, Andrew Fuller, agreed to celebrate our one-year wedding anniversary in Las Vegas. Yes, we were lucky enough to renew our vows with Elvis at the Graceland Chapel on the strip. Andrew wore a tux and I rewore my wedding dress even though I was now six months pregnant. One friend hot-glued black fur material sideburns onto cheap sunglasses so our friends in the audience could celebrate their inner Elvis with us. Yes, we danced. Yes, we laughed. Yes, we blew bubbles. But I have to tell you that Elvis, who really is an ordained pastor, shared some really sweet words that day, probably even better than the words on our actual wedding day: Viva, viva, Las Vegas.
A few years later, we decided to put those Elvis glasses back to work and threw a surprise Elvis-themed birthday party for Andrew at Prince's Hamburgers. It was fun to see so many friends and family dressed up as Elvis and Priscilla.  
Elvis Party Ideas 
Menu 
All Shook Up Soda, Elvis Pretzels, Hound Dog Hot Dogs, Burning Love Chips and Salsa, Blue Hawaiian Cocktail (can use Blue Food Coloring, Kool-aid or Curaçao alcohol for 21+ guests), Bananas and peanut butter sandwiches, Elvis Birthday Cake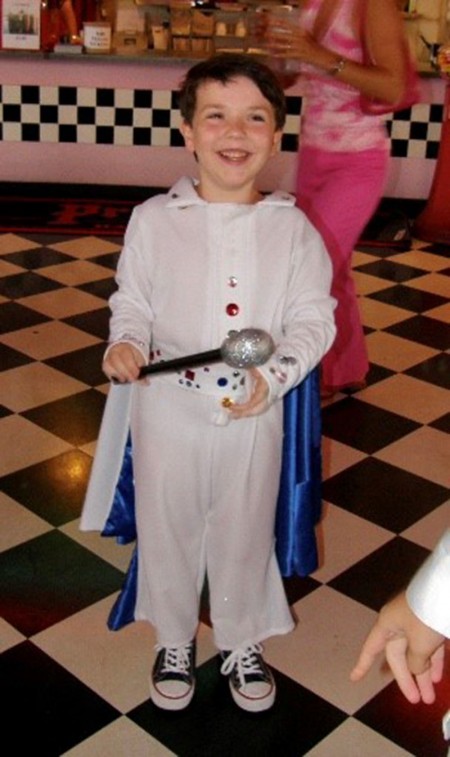 Decorations
Records, bananas and jar of peanut butter, Vegas items/chips/dice, Hawaiian Leis, Memphis items, Graceland sign on your front door or party invitation
Ambiance
Show Elvis movies on TV; play Elvis songs
Party Favors
Order cheap glasses online (Oriental Trading) or from a dollar store, get black fur material at fabric store cut out as sideburns and hot glue onto the glasses for each guest, Microphones
Attire
'50s attire, Elvis, Priscilla, Vegas, GI, Hawaiian, Blue Suede shoes, Jail house Rock, Hound Dog
Thank you for reading this article. Thank you very much.
The birthday boy has left the building…
Want more buzz like this? Sign up for our Morning Buzz emails.
To leave a comment, please log in or create an account with The Buzz Magazines, Disqus, Facebook, Twitter or Google+. Or you may post as a guest.