Must Love Dogs
Neighbors who foster pups
Click the Buzz Me button to receive email notifications when this writer publishes a new article or a new article in this column is published.
There's a story called The Boy and the Starfish. It's about a boy who is walking along a beach, saving stranded starfish. One by one, he picks them up and tosses them into the ocean after a storm has washed them ashore. 
A man approaches him with a puzzled look. With thousands of starfish around, he tells the boy that it's impossible to make a difference. In turn, the boy picks one up, tosses it back into the water and replies, "I made a difference to that one."
There are Buzz residents who open up their homes to foster homeless dogs, and just like the boy and the starfish, they are saving lives, one dog at a time, from living on the streets and euthanasia in overcrowded shelters.
Self-proclaimed "dog lady" Patty Bowen, her husband Sam and their 2-year-old son, Sam, take in foster dogs through Mile High Labrador Retriever Mission. The rescue is located in Colorado, but saves labs from high-kill shelters across the country. They have a network of volunteers, including the Bowens, to offer temporary foster homes for Labs that are pulled from shelters and later sent to Colorado to find forever homes.
Patty grew up in a dog-loving family, but it wasn't until a few years ago that she decided to foster. The Bowens have two dogs, mixed-breed Kailynn and black Labrador Nacho. They take precaution with introductions. "Once pecking order is established, everyone can roam the house without worry," said Patty.
If you follow Patty on social media, chances are you'll see a daily picture of her foster dogs – hanging out in their backyard that's been transformed into an oasis for dogs, with water toys and artificial grass. 
There are challenging moments, like when she found a tri-color, mixed-breed stray aimlessly wandering her neighborhood. The dog had nowhere to go, and the groups were full – and she was preparing to leave town. The options were grim for "Ojitos" if she were to take him a shelter. So, she networked and found a temporary foster home. The feeling is all worth it for her. "[I love] getting the extra love and cuddles from a dog who realizes they have been saved," she said.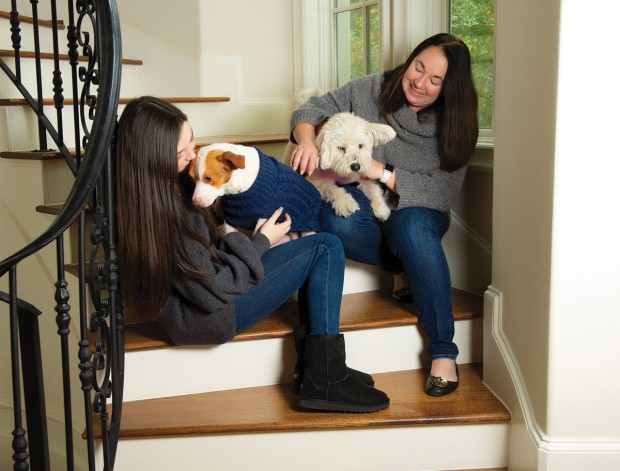 Mother-daughter duo Natalie and Emily Baker have fostered more than 30 dogs through K-9 Angels Rescue. They set up a "dog room" in their home with a tarp to cover the floor, puppy play pen and crates. Emily, a senior at Bellaire High School, dedicates her summers to fostering and training, and plans to foster next year in college.
"We recently had a dog that was shaking for two days," said Natalie. Emily found anti-anxiety music on YouTube for dogs and played it each night after crating him for the night. "After a couple of days, the dog decompressed and knew he was safe." He was adopted the next weekend at a K-9 adoption event.  
Natalie encourages anyone interested in fostering to take the plunge – it saves a life and it doesn't require months or even weeks of commitment. "Sometimes just a few short days," said Natalie.
A warm, safe home is generally all that's required. "There are many shelters and rescues that need fosters," she said. "Most [groups] will supply a crate, food and everything you need." She hears a lot of people say that if they foster, they fear they will become too attached. "I encourage you to realize that in fostering, you will find happiness in saving a life." 
Buzz resident Rosie Murphy and her mom, Pat Castillo, are another mother-daughter duo into fostering. Rosie has fostered more than 30 dogs over the years, and has three "foster failures" herself (when she adopted her foster dogs). Her 10-year-old son, Murphy Jones, is a big helper with the dogs, too. Rosie has fostered for the Great Pyrenees Rescue Society, CAMO Animal Rescue, A Chance to Bloom, Lola's Lucky Day, K-9 Angels Rescue and the Puggle Rescue Group.
She's a big advocate of spaying and neutering and of "adopt – don't shop" when looking to add a dog to the family. "Everyone can get a [purebred] dog if they want one; most dog breeds have a rescue," she said.
Much like the starfish on the beach, when the foster dog moves on, there will always be another in need – looking to find its way after a storm. A foster home is a stop along their way – but without it, their journey would most likely end before it could ever begin.
Where to foster now
Are you interested in opening up your home to foster, short or long term, or volunteering to help a homeless pet? Here is a sampling of local animal-welfare groups with an immediate need for fosters and volunteers.  
K-9 Angels Rescue 
k-9angelsrescue.org • [email protected]
K-9 Angels Rescue rescues and rehomes shelter dogs throughout the Houston area. The group takes in dogs of all ages and all breeds, and under all circumstances. Take a look at their adoptable dogs on their website, too. 
Mile High Lab Rescue
milehighlabmission.com • 720-989-1522
Love Labs? The Mile High Labrador Retriever Mission is a non-profit that helps homeless and lost Labrador retrievers and Lab mixes. The dogs the group takes in are mostly from high-kill, overpopulated pet areas across the country. 
Pup Squad Animal Rescue
Want to get your puppy fix? Pup Squad rescues orphaned puppies and nursing litters from the streets, shelters and other life-threatening situations and matches them with permanent adoptive homes. The group also promotes spaying/neutering and humane animal care.
Red Collar Rescue
redcollar.org • [email protected]
Red Collar Rescue is all-volunteer organization providing abused and abandoned animals with medical care, foster care, training and adoption. Take a look at their adoptable dogs and follow them on Facebook to read about their meet-and-greet events.
Barrio Dogs
barriodogs.org • [email protected]
Barrio Dogs is a nonprofit that has been working in Houston's Greater East End since 2010, raising awareness about animal care and the importance of spaying and neutering. They teach residents that animal birth control and humane care will create safer, higher property-value communities.
Houston PetSet Rescue
houstonpetset.org • [email protected] • 713-960-6622
Houston PetSet is an umbrella group that provides grants to animal welfare-related nonprofits in Greater Houston. Find out many ways to get involved by visiting their website and following them on social media. 
BARC
houstontx.gov/barc • [email protected] • 832-395-9031
BARC is the City of Houston's animal shelter and adoption facility. BARC is the only city shelter in Houston required by law to accept every animal regardless of breed, temperament, health conditions, and circumstance (from owner surrender, stray pickup, rescued or confiscated animals). Foster families are BARC's partners in helping the puppies, kittens, cats, and dogs who need a little extra TLC before they find forever homes. There are many different options within fostering for BARC, and different levels of time and emotional commitment. Whether you can help for five days or five months (the length of time to treat heartworms), BARC has a need for your help.  
Also, read Fostering Felines by Annie Blaylock McQueen for stories on cat fostering in our neighborhoods.
Want more buzz like this? Sign up for our Morning Buzz emails.
To leave a comment, please log in or create an account with The Buzz Magazines, Disqus, Facebook, Twitter or Google+. Or you may post as a guest.