New Year's Resolutions: Houston Edition
Click the Buzz Me button to receive email notifications when this writer publishes a new article or a new article in this column is published.
2019 is here, which has got me thinking about how many of us go into a frenzy about what kinds of resolutions we want to make for ourselves. Maybe to lose a few pounds, or stay off our phones or (gasp) try something new and exciting?! Regardless of what you have in mind for yourself, you can look to my list of Houston-related resolutions to try out in the coming year. They may be easier than losing a few pounds, but who says they're not important? 
1. Spend more time at public spaces and parks
Houston has some great public spaces, including Discovery Green, the running trails along the bayous, Memorial Park and many more. Houstonians are creatures of the indoors, but maybe your resolution can be to spend some more time outside and enjoying the walkable spaces of Houston. If you would like to combine this with working out, check out The Buzz's weekly workout, which takes place every Thursday, 8:30 a.m. at Evelyn's Park (and it's free!). 
2. Support Houston's live music scene
Houston has a great arts and music scene. Tons of great musicians come through our city all the time, playing at both small and large venues. We are lucky to be the hometown for a lot of great music stars (Beyonce included), so try to support your local artists (popular and not-so-popular) in the new year. Check out my monthly concert blog for ideas!
3. Try new cuisines
Not only is Houston the most diverse city in the country, but we have the most number of restaurants per capita. This means we have lots of restaurants with tons of great, interesting food you may have never tried before. I urge all Houstonians to break out of their comfort zone and try foods from cuisines they have never tried before. You may have tried spring rolls, but maybe you've never had pho. Or maybe you've never been to dim sum in Chinatown on the weekends, where carts of food roll by and plates are shared among the table? The new year is a great time to introduce yourself to new cuisines and celebrate all the wonderful cultures that make Houston so great. See Chef's Corner for dining ideas.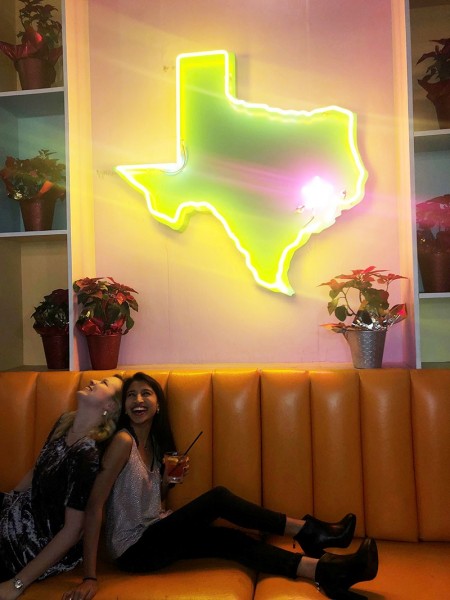 4. Drive less
Houstonians are notorious for driving everywhere whenever possible, but unfortunately, there are consequences to that, including bad traffic and pollution. Houston has a good light rail and bus system that I think all Houstonians should take better advantage of when we can. And although the heat makes it tough to spend lots of time outside, maybe we can consider biking or walking places we need to go as an alternative to driving. In recent years, Houston has implemented a program to encourage designated bike lanes and rentable bikes around the city, so why not take environmental conscientiousness for a spin? 
5. Recycle
Texans aren't known for being big recyclers. As this article explains, as many out-of-state businesses and people move to Texas, they're all wondering how and where to recycle. According to the Houston Chronicle, Houston is the only big Texas city that doesn't charge a monthly fee for recycling pick up. It's easy to recycle, so hopefully with a growing desire to recycle in Houston in addition to changing a few of your daily habits, you can be a recycler! See Tracy L. Barnett's recent Going Green on eco-friendly resolutions for more on this topic. 
6. Support local Houston sports teams
It's easy to cheer on the Astros, Rocket, and Texans, but if you have time, cheer on some of the smaller Houston teams too. Rice women's basketball has been on a roll, TSU men's basketball recently beat A&M, the Skeeters in Sugarland are always having fun, family-focused events, etc. UH has a new basketball center and are also on a winning streak! There are plenty of local college teams to cheer for, whether you went to that school or not. Tickets are cheap, so why not participate? 
See all blog posts by Haley here. 
Want more buzz like this? Sign up for our Morning Buzz emails.
To leave a comment, please log in or create an account with The Buzz Magazines, Disqus, Facebook, Twitter or Google+. Or you may post as a guest.