Soup Days
Warming up the chill
Click the Buzz Me button to receive email notifications when this writer publishes a new article or a new article in this column is published.
The tiniest tinge of cool in the air has those of us who like to cook looking up last year's favorite pumpkin bread and pulling out recipes for gratins and braises. Mostly, we start thinking soup. Because there's nothing better on a Sunday night with a fire going, even if you have to crank up the AC. 
While chili recipes are always subject to debate in Texas (beans? no beans?), Amy Krasner thinks she's found the perfect mix. On a recent Saturday night, she hosted an easy, last-minute chili party – last-minute meaning she didn't even go to the store for ingredients until late in the afternoon.
"My family's always made chili, and I've been making it since law school," says Amy, a legal recruiter. "It's always fun to have chili on and watch football and relax. I love having people over and grazing, and chili is an easy thing to eat around. You can add tortilla chips, Fritos, onions, queso, rice, guac – any or all. You can do a million things with chili, and it's nice for people to be able to enjoy their own version of dinner."
Amy Krasner's Chili
"It seems like cheating to start with a 'chili kit'," Amy says, "but it makes a great baseline chili." 
2 pounds coarse ground or diced meat (such as chuck, round or turkey)
1 teaspoon minced garlic
1 8-ounce or 10-ounce can tomato sauce or RoTel Diced Tomatoes and Chopped Green Chiles, drained, or El Fenix salsa
12-16 ounces water – or 1 bottle of beer (Amy uses Dos Equis XX Lager Especial) and salsa (Amy uses El Fenix) instead of water
1 package Wick Fowler's 2-Alarm Chili kit
Optional: jalapeños or serranos, diced 
1 sweet or white onion, chopped
Pinch of sugar
Sear the meat in a large skillet or saucepan with the garlic. Drain off fat. Add tomato sauce, drained RoTel or half a jar of salsa. Add the water or a half-bottle of beer. Stir in all of the Wick Fowler's package ingredients except the red pepper and masa. Depending on the level of spiciness you desire, leave out the red pepper entirely or stir it in to taste. (Amy finds it overpowering.) For a deeper "kick," add jalapeños or serranos to taste. Add the onion. Cover the skillet or saucepan and simmer 30 minutes (longer for a spicier flavor) or until the meat is tender. Add the remainder of the beer or water and continue to cook the chili until some of the liquid burns off. If the chili seems soupy or if you like a thicker chili, stir the masa flour into ¼ cup warm water and pour it into the chili. Or, in place of masa, Amy likes to crumble tortilla chips and cook them into the chili to thicken it. Simmer another 15 to 20 minutes. Add a pinch of sugar to enhance the flavor ("a trick I learned from my Nanny, who was the best cook I have ever known," Amy says.) The chili is best after simmering or sitting for several hours.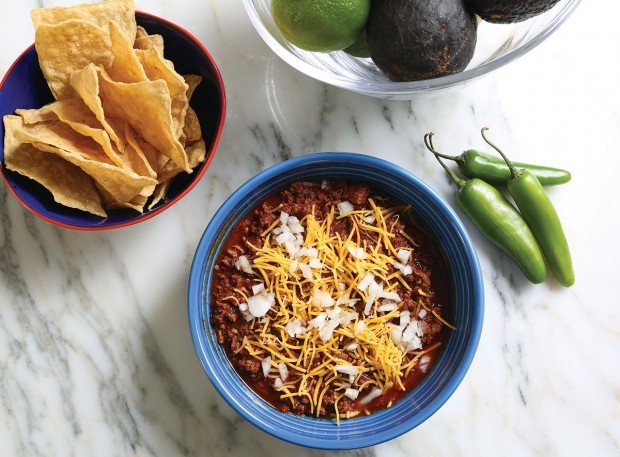 Julie Price's teenage daughters know soup is coming "when the first real cold snap rolls through," she says. "I think a hearty bowl of soup is the perfect meal for a chilly winter night. It warms you up on the inside; it's easy to prep and can be made earlier in the day and warmed up at dinner. It also makes the house smell yummy and makes good leftovers."
The Prices unanimously say that their favorite is Julie's tortilla soup, with chicken with dumplings, chili and her vegetable soup with beef and barley following close behind. 
Julie Price's Family Favorite Tortilla Soup
From the old Rotisserie for Beef & Bird restaurant.
½ stick butter
¼ cup vegetable oil
1 large yellow onion, chopped
1 fresh jalapeño, seeded and chopped
4 garlic cloves, minced
2 large carrots, diced
2 stalks celery, diced
1 pound raw chicken breast, diced into small cubes
1 teaspoon each: ground cumin, chili powder, lemon pepper, salt
3 teaspoons hot sauce (Julie uses Frank's RedHot)
½ cup flour
1 14-ounce can petite diced tomatoes
4 10½-ounce cans chicken broth
Garnishes: tortilla chips, shredded cheddar cheese, diced avocado, sour cream
Heat butter and oil in a large soup pot and sauté chopped onions, jalapeño, garlic, carrots, celery and chicken. Simmer 5 minutes. Add cumin, chili powder, lemon pepper, salt, hot sauce and flour. Stir for a few minutes until the flour is mixed in. Add tomatoes and chicken broth and simmer for 1 hour. Top with crushed tortilla chips, cheddar cheese, avocado and sour cream.
Julie Price's Vegetable Soup with Beef and Barley
1 pound ground beef, browned and drained
3 10¾-ounce cans beef broth
3 10¾-ounce cans of water
1 large (32-ounce) can tomato juice (Julie likes V-8, Clamato or Snap-E Tom)
1 10-ounce box frozen mixed vegetables
1 10-ounce box frozen cut okra
1 16-ounce can stewed tomatoes with liquid
3 stalks celery, diced
4 carrots, diced
1 green bell pepper, diced
1 large yellow onion, diced
4-5 medium red new potatoes, cubed
1 box button mushrooms, sliced
½ to ¾ cups barley
1 Tablespoon salt
1½ teaspoons pepper
1½ teaspoons garlic salt
1 bay leaf
¼ teaspoon red pepper flakes
¼ teaspoon parsley
1 teaspoon lemon pepper
1 beef bullion cube
Combine all of the ingredients in a large stock pot and simmer slowly for 3 hours, stirring occasionally. This will make a lot of soup, and it freezes well. Serve with cornbread.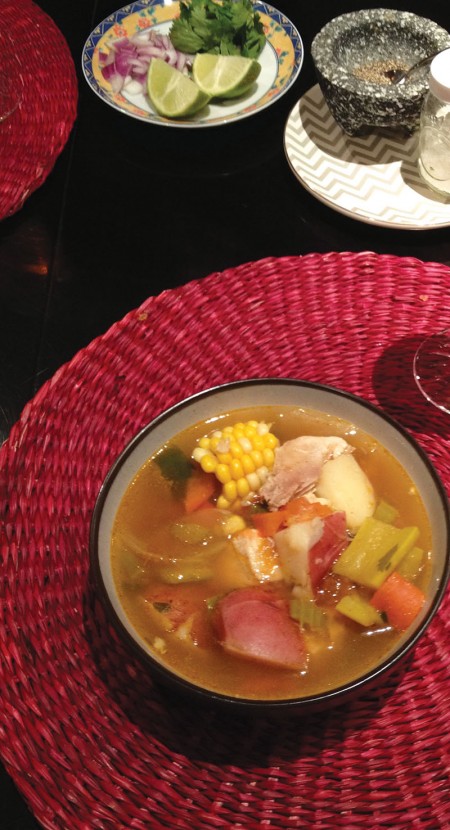 Myrna Engler, a clinical social worker, has been making Caldo de Pollo – or Mexican Chicken Soup – for as long as she can remember, thanks to her mother, who is from Monterrey. "Everyone has their own take on this traditional Mexican soup," Myrna says. "My brother adds kale and ginger, some people like to add cumin, we might use only carrots if that's all I have." The recipe starts with making your own chicken stock. "My mom swears, and it's true, the bone marrow is what gives it wonderful flavor. You have to have drumsticks and chicken breasts."
Myrna Engler's Mexican Caldo de Pollo (Mexican Chicken Soup)
6 skinless drumsticks
2 skinless, bone-in chicken breasts 
1 red onion, quartered
4 stalks celery, chopped
4 large garlic cloves, peeled
1 bunch cilantro, chopped
1 bay leaf
Salt and pepper to taste
1 tomato, diced
1 large yellow squash, diced
1 large zucchini, sliced in ¼-inch rounds
4 large carrots, cut in ¼-inch rounds
¼ head cabbage, sliced thin
6 baby russet potatoes, quartered
4 cobs of corn, each cut in fourths
Garnishes: lime, chopped onions, chopped cilantro, sliced avocado, tortilla strips or corn tortillas
For the stock: Place chicken in a Dutch oven or large pot. Add onion, celery, garlic, cilantro, salt and pepper, and add enough water to cover. Boil over high heat, then simmer over medium heat for 30 minutes. The stock is done when the meat falls off the drumsticks. Remove chicken from the pot and set aside. Strain the stock into a large bowl or another large pot, saving the solids, and returning them and the stock to the pot. When the chicken has cooled, remove the meat from the drumsticks and shred or dice the chicken breasts.
Place the cooked chicken and the fresh vegetables back in the pot with the stock, and add chicken stock or water if needed to cover. Let the soup cook for 15-20 minutes, being careful not to overcook the vegetables. Serve with sides of lime wedges, chopped onions, chopped cilantro, sliced avocado and tortilla strips or corn tortillas.
Denise Smith, an executive search consultant, recently began making a healthy soup that she says is delicious. From the website That Low Carb Life, the recipe uses zucchini that have been spiralized (see the January 2018 story Veggie Noodles: Healthy Options for the New Year at thebuzzmagazines.com) – a perfect healthy "reset" soup for January.
Chicken Zoodle Soup
2 Tablespoons olive oil
½ sweet onion, diced
3 stalks celery, diced
1 red bell pepper, diced
1 clove garlic, minced
6 cups chicken stock
2 cups shredded, cooked chicken
½ teaspoon dried oregano
½ teaspoon dried basil
1 teaspoon salt
1 teaspoon pepper
4 large zucchini
Heat the olive oil over medium heat in a large Dutch oven or stock pot. Add the onion, celery, bell pepper and garlic to the pot and cook, stirring often, until the vegetables have softened, about 5 minutes. Add the chicken stock and chicken to the pot along with the oregano, basil, salt and pepper. Spiralize the zucchini to make "zoodles" and add them to the pot (you can also buy pre-spiralized zoodles). Bring to a boil, then reduce to a simmer, simmering and stirring occasionally for 10 minutes or until the zoodles are al dente. Taste for seasoning, and add more salt and pepper if needed.
Want more buzz like this? Sign up for our Morning Buzz emails.
To leave a comment, please log in or create an account with The Buzz Magazines, Disqus, Facebook, Twitter or Google+. Or you may post as a guest.