Spectrum Fusion
Supporting adults with autism
Click the Buzz Me button to receive email notifications when this writer publishes a new article or a new article in this column is published.
William Purdy was stuck. In his mid-20s, he was living with his grandmother in Memorial, in a dead-end, part-time job at a comic book store. He had been in the gifted and talented program at school and earned a college degree in psychology. He liked to write and had ideas but didn't seem to be going anywhere. 
 "I would wake up in the morning and say, 'Well, I'm awake, not that there is anything to wake up to.' I would sit in front of the TV and sit in front of the computer, and that's pretty much what I did for years on end," said William.  
William says anxiety was his enemy growing up. He thought he had friends, but he never hung out with them. Then he learned about a free support group called Spectrum Fusion, and what happened next was life changing. At the age of 26, he was diagnosed with autism; as someone who always had good communication and language skills, it was an unexpected answer to his questions. 
Spectrum Fusion partners with universities, organizations, employers and entrepreneurs to improve the lives of adults with autism. Its founder, Dr. Heidi Ham, earned a doctorate in psychology, specializing in autism, from the University of Edinburgh in Scotland. She has studied the effects of autism in the United States, United Kingdom, Africa and Australia. 
"In living in different countries, I really did hear the same stories over and over, families very concerned about what their children would do after they passed away. Where would their children live? These are adults with autism who are bright and have a lot of great ideas, but are not part of a community."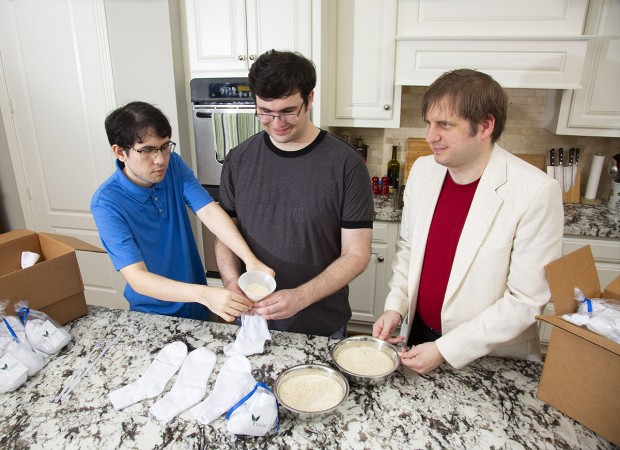 And that is why she opens the door of her West University home several nights a week, to help the 25-30 members of Spectrum Fusion find their inspiration and purpose. 
"Fostering that sense of belonging is really important for the community. If they don't feel safe or they don't feel accepted, they won't even share with you what they would like to do," said Dr. Ham. "In order to have a sense of belonging, you have to have positive frequent social contact with the same people. It's not just someone checking in, but somebody who really cares about them day in day out."  
Autism is a neurodevelopmental condition, usually characterized by difficulties with speaking, socializing and or showing empathy. In more severe cases, individuals may be non-verbal, have emotional outbursts and behavioral challenges. Dr. Ham says adults on the spectrum often feel frustrated and misunderstood, and sometimes the anxiety is unbearable. She says adults with autism are five times more likely to attempt suicide, especially those who are above average intelligence. 
While socializing and community-building are important values, employability is just as critical. As part of job training, the group invented Spec-Press. For sale in doctors' offices, it is a sock filled with rice for patients to warm and use on their eyes to aid in recovery from eye surgery. Members of Spectrum Fusion assemble, market and profit from the product. 
Rick Giuffre, who has an adult son in the group, is a CPA who volunteers to teach basic business skills to members. "This program maximizes individual potential, and it's more cost effective for society and our communities," said Rick. "The traditional state and city governments to help people with special needs are overloaded and not effective." 
The program takes entrepreneurship a step further by matching an individual's specific interests with a job. Once an individual is comfortable, the next phase of growth is an event called the "reactor room," where experts tailored to that person's talent create a plan for employment. One member is selling jewelry on her website; another is working at a place where he can showcase his filming and editing talents. 
Since Spectrum Fusion started 18 months ago, there have been six "reactor rooms." One member in his 40s, who preferred not to have his name printed, is convinced the experience is opening doors. "I always knew I had more abilities than I was using and could do more with the right support. State agencies had no real connections to help me. I was able to showcase a 3D prototype of a drawing I did in a reactor room, and it received great feedback. It was a truly rewarding experience."
William Purdy was the first participant and the first success story of the "reactor room" experience. It led to a writing job at SEO411, a digital marketing agency based in Houston.
"A couple of years ago I could only dream of this. All I had were dreams. What Spectrum Fusion helped do for me was give me direction," said William. "It was that jumpstart that I needed...." 
Editor's note: Spectrum Fusion is looking for volunteers, board members and donations. See www.spectrumfusion.org.
Want more buzz like this? Sign up for our Morning Buzz emails.
To leave a comment, please log in or create an account with The Buzz Magazines, Disqus, Facebook, Twitter or Google+. Or you may post as a guest.