Touchdown!: Super Bowl Party Traditions, Games and More
Click the Buzz Me button to receive email notifications when this writer publishes a new article or a new article in this column is published.
This Sunday, Feb.  3 at 3 p.m. CST, more than 100 million Americans will tune in to the 53rd Super Bowl, which takes place in Atlanta this year. Whether you're cheering for the New England Patriots, the Los Angeles Rams or the funny commercials, here are some game plans to keep your Super Bowl party touchdown-worthy. 
Elizabeth Groff shared, "Years ago the husbands started a tradition of having a 'guys only' Super Bowl watching party. The wives were left with all the kids so we decided to start our own fun celebration, which is now known as the 'Super Bowl Sundae' party. Kids (big and small) scoop up boats of ice cream and then hit all the toppings stations to create amazing ice cream sundaes." 
Super Bowl theme parties run in Elizabeth's blood. She recalls, "I have very fond memories of my parents throwing a 'Souper' Bowl party and everyone bringing soup. We had a giant stove with lots of burners and I can still see my dad stirring about eight giant pots of soup."
During the early 2000s the West U Methodist Cornerstone Sunday School had an annual Super Bowl Sunday party. Most of the class included young parents who had preschool-aged children. Everyone would chip in to have two to three babysitters wrangling about 20 kids upstairs while the parents were having fun downstairs eating, drinking and dancing and singing to halftime show performers like Prince, Tom Petty and Bruce Springsteen.     
The year Kevin and Lucy Leonard hosted the party in their Bellaire home, their preschool-aged daughter Audrey was in a bit of shock after having that many kids descend upon the house. Lucy laughed, "Audrey was an only child at the time and was traumatized after her toys were moved by all the kids." Dad Kevin had to share Audrey's very honest feelings: "She told us to never have another Super Bowl party!" 
One over-zealous Super Bowl party guest shared this sage advice, "One year I tried to hit four different parties…one per quarter. That wasn't a great idea. Just when I got settled at one party, it was time to move to the next one."
Another fan shared that she has more fun watching the more friendly and furry Bowl Game every year…the Puppy Bowl, which airs on Animal Planet, Sunday, 2 p.m. CST.  
No Wardrobe Malfunctions
Even though their favorite teams haven't made it to the Super Bowl the past few years, Jan and Greg Garner still love football and a good theme party, so they've gotten creative in their Super Party clothing choices. For last year's Philadelphia Eagles vs. New England Patriots Super Bowl, they wore rock band t-shirts inspired by those teams. Greg wore an "Eagles" t-shirt for Philadelphia and Jan rocked her "Boston" t-shirt for the Patriots. This year Jan will give an encore performance with her "Boston" shirt and for Los Angeles, Greg plans on digging up a "Ram"-ones t-shirt!"
Even if your favorite gridiron giants didn't make it to the big show, it's totally acceptable to still wear attire representing your team.  Just tell people you're preparing for next year's Super Bowl lineup! Another fun option is to buy a referee shirt at a sporting goods store and just hope no one starts yelling at you.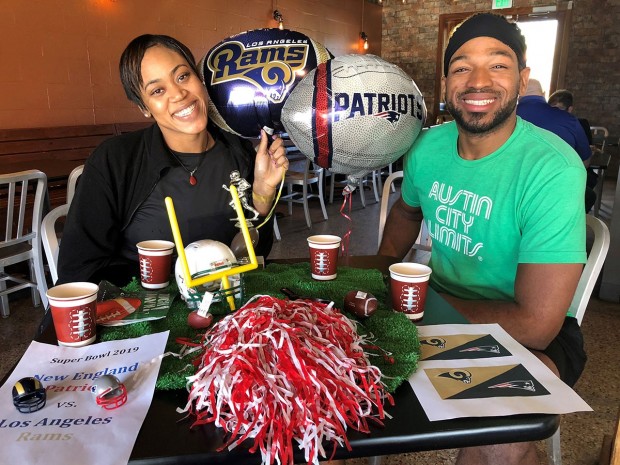 Decoration Ideas
Some of my fun decoration ideas to share: 
If possible, set up more than one TV viewing area in different parts of the house. That way you can have one for the serious football fans that like to see and listen to every detail of the game and then another area for your guests that only stop talking or start paying attention for the commercials and half-time show! (Maybe even label the rooms – Game Watching Zone and Commercial Watching Zone.)
Keep Super Bowl Team colors in mind. This year: Rams are Blue and Gold/Dark Yellow; Patriots are Red, White and Navy Blue.
Repeat after me…AstroTurf is your friend. It makes a great tablecloth or a runner. You can also put it by the front door as an awesome welcome runner or us as an indoor mat…kids love playing on it.) I buy AstroTurf at hardware stores.  You can usually buy it off the roll and have them cut the size you need. (If you want to get fancy and go for more of a football field look, the easiest way is to add lines with thin white duct tape.  Or the DIYers might want to add lines and numbers with white paint.)
Do you have any 4-16-year-old boys in your life? Kids that play youth football usually have helmets, football trophies or other good party props.  If they have football figurines you can decorate with those or put them on a cake. 
Find football trading cards to lay around at dollar stores or other discount stores.
Many of the larger grocery/party stores will have Super Bowl and Patriots' and Rams' team colors balloons, napkins and baked goods for a quick, easy and fun addition (just don't wait until last minute, they sell out).
Other fun football Dollar Store/party store finds: poms-poms, face paint, megaphones. 
You can buy a football at an athletics store for about $10, which is great for decorations. (Sometimes we'll ask all the guests to autograph the "game ball" with a black Sharpie pen. Just beware to keep an eye on that permanent marker if any of your under-5 guests are budding artists!) It's also a good idea to have some extra footballs to throw around (outside!) during halftime.  Suggest buying some Nerf or inexpensive footballs you don't mind losing as they tend to get stuck on roofs or disappear.  
Make a life-size field goal for outside. You just need PVC pipe and a can or two of spray paint. (Both kids and adults have a great time playing with this one. If you get really crazy, you can spray paint hash marks on your yard! Like a bad haircut, it will eventually grow out!) Take measurements with you to the hardware store for them to cut the PVC pipe for you.
See this video on how to make an equally impressive, smaller table-top size field goal. 
Fun with Food
Another great way to get your guests cheering is creative food. You can find overflowing stadium amounts of online recipes for making food into the shapes of footballs, helmets, etc. Here are a few of my ideas for theme foods to highlight this year's Super Bowl cities/mascots. Be sure to put out signs so people can enjoy the creativity! 
For the Los Angeles Rams you could go with "Goat" Cheese or LA/California healthy food like kale salad, sushi, California raisins, fancy bottled water, or California wine. A comical "only in California" vegetarian twist on a classic football snack, "Carrots in a Blanket" should bring some laughs.  
New England Patriots fans, try Boston Baked Beans, Clam Chowder, lobster rolls, Yankee Pot Roast, Cape Cod Kettle Cooked potato chips, Boston Crème Pie or Samuel Adams Boston Lager. 
Use players'/coaches' names for some fun food/drink names such as Brady Punch, Goff Gooey Brownies, Belichick Martinis, Coach McVay Mocktails (alcohol free cocktails). 
Or buy soda in the colors of the team… red for Patriots and darker blue for the Rams. You can use Kool-aid, food coloring, blue curacao, red grenadine Color punch/cocktail for that team (or go with colored Gatorades).
The game's in Atlanta, so anything with peaches works for that.
And, if you want to skip the cooking – and spend for a good cause – the Bellaire Optimist Club is hosting their annual Super Bowl brisket fundraiser. The club will be cooking and selling whole racks of pork ribs, beef briskets, and pork butts on Saturday, Feb. 2 and Sunday, Feb. 3.
Games
If you want to create some fun energy at your Super Bowl party, you want a guest or host like Bellaire's Michael Grant. Michael's the guy who helps run the games. He finds the games, he prints out handouts for the games, he passes out the sheets, he collects the money and hands out the winnings. Michael shares, "I enjoy coordinating the games during the Super Bowl. It's just fun to have a general theme that everyone can relate to and cheer for even if they don't understand football very well. It gets people to connect." 
Michael continued, "With games like Squares you can just use names and win 'bragging rights' but it is also fun to sell the squares for a $1 each and people can win some fun money at the end of each quarter."
Here are some ideas of games to play or activities to have on hand during your Super Bowl party: 
Also, have your dance moves ready for this year's halftime show featuring Maroon 5, Big Boi and Houston's own Travis Scott.
No matter how you celebrate Super Bowl Sunday, we know it will be Jumbotron-worthy! 
Want more buzz like this? Sign up for our Morning Buzz emails.
To leave a comment, please log in or create an account with The Buzz Magazines, Disqus, Facebook, Twitter or Google+. Or you may post as a guest.