Montrose Garage: From Storage Space to Showcase Place
Click the Buzz Me button to receive email notifications when this writer publishes a new article or a new article in this column is published.
While most of us use our garages for junk or storage – perhaps a vehicle – young artist Preston Douglas has found another use for his 16x20 foot space: an art installation. 
"I parked my car in this space and I was like okay, this is where I'm going to put on shows," Preston said.
On Saturday, Feb. 16, Preston held his second one-day art installation in his garage in Montrose, inviting friends and members of Houston's creative community to enjoy music, art and conversation with the artists whose works were on display.  
A native Houstonian who grew up in West U, Preston graduated from St. John's School in 2013 and The University of Houston in 2018. He first entered the art scene through fashion. In middle school, Preston was known for his sneaker collection and soon found a broad fan-base on YouTube where he posted designer sneaker reviews; by high school, he was styling local Houston musical artists, and before he graduated, he had started his own company – a luxury clothing and lifestyle brand that draws inspiration from streetwear and high-end fashion. 
Now, at age 24 Preston is well-integrated into Houston's art scene as a contemporary artist. Humble and down-to-earth, Preston was quick to credit others for his creativity and business drive: he recognized his girlfriend Grace Deal, a painting major at UH, for introducing him to Houston's visual arts scene, and he thanked his mother Gaye Lynn, an interior designer, for passing on her "entrepreneurial and creative genes." 
"[My mom is] a hustler and she makes stuff happen," Preston said. "I definitely got that from her." 
Over the past few months, Preston has staged a number of art shows in warehouse spaces around Houston. He decided when he pulled into his garage one day that it would be the spot for his next show. The goal of Montrose Garage, he said, was to create a hangout space for artists and to create a show featuring artists of different ages and varying levels of experience. 
Set up in the morning and taken down in the evening, the temporary exhibition pairs mid-level local artists with newer artists and features paintings alongside other types of mediums. Saturday's show, free and open to the public, included paintings by Preston himself, along with photography from DeCarte May, a fabric piece by Shannon Crider and paintings by Terry Suprean.  
"I really enjoy putting on shows that I wish I was able to see but just don't," Preston said. He added that it would be rare to see a show featuring a well-known artist alongside a younger artist who has never shown their work in a gallery before. 
On display at Montrose Garage, Preston had several digitally printed paintings he created using an app on his iPad, a method that he says "really challenges what a painting is and what a painting can be." 
Preston recruited the three other Houston artists for the installation, selecting individuals of different ages whose work he admires.  
"The work I like is right in between what would look great in somebody's home but also has a really high level of artistic integrity," Preston said. "And it has to be weird." 
Preston had recently seen works by both Terry and Shannon at a show and approached them about collaborating for Montrose Garage. Preston said Shannon's work, which focuses on the impact of contemporary representations of women in pop culture – resonated with him since she often uses fabrics. 
Called "TV Guide," Shannon's piece displayed at Montrose Garage features still photographs digitally printed onto different colored fabrics. Shannon said the photographs capture TV screens whenever the scene passes the "Bechdel Test," a rule for female representation in film. To pass the test, a film must have more than one woman, those women must talk to each other and they must talk to each other about something other than a man. 
"It's an imperfect test, but a lot of movies don't pass it," Shannon said.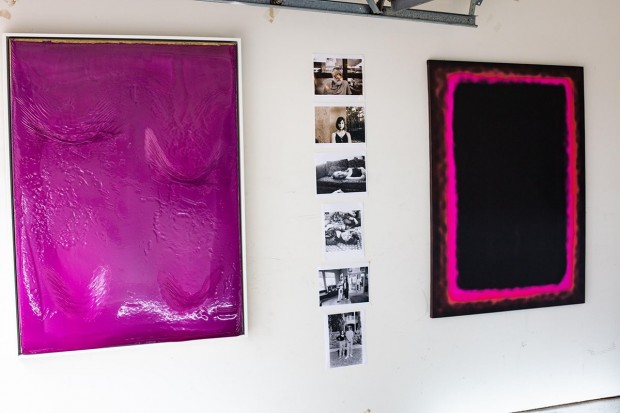 Terry's work, meanwhile, are what he called "process paintings" – work that is "not so much dictated by an imagined end result but more dictated by the process himself." Each of Terry's paintings features multiple thin layers of different materials, including interference paint, ground-up mica, gold leafing and metallic dyes. 
"I don't see anyone else internationally making anything like this," Preston said of Terry's pieces. "They are so weird and beautiful and dark." 
Next up for Preston: he's considering organizing a third Montrose Garage event next month and is also preparing a larger exhibition that will open in late-March and will feature over 20 of Preston's favorite Houston artists.  Further down the line, Preston is gearing up to move to New York City with Grace in the summer, after she graduates from UH. 
Although Preston is excited about the opportunities that await him in NYC, he said he will miss his hometown. 
"Montrose Garage is really an amalgamation of what Houston is to me," Preston said. "Houston has a lot of space and a lot of creative people making weird art you don't see anywhere else." 
Want more buzz like this? Sign up for our Morning Buzz emails.
To leave a comment, please log in or create an account with The Buzz Magazines, Disqus, Facebook, Twitter or Google+. Or you may post as a guest.