Sunday Mornings with Rania: Risks of Vaping
Click the Buzz Me button to receive email notifications when this writer publishes a new article or a new article in this column is published.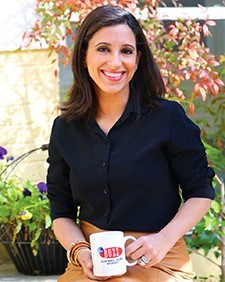 She's only 7 years old but can already tell you where you can buy a vaping pen. How, you may wonder? Well, I've talked to my older kids about the dangers of vaping and e-cigarettes in general. I told them they will see it at school, especially as they get a little older. That said, I was caught off guard last week when I was walking through the Galleria with my kids and saw a vaping cart. My oldest stopped me and asked: You said vaping was dangerous. Why are they selling it near right here in the mall?  My reply, an honest one: Because they can.
So parents, the ball's in our court on this one. It's so incredibly easy to gain access to and kids are vaping in record numbers. What is vaping? What is the difference between vaping and e-cigarettes; are kids interested in this and are there dangers? Let's dive into it all. 
Vaping vs. E-cigarettes: 
Vaping references the act of inhaling or exhaling vapor from a vaporizer or vape pen which uses a small battery-powered device to heat liquid, turning it into an inhalable vapor. There are a wide range of choices when it comes to devices as well as types of liquids or pods or pills that can be placed inside them and "vaped." 
Parents, beware: You may have heard of "Juul," a small, e-cigarette popular among teens and college students. It's important to know that the liquid in Juul pods which turns to smoke has as much nicotine as a pack of cigarettes, according to the Truth Initiative.  
Electronic cigarettes (e-cigs or "cigalikes") were created to imitate the look and feel of a traditional cigarette. E-cigs use a rechargeable or disposable battery, combined with disposable e-liquid cartridges, which means that there's no tank to fill. When the smoker turns the power button on or simply inhales, the battery heats the liquid in the cartomizer (a small component that contains a heating coil wrapped in polyfill). The polyfill wrapping soaks up the e-liquid, heats it until it turns into vapor for inhalation. All this takes place in just a few seconds.
Parents, beware: Though e-cigarettes contain fewer harmful chemicals than other tobacco products, they still contain carcinogens, which are dangerous for young people according to Benard Dreyer, former president of American Academy of Pediatrics.  
Kids are drawn to these devices: 
Millions of teens are vaping every day. In fact, according to the 2018 National Youth Tobacco Survey, more than three million middle and high school students say they regularly vape. The number has increased by 78 percent when comparing 2017 to 2018 stats.  
Why do kids like them? According to multiple resources and facts from Drugabuse.gov:
They think it's fun to do. 
They like the flavoring.
They don't see it as a tobacco product or as a health risk. 
Everyone is doing it, especially Juuls, and they see vaping as different and cleaner than cigarettes.
It's addictive, physically and socially. You feel left out if you're not vaping and it seems safer than drinking or doing drugs. 
The flavored pods are great. 
It's a stress reliever. 
Parents, beware: The Juul product came out with an aggressive campaign in 2015 targeting 24-37 year olds. They used colorful backgrounds and young models and focused quite a bit of their advertising on Facebook, Twitter and Instagram. Shortly after federal regulators declared youth vaping an epidemic, Juul Labs deleted its social media accounts. In a statement they said, "our intent was never to have youth use JUUL products." Additionally, Juul Labs halted sales of mango, fruit, creme and cucumber flavored pods at more than 90,000 retail stores, amid claims the sweeter flavors attracted teens. The company now requires age verification for online sales to ensure customers are 21 and over.  
Dangers:
The devices are dangerous. Earlier this month, a Fort Worth man found this out the hard way when his vape pen exploded. A piece of the e-cigarette lodged in his throat.
E-cigarette products contain nicotine, the same highly addictive drug found in tobacco, making it an "on-ramp to addiction." Nicotine can harm brain development and affect learning, memory and attention not to mention cause cancer.
Vape pens have capsules of flavor that kids find to be as tasty as candy. That said, vaping becomes habitual and addictive for children. 
Additionally, there's no regulation over the industry. How does one really know what the liquid is that they are vaping? 
New vaping devices have become smaller and easier to conceal, including one shaped like a computer flash drive that is now the most popular such device on the e-cigarette market.
E-cigarettes create an aerosol by using a battery to heat up liquid that usually contains nicotine, flavorings and other additives. Users inhale this aerosol into their lungs. E-cigarettes can also be used to deliver marijuana and other drugs.
Most youths ages 12 to 17 who use e-cigarettes prefer liquids flavored to taste like candy, fruit or chocolate. 
Parents, we all have some work to do here. Kids clearly don't understand the dangers of vaping. Combine this with the ease of acquiring a vaping product and the skyrocketing use of these small electronic devices, and you have a recipe for disaster. Beyond all of this, kids need to realize that once you start buying second-hand devices or flavored liquids online, you really have no idea what you are smoking. The results can be devastating. Take a moment to talk through this information with all those in your family and next time you are at the Galleria, take a look at the vaping cart. Get an idea what the tools look like and how they work and move on. For your kids and my kids and all kids, let's be aware. 
For more on this topic, read The Vape Debate: E-cigarettes target new generation by Michelle Casas Groogan. 
Read past Sundays with Rania posts here. Find more information on Crime Stoppers of Houston on their website or follow them on Facebook. Have topics in mind that you'd like Rania to write about? Comment below or email her at [email protected]. Rania is co-host of a weekly podcast which features interesting local and national guests who used their platforms for the good of the community. Connect with Rania on Instagram and Twitter. 
Editor's Note: Views expressed here are those of the author and do not necessarily represent the views of The Buzz Magazines.
Want more buzz like this? Sign up for our Morning Buzz emails.
To leave a comment, please log in or create an account with The Buzz Magazines, Disqus, Facebook, Twitter or Google+. Or you may post as a guest.