Bluebonnet Sightings in Buzz Neighborhoods
Click the Buzz Me button to receive email notifications when this writer publishes a new article or a new article in this column is published.
Bluebonnets, Texans' beloved state flower, are known for growing in the scenic Texas Hill Country but if you know where to look you can also spot them blooming in the citified Texas "Highway Country." Discover 713 bluebonnet locations including some buzzworthy neighborhood yards.
Turnberry Circle near Stella Link Rd., Braeswood Place
Since moving to Braeswood Place in the '90s, Dania Turner has always enjoyed walks around her neighborhood. Over the years, a spring highlight was watching the emerging sea of sprawling bluebonnets cover her neighbor's corner lot on Underwood St. Dania never learned the owner's real name, but affectionately nicknamed her the Bluebonnet Lady. Whenever the neighbor was out in the yard, Dania always said hello and complimented the garden.
Dania recalls, "One day about 15 years ago the Bluebonnet Lady stopped me and said that after living in her house for 50 years, she had sold it because it was time to move to a retirement home. She knew the buyers would scrape the house and yard away for a new build. She asked if I might want some bluebonnet seeds and, if so, suggested I come get the plants before they tore them out. So soon afterwards my husband, Ed, our daughter, Kate Baldwin and myself walked over with my red wagon and dug up about 10 plants." 
Following the Bluebonnet Lady's rather painstakingly detailed instructions, Dania and her patient family let the seed pods open, carefully picked out the seeds, put the seeds in a dry, dark place and then planted them in January after soaking them and scratching the seeds' surfaces with a brick to help the shoots come out. 
"The first year nothing happened. Our yard looked horrible. But then the next year we started to get bluebonnets. Every year I let them go to seed and spread. This year is my best crop ever!" 
Being a University of Texas grad, Dania is a diehard Longhorn fan, but admits she enjoys the unique pink and maroon bluebonnets also growing in her yard. "Even though they came from a seed farm in Fredericksburg and were engineered by Texas A & M, I like them anyway!" 
Recently Dania's gardener told her that he had seen people stopping in front of the yard to take pictures. Dania was thrilled to realize she's now the official neighborhood Bluebonnet Lady.
Corner of Sun Valley Dr. and Woodmeadow St., Woodside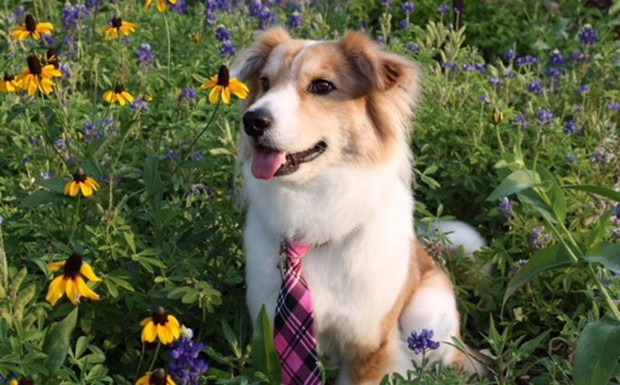 It started as an experiment over a decade ago to see if bluebonnets and other wildflowers would grow from seeds planted in the St. Augustine grass growing in their yard. Much to Marty Webb and her husband Gene's delight, the seeds blossomed and their wildflower garden was born. 
Many fans would agree that over the years, the Webb's yard has been as much for the neighborhood's enjoyment as their own. 
Walkers and drivers frequently shout out, "Thank you!" Children and pets pose for photos. 
Marty and Gene have cheerfully shared gardening info with many including this wildflower wisdom: "Start small with a lot of different varieties. See which ones you like and, most important of all, which ones like you! After planting, do not mow. If you use a lawn service, consider putting up a sign to remind them not to mow in areas where you've planted."
Sadly, Marty's favorite gardener, Gene, passed away on April 23 last year. Marty lovingly shares, "Gene should get the credit for all of the yard! He was a fearless gardener who loved flowers and it was his idea. This year the bluebonnets and clasping coneflowers that appear around the edges of several beds really are Gene's living legacy. He reveled in sharing seeds with neighbors and I have continued that tradition."
Hatton St. near Broadmead Dr., Knollwood Village 
Known as "The Bluebonnet People" in their neighborhood, Jaime González and Katy Butterwick turned their front yard into a wildflower garden in 2012. They wanted to connect city kids to both nature and Texas history while helping local pollinators like native bees and monarch butterflies.
"Wildlife gardens are wonderful and tough," says Jamie. "They let you experience the seasons, provide beauty and, in our case, better connect to our neighbors, both human and wild!"
Corner of Evergreen St. and Huisache St., Bellaire 
This 45-year-homeowners' rustic native garden includes bluebonnets and a variety of plants. These avid gardeners (who asked to remain anonymous) shared that it will be a good year for bluebonnets and wildflowers thanks to lots of rainy weather. (Editor's note: This garden also has the magical sounds of the house's windchimes!)
Other places to spot bluebonnets around town include: 
Comment below to share where you've spotted bluebonnets! See this month's Buzz Baby for more beautiful bluebonnet photos and where to find them in the Hill Country. 
Want more buzz like this? Sign up for our Morning Buzz emails.
To leave a comment, please log in or create an account with The Buzz Magazines, Disqus, Facebook, Twitter or Google+. Or you may post as a guest.