Chef's Corner: Blood Bros.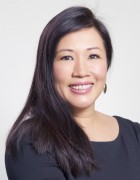 Click the Buzz Me button to receive email notifications when this writer publishes a new article or a new article in this column is published.
Find out about your favorite chefs in our Chef's Corner column. This month, restaurant writer Dai Huynh interviews Quy Hoang, Terry Wong and Robin Wong of Blood Bros.
It was the Saturday before Super Bowl LIII. Outside Blood Bros. BBQ (5425 Bellaire Blvd.), the Pitmaker smoker brimmed with 10-pound briskets and billowed with pecan-and-oak smoke. Quy Hoang, 46, the self-taught pit boss, checked two rows of perfectly lined blackened beef. His eyes, behind square-framed glasses, darted nervously. The combo of smoke and meat can be finicky, he explained. 
"I can have 10 briskets – all weighing 10 pounds – and they will all require different smoke times," he said.  
The pitmaster didn't want to keep the smoker's door opened for long, not even for a photoshoot. For an action shot, the photographer suggested lifting a brisket with a fork. "No way," Quy replied.  
It is this kind of precision that has turned a hobby for Quy and the Wong brothers, Terry, 45, and Robin, 44, into serious business and serious eating. The "blood brothers" – including partners Felix Florez of Black Hill Meats and Ryan Echiverri of NettBar – sold more than 200 pounds of black pepper-infused brisket, 40 split chickens and 30 racks of pork ribs on Super Bowl Sunday. Here, Hoang and the Wong brothers talk about their new restaurant in the Bellaire Triangle. 
Despite not having a restaurant, you guys have garnered a large loyal following over five years with sold-out barbecue pop-ups on weekends. Before opening Blood Bros. BBQ, what were your daytime jobs?  
Robin: My brother and I still have Glitter Karaoke bar (2621 Milam) in downtown. That's how Quy started with us. We asked for his help when we started steak nights at Glitter. Quy had a successful high-end aquarium business with his uncle. He did that 30 years until we opened Blood Bros.
You branched out from steaks to smoking barbecue at festivals and pop-ups at bars around town. You're all self-taught cooks. Quy, you're in charge of smoking the meats. Who oversees the side dishes? 
Robin: I'm in charge of sides. We do a traditional slaw and potato salad. But we'll have fun with the sides, too. We do a spin on my Aunt Nancy's fried rice. It's like a rice casserole with sour cream, mozzarella and green chilies. People love it. We also have a bacon-crawfish mac and cheese. A lot of barbecue places will have great meats, but they'll open a can of green beans for the sides. We didn't want to do that, so we make everything here from scratch, including our pickles. 
Quy, you immigrated to the United States from Vietnam in 1975. What about the Wong brothers? 
Terry: Robin and I were born in Houston. Some people will describe Blood Bros. as Asian barbecue. But we try not to pigeon-hole ourselves. We call it Houston barbecue. We grew up with Indians, Mexicans, Chinese, Koreans, Vietnamese, and you'll see aspects of that here and there, but for the most part, our barbecue is seasoned with salt and pepper, like in Central Texas. 
We heard about Blood Bros. from James Beard-winning chef Chris Shepherd. He raved about your barbecue. 
Terry: You see these chairs? These are the original Underbelly chairs. Chris has been behind us from day one.
Quy: We call it the Houston barbecue family. We all support each other. It's wonderful really. It's a tight-knit community. If I had a question, I would call up Patrick Feges of Feges Barbecue (3, Greenway Plaza), and he wouldn't hesitate to give me pointers. It's great to be a part of that. 
You guys grew up exploring Houston's Chinatown. Can you recommend a few of your favorite places? 
Terry: Oh man, there are so many. 
Robin: You can't go wrong with any of Mike Tran's restaurants. He owns Tiger Den (9889 Bellaire Blvd.) and Mein. 
Terry: Mein (9630 Clarewood Drive), definitely.  
Robin: You're there every week.
Terry: I know. Try the eggplant with garlic sauce and the Taiwanese lava toast if you go. The red oil dumplings are good, too, and the braised duck. Another favorite – it's old school, but Mein does it well – is the salty fish patty. But be warned, not everybody likes it. It's smelly. Another place I like is One Dragon (9310 Bellaire Blvd). If you go, try the soup dumplings for sure and the braised pork belly. They also have pan-fried bun. That's the Chinese version of Vietnamese banh bao. 
Quy: Tan Tan (6816 Ranchester Drive) is always solid. You must order the No. 1 – the turnip with fried egg. 
Terry: Oh yeah, you have to get that. 
Editor's note: Buzz dining columnist Dai Huynh is a James Beard food-journalism award winner and longtime Houston-based restaurant writer.
Want more buzz like this? Sign up for our Morning Buzz emails.
To leave a comment, please log in or create an account with The Buzz Magazines, Disqus, Facebook, Twitter or Google+. Or you may post as a guest.