Easter Eggstravaganza
Click the Buzz Me button to receive email notifications when this writer publishes a new article or a new article in this column is published.
Azaleas and wildflowers have come out to play just like the Astros and the Rockets. The weather ranges from 40 to 94 degrees with an occasional rain shower, hail storm or tornado thrown in there. Yup, it's springtime in Houston. 
This Sunday, April 21, is Easter and there are lots of ways for every bunny to enjoy Easter festivities and traditions.
Egg Hunting 
Most Easter egg hunts these days feature multicolored, fillable hard plastic eggs containing treats like candy, small toys or coins. A few years ago, my family was pretty shocked on Easter when our son went in the front yard to hunt for his eggs and the remnants of an empty florescent orange egg had a giant hole gnawed into the side of it. Wondering if werewolves had come by the night before, our attention went to the rustling in the oak trees' branches up above. We could see glimpses of another victim, this one a bright yellow plastic egg dodging from limb to limb. in the mouth of the culprit, a sharp-teethed squirrel. We yelled at him. He stopped. Stared down at us with those steely black eyes and dropped the yellow egg to the ground. Empty, of course. Our conclusion? Don't mess with outer-loop Bellaire squirrels, especially if they smell any jellybeans on you.
If you grew up in San Antonio or South Texas you probably knew about cascarones (confetti eggs). And if you were born before 1990 there's a good chance you got (had) to help assemble the cascarones by hand. 
For months before Easter, egg shells were saved, by meticulously tapping a hole in the shell to remove the egg white and yolk while keeping the shell intact. Then the week of Easter, families dyed dozens of eggshells, filled them with confetti and then covered the hole with a small square of tissue. Today, you can just go to the store and buy cartons of confetti eggs already made! Remember to try to keep confetti eggs, outside of the house and, yes, it's true, if someone cracks one on your head, you will probably have confetti in your hair for weeks. 
Nancy Cadena Williams, who lives in Bellaire, has celebrated Easter with cascarones her entire life. She grew up in San Antonio with her siblings Mary Ellen Dunlap, Julie Delahunt and John Cadena. Easter morning started with finding the hard-boiled dyed eggs that were hidden inside - not outside - the house so they wouldn't go bad in the hot weather and still be used to make deviled eggs later on. Nancy shared, "A dozen eggs were hidden in the house, so each kid could find 3 eggs each. John could usually only find one egg so the sisters would always have to help him. Then the cascarones were hidden in our backyard. We had so much fun hunting for them and then cracking them on each other."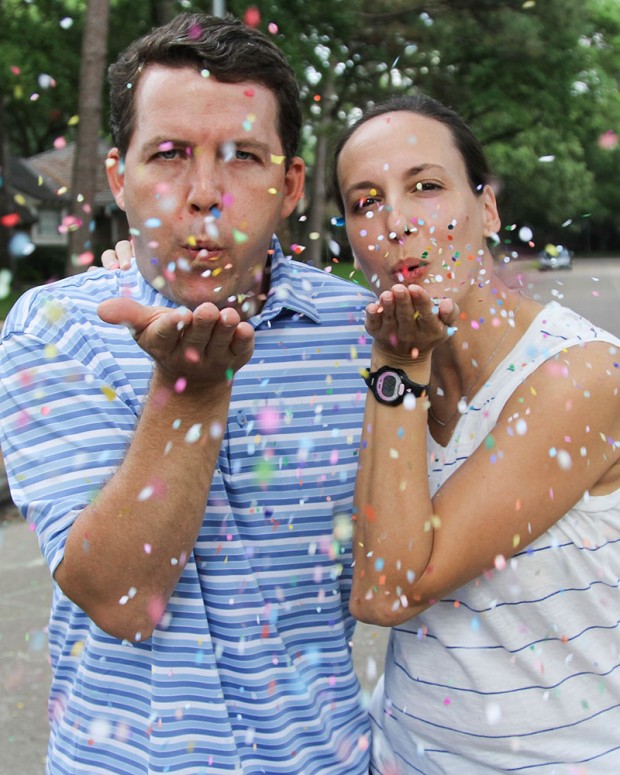 Taunya and Jason Rother and their children, Sarah Beth, William and Grace, love celebrating Easter. The kids have grown up enjoying the Easter egg hunts at Chapelwood United Methodist Church over the years. The Rother kids may look sweet and innocent but don't be fooled…they aren't always so well behaved when it comes to confetti egg encounters. Their Memorial neighbors and friends have the "no-longer-white confetti dye-stained" clothing to prove it. Taunya reveals, "Our annual confetti egg battle has the kids on the street squealing with delight, but all of this Tom-foolery isn't just for the young ones. The adults can be found participating in all of the fun-loving shenanigans as well!"
Bunnies and Dogs
Humans aren't the only ones in the family that get to enjoy Easter. Houston Pets Alive! Thrift Store's monthly Sip, Shop and Adopt event for April offered a chance for Fido and Kitty to take a picture with the Easter Bunny. Thrift also had cottontail margaritas for the adult humans. Someone purred that next month's theme will be Cinco de Mayo…Ole!
Lucy and Kevin Leonard didn't know their six-year-old daughter, Audrey, would turn into a model when she went to have her picture taken with the famous Bellaire Bunnies in 2008. A local photographer hosted an annual spring photo shoot with bunnies and a portion of the proceeds were donated to the Bellaire Nature Discovery Center. It was a nice surprise when someone told the Leonards that they had seen a giant-sized version of Audrey's bunny photo hanging in the front window of the photographer's office. The picture hung in the window for many years.  For a long time, people would always ask Audrey, now a junior at St. Agnes, if she was the girl in that bunny picture.  
People Loving Peeps 
Sometimes I like to liven things up a bit and wear a hat on Easter Sunday. Well, one year I didn't have a hat and was trying to think of some other fun thing I could do to embarrass my accountant husband and teenage son. I decided to make earrings out of Peeps, those adorable spring-colored bunny and chick shaped marshmallows that no one ever eats. I just put an earring wire through the Peep and I was ready to go. It was fun to see people's faces when they saw the earrings and tried to decide whether they were real. I loved when people still ask if were real even after seeing the colored sugar on my neck.
My Peeps inspiration came from my friend, Tom Hampton. Tom went to an annual Easter brunch where everyone had to wear an Easter bonnet. Tom took a straw hat with a huge brim and hot glue-gunned the entire thing with hundreds of Peeps. It was heavy and difficult to balance, but all the trouble was worth it since he won the award for best hat.
If you want some inspiration of what to do with your leftover Peeps, check out some amazing Peeps dioramas. A hot tip...let the Peeps sit out a while and get stale so they're easier to work with. Take it from the girl who had her earring ooze off during church one Easter.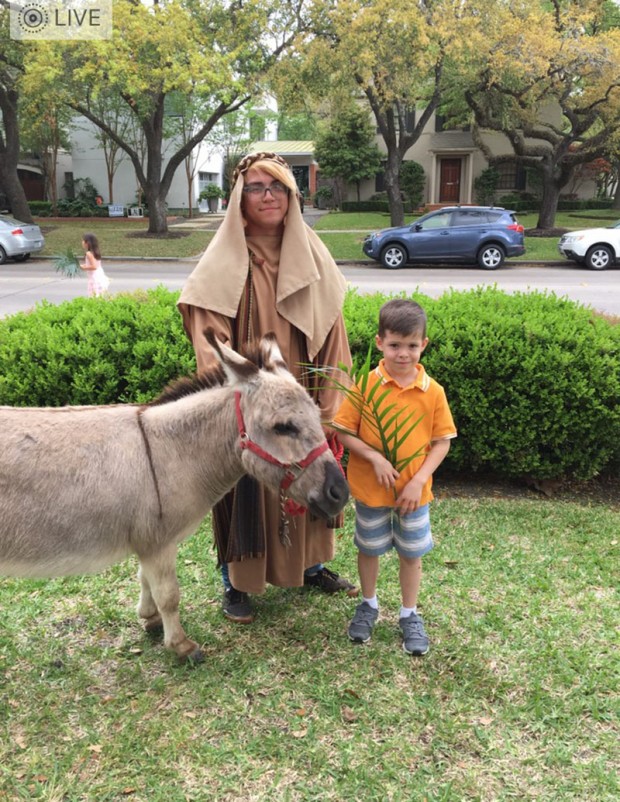 Donkey Photo Opps
The Easter story says that on Palm Sunday, Jesus rode into Jerusalem on a donkey and everyone waved palm fronds at him. About nine years ago, West U Methodist Children's Ministry Director, Vicky Savage, finally had her dream come true when a pastor gave her permission to parade a live donkey and palm frond waving kids to the front of the church. The problem was that the donkey lived up to its name and stubbornly had no interest in going inside somewhere with the carpet, loud music and lots of smiling people.
A happy medium was reached. The donkey now makes its annual appearance, but only on the church lawn. He enjoys nibbling on the manicured grass (and not the palm fronds) while happily smiling during photo opps.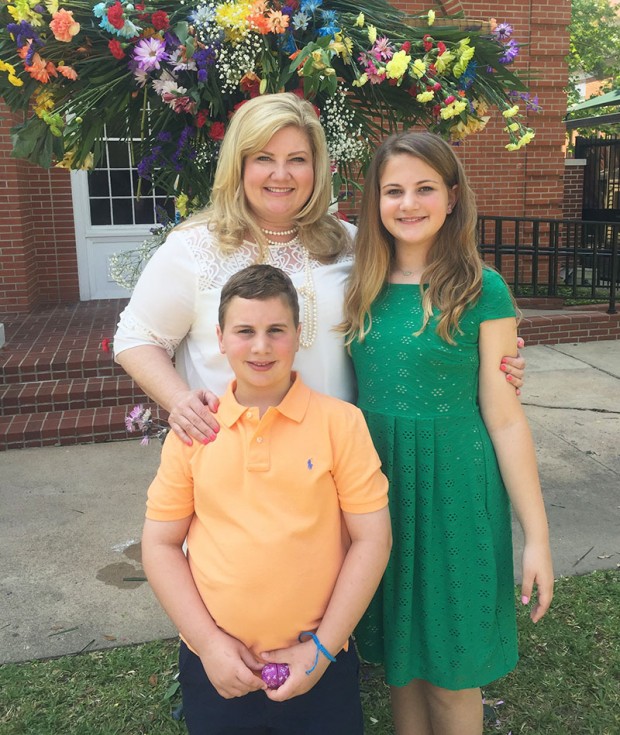 Picture Perfect Easter
Another Easter tradition is displaying crosses in front of the church that people fill with flowers throughout the morning. Many people take their family picture in front of that same cross every year.
Paige Dominey said, "We tease that the cross photo is our way to measure Beth Ann and Miles' growth. Funny little growth chart!" Beth Ann and Miles have both done a lot of growing over the last few years and are both now taller than mom.
Sunrise Services
I fondly remember watching the sunrise over the ocean during childhood Easter Sunday sunrise service in Corpus Christi. And even though it became a family joke that it was Murphy's Law that it would always be a bit overcast so you couldn't really actually see the sunrise, it was still memorable (especially when you were seven years old and didn't usually get up before the sun.) Forty years later, even though I don't live near water, Easter Sunrise services are still something special.
If I wake up early enough Easter morning, I'll let my husband and son sleep until our regular church time and go by myself to a local church's sunrise service. No, it's not an ocean sunrise, but it's amazing just how beautiful a sunrise can look over the 610 Loop…especially when there's no traffic!
Local Easter Egg Hunts
Many organizations host free Easter Egg Hunts open to the public. We've listed a few below that are happening in Buzz neighborhoods on Saturday, April 20. 
Easter Egg Hunt at Evelyn's Park, Bellaire 
Saturday, April 20, 10 a.m.-Noon
West U Baptist and Crosspoint Church
Chapelwood United Methodist Church Egg Hunt and Family Festival
Saturday, April 20, 11 a.m. – 2 p.m.
Hoppy Easter to all!
People in this article:
Nancy Cadena Williams
,
Mary Ellen Dunlap
,
Julie Delahunt
,
John Cadena
,
Taunya and Jason Rother
,
Sarah Beth Rother
,
William Rother
,
Grace Rother
,
Lucy Leonard
,
Kevin Leonard
,
Audrey Leonard
,
Tom Hampton
,
Vicky Savage
,
Paige Dominey
,
Beth Ann Dominey
,
Miles Dominey
,
Laura McDonald
,
Meg McDonald
,
Tim McDonald
,
J. R. Williams
,
Lucas Donalson
,
Sophie Donalson
,
Lily Schueppert
,
Dunham Ludwick
Want more buzz like this? Sign up for our Morning Buzz emails.
To leave a comment, please log in or create an account with The Buzz Magazines, Disqus, Facebook, Twitter or Google+. Or you may post as a guest.