Sunday Mornings with Rania: Prom Must-Have Conversations
Click the Buzz Me button to receive email notifications when this writer publishes a new article or a new article in this column is published.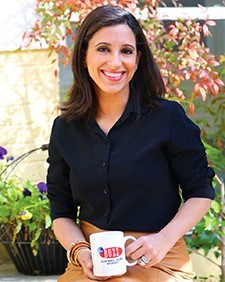 Here we are again - prom season is upon us! While our kids are focused on finding the right dress or suit, deciding on hair and makeup or discussing after-prom plans, I hope we are planning conversation around important safety components prom weekend so uniquely provides. This high-pressure event is amongst the leading most peer-pressure-filled nights of their young lives. As parents, it's our job to make sure our teens are aware of and prepared for situations they could face; let's work together to make prom a fun night and without regrets by talking through a few realities and scenarios that might come their way.
The facade.
Prom has teens (especially girls) getting dressed up, doing their hair, makeup and wearing heels. But here's the tricky part - sometimes in looking different, there is pressure or even an expectation to act different. After all, these seniors are finally taking part in the most "mature" school-related event offered K-12, a night filled with dreams and hopes and expectations. Their bodies and clothing say "adult" but their mental and emotional development still says "teen."  
What this night really means.
Prom is a school event meant to celebrate the completion of high school, a night to celebrate with friends. It's not about taking a break from who you've been, how hard you've worked, the reputation you've built or the rules that govern how you should act. The most mature will understand that and behave accordingly. It's a night to look your best, your age, feel comfortable and have a positive, memory-filled time with friends. 
Drinking, Drugs, Vaping and other experiments.
A recent SADD study found that 90 percent of teenagers reported their friends said they would drink and drive on prom night. Approximately one-third of all alcohol-related traffic fatalities involving high school students happen between April and June — the peak prom months. The statistics are sobering and the worst part is that drinking-related deaths at prom are 100 percent preventable.
As a community, we have poured so much into studying and educating youth on this particular issue and have seen teens making better decisions but still, to think that prom season is upon us and we know for sure kids will die from making the terrible decision to drink and drive is unconscionable. Beyond the drinking, the pressure increases to try drugs or vaping (if you are one of the few teens who have not yet tried it). For parents who think their child just wouldn't do any of this, a AAA survey of teens aged 16-19, found that teens see prom as an invitation to drink and do drugs and that 41 percent said it was likely that they or their friends would use drugs or alcohol on prom night. Another study found that nearly 75 percent of teens felt pressured to use alcohol while another 49 percent said their friends encouraged them to try drugs during prom.  
Parents, beyond the conversations, things to discuss: 
Who will be driving your child? 
Have you discussed drinking and driving? Wearing seatbelts? How many people will end up in one car? 
What is your child's plan if the person driving him/her is has decided to drink? 
When do they call you, a trusted friend or a ride-sharing service? Are you allowing them to call a ride-sharing service if they are alone, it's late or they've been drinking? Is there a better option? 
Seeing and Dealing with Difficult Things.
This is extremely difficult to discuss but we must. What will our teens do if they see a student they know or don't know getting too drunk to care for themselves? What if they see a student taking advantage of another student who's unconscious? A sobering statistic was reported found in a US Department of Health and Human Services national survey, which reported 39 percent of high school senior boys considered it acceptable to force sex on a girl who is intoxicated or high.
What's the plan if they notice a student who is no longer with her group and trying to get home alone? What about a student known or unknown to them that they can tell is trying hard to say no to an offer for a drink, drugs or something else? What do you want your child's role to be? What do you want your child to do if they notice inappropriate photos being taken knowingly or unknowingly of another student? My first thought is - I don't want them to see or be involved with any of this... I agree and while those sentiments are understandable for the sake of others, it's not responsible. On a side note, if you feel your own child is not mature enough to handle these questions, then your child is not mature enough to attend prom weekend festivities.  
Other Logistics: 
Phones. Make sure your child's phone is charged and they've brought a charger compact charger if they will be out all night. Get the phone numbers of your child's prom date and at least five friends. While you want to let them have fun, if you need to reach your child, you want them to answer and if after many attempts they do not answer, you go down the list looking for them. Remind them about the dangers of photos and social media posting. Many have already gotten into schools and they don't want to have acceptances retracted because of poor posts prom night. After all, over 40 percent of colleges and universities say they regularly review applicants social media posts before they are welcomed on the campus.  
Give them a life line. Consider coming up with a code word/emoji, so no one else knows that they can text you if they need help. Give them a plan B as well. If they feel embarrassed to call you, already designate others you know and trust that they can call or reach out to. 
Form an alliance with the other parents. Decide together how you'll be talking to your child and his/her friends group about prom Safety so that your child doesn't feel isolated or alone in the rules governing prom.
Know the who, what, where and when of prom. Who will they be going to prom with? Who will be in the limo or car they will be in? What are the plans exactly? Where will they go following prom and when, right after prom or the next day? Talk through and think through all the plans. 
Curfew. Regardless of where they go and who they are with, will they be given a curfew that the parents agree to? 
School options. Does your school have prom after party-options that might be fun? Explore those options. 
Despite all the worries and concerns, prom should be a wonderful night for friends to celebrate together. While it's one of the last school-related activities before graduation, it's not the last time memories will be made together. In fact, what's ahead for these kids (college, university, etc.) is considered by so many as the actual "best time of life" - let's work together to make sure they make it there, safe and sound.  
Want more buzz like this? Sign up for our Morning Buzz emails.
To leave a comment, please log in or create an account with The Buzz Magazines, Disqus, Facebook, Twitter or Google+. Or you may post as a guest.