For the Love of Pickleball
Click the Buzz Me button to receive email notifications when this writer publishes a new article or a new article in this column is published.
Have you heard of pickleball? Don't worry, we hadn't either. It's been around for 50 years but its popularity in Buzz-area neighborhoods is exploding. Want to find out more? Lace up your tennis shoes and c'mon!
Born in the mid-'60s on Bainbridge Island near Seattle, this game with a peculiar name is a mix of ping-pong, tennis and badminton. Played on a badminton-sized court with a net lowered to 34 inches, the equipment needed are solid racquets about twice the size of ping pong paddles and a perforated plastic ball similar to a whiffle ball. (See pickleball players in action here.) 
The game was invented by creative dads trying to find something an entire bored family could do together. It can be played indoors or outdoors and is easy for beginners to learn, but can develop into a fast-paced, competitive game for experienced players. The game has developed a passionate following due to its friendly, social nature, and its multi-generational appeal. 
Where does the pickle part come from? Actually, it's a bit of a mystery. The popular story is that when the game was being created, the family dog, Pickles, liked to chase the balls. However, the family didn't get that ball-chasing dog until two years after the game was invented. Family members of the three creators, Joel Pritchard, Bill Bell and Barney McCallum, shared that the pickle inspiration was more likely from Joel's wife, Joan Pritchard. Joan was a competitive rower on the island and the combination of different sports reminded her of the "pickle boat" in crew where oarsmen were chosen from the leftovers of other boats. 
Mike Alcott, the head tennis pro at the Briar Club in River Oaks for the past 15 years, heard about pickleball in 2014. He decided to check out the "craze" and went to a pickleball tournament at the Monty Ballard YMCA in Katy. "As a long-time tennis player, I thought it looked pretty cheesy," he shared. Then a group at the tournament invited Mike to try it out, and he thought, "Why not?" They handed him a paddle, taught him the rules, and in about five minutes he was well on his way to playing pickleball. "After a game or two, I understood all the hype. Pickleball is fun." Mike now enjoys playing in tournaments and has even brought home some trophies.
Mike thinks pickleball is a great game for those retiring from tennis due to injuries or declining stamina and says it's also a great game for kids starting out as tennis players. "Using a continental grip for every shot helps players develop the proper grip and develop good skills that require hand-eye coordination. It is also a game of strategy. Consistency is key and, often, it's finesse and patience that sets up the point to put the ball away and win points."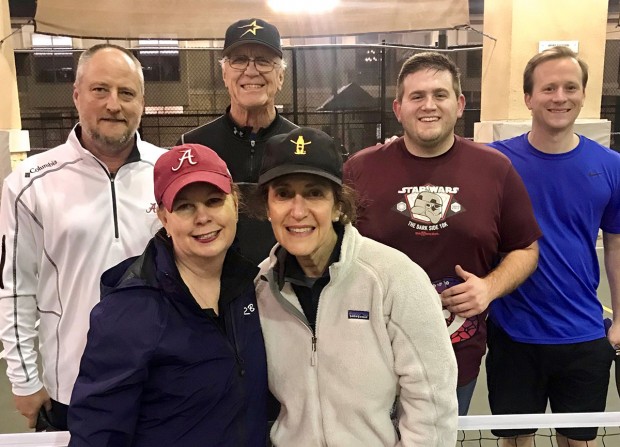 Last October, Mike started a Briar Club pickleball league where members play games against each other. "The league has been going well and growing. We are looking forward to our inaugural pickleball competition this month between the Briar Club team and the River Oaks Country Club team. We planned the event in an effort to get the country clubs together in some friendly competition."
Two of the people who joined the Briar Club Pickleball league were long-time tennis alumni, Leanne and Keith Reynolds. "The pickleball name throws you," Leanne said. "But then you try it and find out that it's more about strategy than physical. It's fun outthinking your opponent and something fun you can still do even if you're not as physical as you used to be." 
Leanne knows how to handle a pickleball racquet and is also a pro at handling students who are making "too much racket" - in addition to being a pickleballer, she is also the Head of School at River Oaks Baptist School (ROBS). Leanne caught pickleball fever last summer when she mentioned to coworkers that her sister told her about a new sport she should try. The ROBS P.E. coach knew about pickleball and offered to give a demonstration to the faculty in the school gym. The teachers got hooked and played through the summer.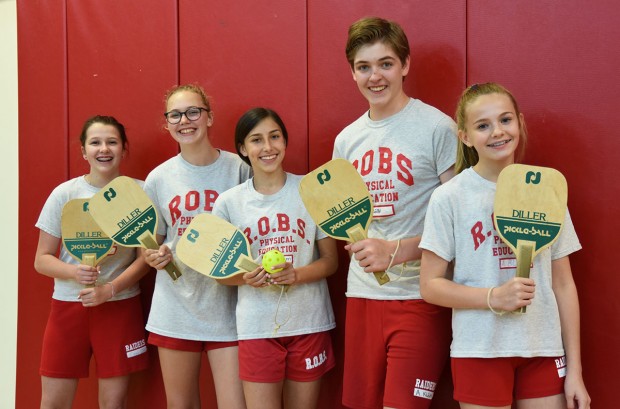 ROBS now even has a physical education unit on pickleball with their middle school students. Leanne said, "The kids say it's more fun than running and easier than tennis. They want to keep playing and are having a good time exercising." The school is such a big fan of pickleball that they have added permanent pickleball court lines to their gym floor.
Last year, Samantha Duffy, the Constituent Events Coordinator at the Houston and Southeast Texas chapter of the Alzheimer's Association, was researching possible activities for the Alzheimer Association's "The Longest Day" Summer Solstice fundraising and awareness initiative. Samantha connected with Mike Goldberg, Houston Badminton Center's Pickleball Director, and the 1st Annual Houston Alzheimer's Benefit Senior Pickleball Tournament was born. Samantha shared, "We were honored that Mike and the Badminton Center agreed to partner with us for this event. In 2018, the tournament raised $1,000 and we are thrilled that they are hosting the tournament again this year. A year ago, I had never heard of pickleball and now I keep hearing about it all the time." The 2nd Annual tournament will take place from June 17-19. 
In addition to working at the Houston Badminton Center, Mike Goldberg is also an official USA Pickleball Association ambassador for the Houston area. "Pickleball is relatively new in Texas." Mike said. "It was virtually unknown in Houston five years ago, but is growing rapidly." 
There is a dedicated group of volunteer "Ambassadors" who promote the sport, give demonstrations and organize social mixers, leagues and tournaments. There are now several dozen indoor and outdoor places to play in Houston, with fees ranging from free to $25 per day. Many pickleball ambassadors and everyday players carry extra paddles for people to borrow if they want to try the game.
 
Mike's enthusiasm about pickleball is apparent. He said, "The most fascinating and exciting thing about the game is that it's both a sport and a social activity for everyone, in which young and old, male and female, firm and infirm players can compete, socialize and get exercise at the same time. Players range in age from children up to players in their 90s."
Pickleball Ambassadors are standing by to happily answer your questions and help you find locations to play. Mitus Junatas, USAPA District Ambassador for 33 counties of Southeast Texas, said, "There are currently 30 area ambassadors in our district and 60+ venues listed in Places to Play you can find on the USAPA website by entering your zip code." 
Mitus continued, "You can play for recreation, for exercise, for competition, for socializing. Young and old alike getting together to play a sport that is easy to learn and does not take much to be good enough to play and have fun with. I get to see, meet and play with folks 80+ playing this game, still being active and fit and involved in the community and that truly inspires me." 
Thanks to other friendly, Buzz-area ambassadors that helped explain the game for this article including Hal Martin, Richard Janish and Ricardo Milano. And some pickleball enthusiasts helping the sport grow through local YMCAs and recreation centers include Sueanne Nichols, Jan Pasternak, Elena Dinkin, Grant Haynes, Toby Brooks and Richard Stetzer.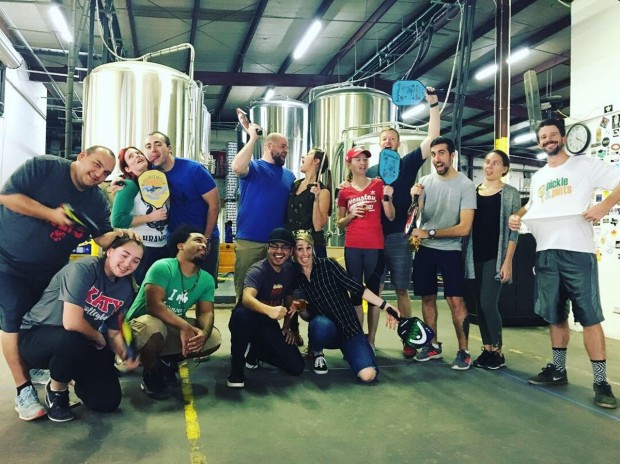 Maybe hanging out in a gymnasium or on a tennis court isn't your scene. How about a brewery? If you have a traditional Monday through Friday 8 a.m. to 5 p.m. schedule, it can be challenging to find places to play pickleball because weeknight and weekend court availability can be limited. The pickleball community is on a mission to create more pickleball courts. Luckily, in the meantime, Andrew Trumbo brainstormed combining the user-friendliness of pickleball with the social environment of breweries. (Find a calendar of Pickle & Pints events here.)
Breweries tend to have available concrete and asphalt floor space to easily create temporary pickleball courts with tape or chalk. Andrew said, "Anyone is invited to come and play. Most breweries are family friendly. Pickleball is so approachable for kids, adults and grandparents so everyone can enjoy it equally together. Pickleball is also very date friendly." Andrew laughed when he shared that he does occasionally have some pickle fans come up to him at events and ask where they can get pickles to eat and he has to explain that it's just the name of the game. Sometimes he'll bring a jar of pickles to be nice.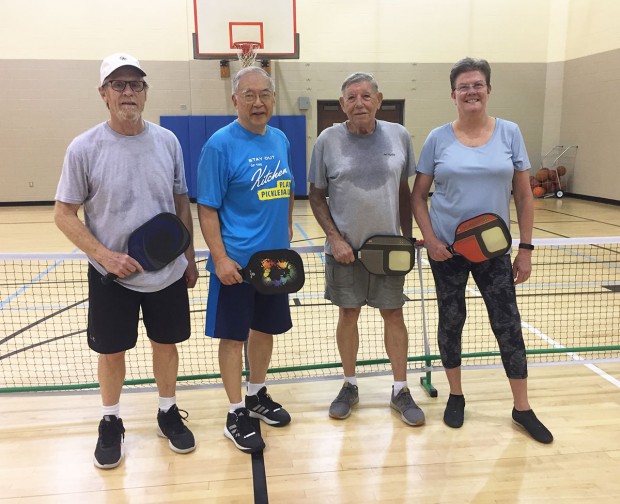 So how about giving pickleball a try? You may find it sweet. You find it sour. Either way you'll meet some nice people and discover why the sport has become a really big "dill".
As Ambassador Mike Alcott likes to sign his emails: 
For the Love of Pickleball….
Upcoming Pickleball Events: 
Houston Badminton Center Drill Session/Social Mixer 
Thurs., May 23, 10:30 a.m.-1:30 p.m.
10550 West Airport Blvd., Stafford, TX 77477
First hour will focus on improving skills, followed by open play. Snacks and drinks included. Call 281-578-0371 or [email protected] to register and pay. (Fees vary.) Space is limited. 
End of Spring Pickleball Mixer, Bellaire Rec Center 
Wednesday, May 29, 11 a.m.-2 p.m.
7008 Fifth Street, Bellaire, TX 77401
Free. There will be paddles, instruction, snacks and drinks. Everyone is welcome. 
Pickle & Pints at Eureka Heights Brewing Company
Sunday, June 2, 1-4 p.m.
941 W. 18th Street, Houston, TX 77008
$14.00 per pickleballer for 1 beer and 3 hours of Pickleball. (Non-drinkers and kids are $8.) Includes paddles and an instructor to teach you how to play in 10 minutes. 
Pickle & Pints at Sigma Brewing Co.
Sunday, June 9, 1-4 p.m.
3118 Harrisburg Blvd. #108, Houston, TX 77003
$14.00 per pickleballer for 1 beer and 3 hours of Pickleball. (Non-drinkers and kids are $8.) Includes paddles and an instructor to teach you how to play in 10 minutes. 
West University Senior Services Pickleball Demonstration
Fridays, June 21, at 2 p.m. (Also on July 19 and August 2) 
6104 Auden Street, Community Building 
The clinic is open to anyone over 50. You do not need to be a West University resident. National Charity League Heart of Texas volunteers will be on site to help with free play, rules etc. 
Houston Badminton Center Summer Social Mixer Skills Clinic
10550 W. Airport Blvd., Houston, TX 77477
346-229-4921
Thursday, June 27, 10:30 a.m.
Call 281-578-0371 or email [email protected] to register and pay. (Fees vary). Space is limited. 
Find more Pickleball events here.
Places to Play near Buzz Neighborhoods
There are many places to enjoy and learn more about pickleball. This partial list includes locations that are nearby and open to the public. Some locations that normally require a membership will let you get a day pass to try pickleball. Some (but not all) have equipment you can borrow. Be sure to check details before you go as schedules change. 
Trotter Family YMCA 
1331 Augusta Dr.
713-781-1061
Freed Park 
6818 Shadyvilla Lane 
832-395-5055
First United Methodist Church – West Campus (Quillian Center) 
10570 Westpark Dr. 
713-781-9195 
Weekley YMCA
7101 Stella Link Blvd.
713-664-9622
Fonde Recreation Center 
110 Sabine Street
713-226-4466 
Bellaire Recreation Center 
7008 Fifth Avenue, Bellaire, TX 77401
713-662-8280
Evelyn Rubenstein JCC
5601 S. Braeswood, Houston, TX 77096
713-729-3200
Houston Badminton Center 
10550 W. Airport Blvd., Houston, TX 77477
346-229-4921
The Zone
10371 Stella Link Rd., Houston, TX 77025
281-317-7529
Visit this USAPA website and enter a zip code to find places to play in Texas and across the United States.
People in this article:
Joel Pritchard
,
Bill Bell
,
Barney McCallum
,
Joan Pritchard
,
Mike Alcott
,
Leanne Reynolds
,
Keith Reynolds
,
Samantha Duffy
,
Mike Goldberg
,
Mitus Junatas
,
Hal Martin
,
Richard Janish
,
Ricardo Milano
,
Sueanne Nichols
,
Jan Pasternak
,
Elena Dinkin
,
Grant Haynes
,
Toby Brooks
,
Richard Stetzer
,
Andrew Trumbo
,
Matt Peterson
,
Nick Sorenson
,
Andi Moore
,
Tom Weldin
,
Jessica Weldin
,
Rocky Rausch
,
Andy Sims
,
Kyle Weaver
,
Madeleine Sheehy
,
Jeff Lyons
,
Eugene Leong
,
James Rekieta
,
Karen Rekieta
Want more buzz like this? Sign up for our Morning Buzz emails.
To leave a comment, please log in or create an account with The Buzz Magazines, Disqus, Facebook, Twitter or Google+. Or you may post as a guest.