So Long, Farewell to WUES Retirees
Click the Buzz Me button to receive email notifications when this writer publishes a new article or a new article in this column is published.
So long, farewell, auf Wiedersehen, adieu.
Adieu, adieu, to yieu and yieu and yieu.
Ladies and gentlemen, the von Trapp family singers! (AKA a talented group of West University Elementary school students who performed the famous "So Long, Farewell" song and dance from The Sound of Music at last Thursday's school retirement party to honor teachers and staff retiring!)
The "yieu" or "you" was referring specifically to eight soon-to-be retirees whose time at the school has ranged from 13 years to 36 years, adding up to a whopping 205 years of service at West U Elementary. 
The teachers and staff leaving are: Aurora Chapa, Irene Duvo, Gayle Gordon, Kenneth Jones, Pat Manning, Maureen Pflugfelder, Susan Unger and principal John Threet. 
Threet hangs up his principal hat after 23 years at WUES. Working with children as a teacher, assistant principal and principal, Threet's career in education spans 40 years with 35 of those years working for HISD. 
Ashley Rose Jordan was in school at West U when Threet started there in 1996, and her son Drake started kindergarten this past fall at WUES. (Further jaw-dropping, Ashley's mother, grandmother and great grandmother also were students at WUES.)  "It's amazing to have my son experience the same school and the same principal this year that I did as a kid," says Jordan. "You don't get that kind of legacy everywhere." 
"When I started there had been a massive turnover of principals going back for over 10 years," says Threet in this YouTube video. "For the group of kindergarteners who started with me that first year, they were the first group to have had the same principal during all of elementary school." Threet made good on a promise to those students, that if he were still the principal when they graduated high school, that WUES would have a reunion for them.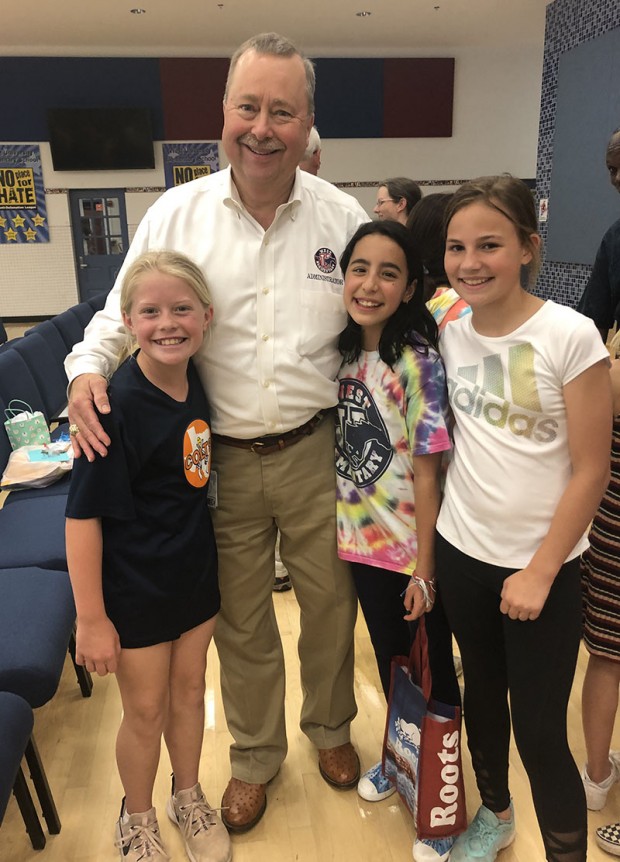 Fourth graders Cale Cross, Tessa Ritchie and Mina Sato were eager to give Threet a personal well wish on this next journey in his life. They said they will miss hearing Threet's unmistakable voice over the loud speaker for morning announcements saying it will be "so sad" and just "weird!" without him next year.
What will Threet miss most? "The kids," he says without hesitation. "That's why I became a teacher and have stayed in a principal position because I believe I impact children and their growth more in this role than as an administrator at the school district administration building." 
The unifying theme: Teachers will miss the kids and the kids will miss the teachers. 
Second grader Asher Gurr was eager to talk to second grade teacher Mrs. Unger, who is leaving after 34 years. "I'm gonna miss her a lot," says Gurr. "I hope she has a great retirement and comes back to sub!"
"I will miss my colleagues, many of whom have become lifelong friends," says gym teacher Irene Duvo who will be retiring after 29 years at the school. "Seeing WUES students improve, achieve and mature throughout their years here is something I will also miss." 
Fifth grader Jackson Ryals says about Ms. Duvo, "She tries really hard to make the students happy and excited about getting fit."
Also saying his final goodbyes after 32 years at the school is Jones, known by all as "Coach Jones." 
WUES parent Keri Henry remembers feeling "cool" just being in class with Coach Jones. "Coach Jones made every kid excited about going to school. His passion from his work, his love for others, and his kindness shows through his dynamic smile," says Henry, whose daughter Shelby attends the same school today. "When I learned that he was going to be teaching my daughter, it was an amazingly unique and incredible feeling. He will be missed."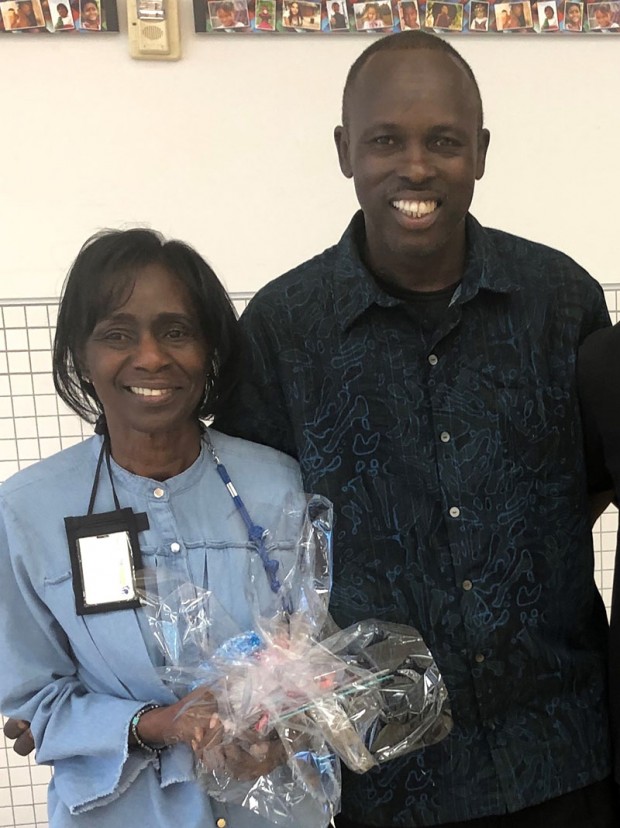 Coach Jones says, "It's been amazing seeing the school grow from nearly 500 kids in the school when I started to close to 1400 students now." Recovering from a recent double bypass heart surgery, Jones says he's feeling good about where he's at in his health recovery, and what he's accomplished over the years. "Helping kids get a good start in life, exercise and experience sports and enjoy themselves is what it's been about for me."
Retiring from fifth grade teaching, Pflugfelder says getting to know amazing families and their children is what she'll miss most. "The blessing of WUES is that you get to see families grow and share in that process," says Pflugfelder. "My team and all the wonderful families have made it a joy to show up each and every day."
Threet sums it up. "This can be a tough and demanding job but the rewards when you see hundreds of kids you personally impacted come back to you as successful adults, it is all worthwhile."
Take a bow, retirees. A standing ovation for helping make WUES a very special place.  
People in this article:
Aurora Chapa
,
Irene Duvo
,
Gayle Gordon
,
Kenneth Jones
,
Pat Manning
,
Maureen Pflugfelder
,
Susan Unger
,
John Threet
,
Ashley Rose Jordan
,
Drake Jordan
,
Cale Cross
,
Tessa Ritchie
,
Mina Sato
,
Asher Gurr
,
Jackson Ryals
,
Keri Henry
,
Shelby Henry
,
Collin Bray
,
Hayden Miller
,
Pippa Beasley
,
Katelyn Voelte
,
Mary Etta Maguire
,
Kassia Gurr
,
Lucy Dison
,
Jake Dison
,
Cindy Kasner
,
Levi Kasner
,
Caroline Thompson
,
Reese Williams
Want more buzz like this? Sign up for our Morning Buzz emails.
To leave a comment, please log in or create an account with The Buzz Magazines, Disqus, Facebook, Twitter or Google+. Or you may post as a guest.