School's Out: Class of 2019 Seniors Celebrate Graduation
Click the Buzz Me button to receive email notifications when this writer publishes a new article or a new article in this column is published.
Once upon a time, during August 2006, the Class of 2019 bravely ventured into an unknown land called kindergarten. Now, 13 years later they have emerged triumphantly as high school graduates ready to take on the world. Let the celebrating commence! These new graduates share their traditions and celebrations with us. 
Starting on the top floor of Second Baptist's high school building, soon-to-be-graduating seniors race around all three floors while envious underclassmen look on. When they reach the bottom floor, the entire class sprints outside and dive into the fountain, completely soaking the new college t-shirts they are sporting. Yes, it's officially Senior Fest.
SBS senior Sara Cooper, who will soon be a Sewanee Tiger, shared, "I've caught myself daydreaming about Senior Fest and the Fountain Run many times over this last year. Jumping in the fountain with your classmates really does mean my 9 years here are over. It's been great!"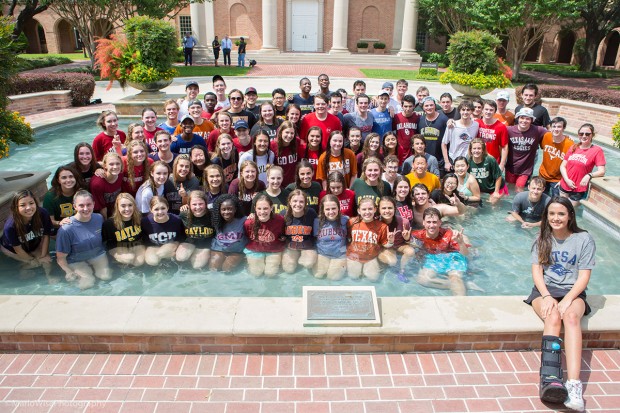 The day also includes a BBQ and inflatable water slides in the parking lot. This year, some ingenious students even put tarps in the back of their pickup trucks to create hot tubs. 
Meanwhile over at Episcopal High School, the night before their last day of school, Episcopal senior girls gathered to do some snipping and clipping on their school uniform skirts for their "Wear Your College T-Shirt" day. The girls met up at Sadie Jensen's house for a whirlwind of accessorizing included adding pleats and ribbon in college school colors, gluing on letters, mascots pictures, pom-poms, stars, boas and other fanfare. 
Sadie, a future Auburn Tiger, smiled, "It was really fun to get together with all our friends and be excited about our own college and everyone else's."
Sadie's mom, Sue Jensen, shared, "The more glitter and bling the better! Sure, glitter glue remains in the dining room cracks and crevices. It was just nice to have all the girls together. " 
Fellow senior mom, Dolly Thomas, mom of Sophie Thomas (Northwestern Wildcat bound) said, "Sue is an organizer and host extraordinaire!" After seeing the craft supplies that had exploded all over the Jensen's house, Dolly was extra appreciative that Sue had hosted.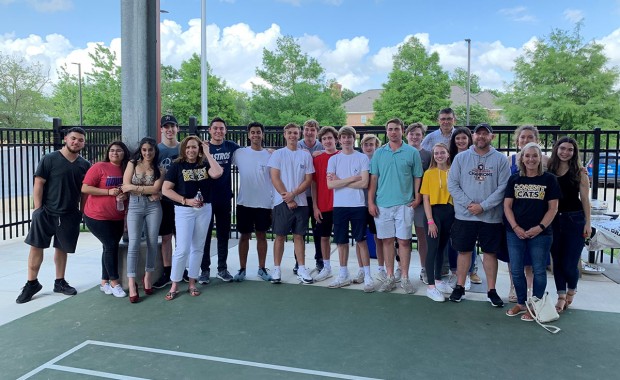 Traveling back in time, 2006-2012 alumni of Condit Elementary gathered on the playground basketball blacktop to celebrate their upcoming high school graduations. Leslie Crossman Loughhead and other former Condit moms hosted the event, which reunited students who attended a menagerie of high schools including Bellaire, Episcopal, Carnegie, St. John's and IMG Academy boarding school. 
Bellaire senior Taahir Busaidy (off to be a University of Houston Cougar) said, "I loved seeing my old classmates from Condit. Some I remember and others I didn't even know went to Condit. It was fun catching up with all the kids I used to hang out with." 
Special guests included kindergarten teachers Holly Ames and Michelle Driscoll, as well as PE Coach Bill Johnson and legendary retired principal, Fred Bowyer. 
Other seniors who joined in the Condit fun included Jasmine Deanda, Mariam Abbas, Israel Garcia, Seth Taylor, Jordan Morris, Gunnar Franek, Connor Loughhead, Hunter Loughhead, Maxwell Atha, Tommy McGuire, Thomas Newhouse, Isabella Bosley, Claire Betzer, Sophia Kontos and Maddie Brau. The graduates were treated to a private tour of the new school.
Most Kinder High School of Performance and Visual Arts (HSPVA) students were born to perform. And luckily for them and their adoring fans that's just what happens at the end of their senior year.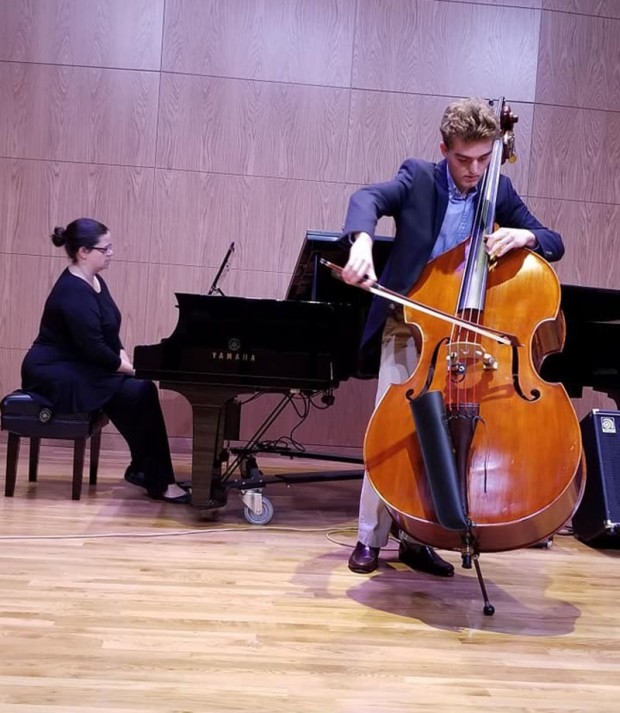 Musician Ewan Curtis, (soon to be a Princeton Tiger) plays the Double Bass for both orchestras and jazz bands. He explained, "Giving a Senior Recital is really the capstone experience for musicians at HSPVA. We are given freedom to present a compilation of pieces that we have learned over the past 4 years, and we do so in an environment that is warm and engaging. 
Ewan continued, "Having the opportunity to play music with and for my friends and family was really special, and I'm so glad I was able to take part in it. Times like these remind me why being a PVA student is so unique."
Recitals were extra special this year with performances in the new state-of-the-art, five-story campus located in downtown Houston.
Have you ever wished you could sit down with your teacher in a relaxed environment and chat? That's exactly what happens for seniors at St. John's. Students get to request which teacher they would like to dine with then teachers and faculty are seated at tables with eight students. The fun continues since the parents are the waitstaff. After the meal, the parents put on a skit also known as "Maverick Night Live!"
SJS senior Abbie Hawes (off to Furman University, home of the mighty Paladins, which is a knight), shared, "I appreciated getting to talk to and see teachers and faculty at our dinner before graduation and after our final day of school for seniors."
A spring tradition at Emery High School takes Breakfast Club to a whole new level.  Seniors get the unique experience of spending the night at their school. And what do they do all night? Decorate the school in unique, fun ways for Senior Prank Day. This year, the outside of the school was covered in "For Sale" signs that said to call Stuart Dow, the head of the school, if interested. There was also a giant inflatable moon bounce that filled the courtyard. 
Dave Meyer, Emery CFO and dad of graduate Alex Meyer, says, "The students have a great time and some brave faculty stay the night to help things from getting too crazy."
An even more amazing once-in-a-lifetime experience for Emery seniors is that the entire class travels to Israel and Poland for their last few weeks of school. After the class returns, they will enjoy their graduation ceremonies the first week of June.
Class of 2019, no matter how you celebrate, we hope you have fun! We are very proud. It's been a thrill watching you growing up in our schools and neighborhoods. Watch out world, here they come!
Editor's Note: See Class of 2019: Where are they headed? to see where more local grads are heading to college and what they could tell their kindergarten selves if they could. See which teachers inspired the Class of 2019. And contribute to, if you haven't already, our annual database of Buzz-area grads.
People in this article:
Sara Cooper
,
Sadie Jensen
,
Sue Jensen
,
Dolly Thomas
,
Sophie Thomas
,
Leslie Crossman Loughhead
,
Taahir Busaidy
,
Holly Ames
,
Michelle Driscoll
,
Bill Johnson
,
Fred Bowyer
,
Jasmine Deanda
,
Mariam Abbas
,
Israel Garcia
,
Seth Taylor
,
Jordan Morris
,
Gunnar Franek
,
Connor Loughhead
,
Hunter Loughhead
,
Maxwell Atha
,
Tommy McGuire
,
Thomas Newhouse
,
Isabella Bosley
,
Claire Betzer
,
Sophia Kontos
,
Maddie Brau
,
Ewan Curtis
,
Abbie Hawes
,
Stuart Dow
,
Dave Meyer
,
Alex Meyer
,
Abby Arriaga
,
Serena Shannon
,
Grace Lane
,
Gabrielle Small
,
Rachel Boeker
,
Mea Ayers
,
Kathryn Taylor
,
Hannah Windle
,
Finty Milton
,
Mary Kate Smith
,
Sofia Siegel
,
Rachel Hallett
,
Lillyana Stefanakis
,
Elyse Pedrick
,
Shannon Hesse
Want more buzz like this? Sign up for our Morning Buzz emails.
To leave a comment, please log in or create an account with The Buzz Magazines, Disqus, Facebook, Twitter or Google+. Or you may post as a guest.