A Starry Night at MFAH
Click the Buzz Me button to receive email notifications when this writer publishes a new article or a new article in this column is published.
June 6 marked my parents' 27th wedding anniversary and what better way to celebrate than with a romantic night under the stars? Well, we were in for a special treat because the Vincent van Gogh exhibit is in town at the Museum of Fine Arts, Houston and they were able to make this dream date a reality. They didn't even have to leave the city to be able to take in The Starry Night together (excuse my art pun). 
No, but seriously, the exhibit is interactive and, in one room, that very painting is blown-up in size and projected onto a white wall so you and that special someone can take photos and be whisked away into a fantasy. However, my parents didn't get exactly the "fantasy" they imagined because I tagged along for their date. Please think of me as the designated photographer to capture their lovey-dovey moments rather than the annoying third wheel. 
The three of us started in a room with reproductions of Van Gogh's paintings from his early years, allowing us to get close to his artwork and look at every brushstroke, small but significant. This prepared us for the real thing as the next three rooms featured his originals. Many people crowded around his well-known pieces like Irises and Van Gogh Self-Portrait, but my parents and I agreed that we enjoyed viewing and studying his more obscure pieces the most. As my dad and I walked through the exhibit together, he said, "I seem to recognize about every four or five paintings I see, and he did 60 big pieces of work, which is pretty impressive."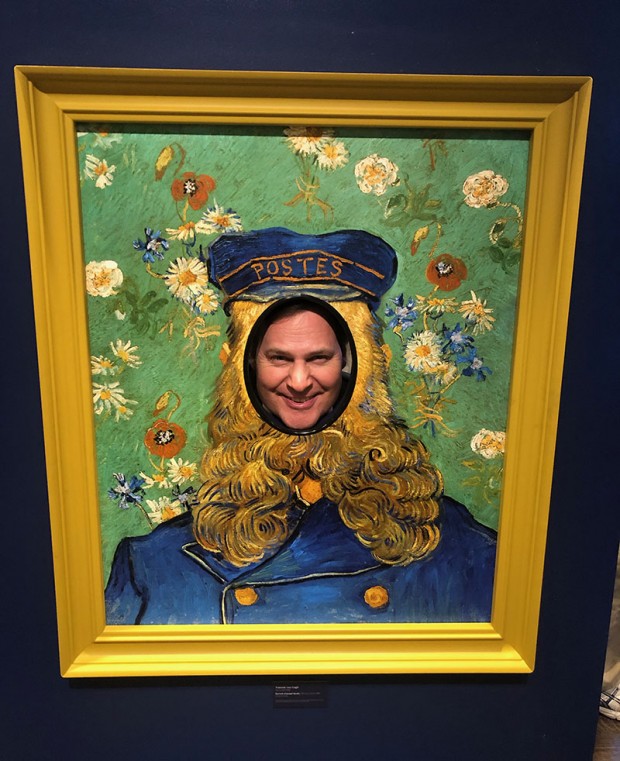 Once we finished in the last room of originals, my dad and I started to briskly walk through the gift shop to get to the interactive room because we're both little kids at heart, but suddenly, we stopped and looked at each other. "Where's Mom?" I asked, slightly irritated as we were so close to the fun room yet so far away.
This happens consistently in airports, in malls and other public places, but trying to find my mom in an art museum is like trying to find a needle in a haystack. You see, she's a watercolor artist and she appreciates all the elements of artwork far more than the average person, so it takes her much longer to interpret the meaning of a painting. Without hesitation, my dad and I split up on a mission to find Mom. We traced our steps back through the exhibit and I was so focused on spotting a 5'6 brunette woman in what felt like a game of "Where's Waldo?" that I ran into a security guard and his walkie-talkie fell to the floor with a loud clang.
Just then my dad signaled me from across the room that he had found Mom. Mission accomplished. She was standing, mesmerized, in front of Van Gogh's painting The Garden of the Asylum at Saint-Remy, which showed a beautiful scene of lush grass patches and trees with pastel buds in spring. I understood her fixation. After a few moments of silence, she said, "I did a term paper my senior year of high school on Van Gogh and I remember studying all the different paintings, but I don't recognize this particular one. The energy in his brushstrokes gives the piece so much movement and it feels like the garden is alive. It's incredible."
It took all three of us time to pry ourselves from that painting but at some point, we finally made it to the interactive room. There were stations set up for children to draw Van Gogh-inspired pictures on paper or whiteboards. Visitors could become a part of the paintings and pose in space modeled after three of his most famous works: Bedroom in Arles, The Siesta and Café Terrace at Night. The room, of course, had The Starry Night projection wall and photo booth too, which is where I spent the most time taking pictures of the cute couple. 
I thought the exhibit was well-organized and had good flow for museumgoers. MFAH did an excellent job in telling the story of his short life and showing his growth as an artist. 
The Vincent van Gogh: His Life in Art exhibit is fun for the whole family so definitely make sure to check it out at the MFAH. The exhibit is open every day with varying closing times through June 27. You can purchase tickets at the museum and admission is on a first-come, first-serve basis. Tickets are free for children (12 and younger) and MFAH members, $20 for seniors (65+ with an ID), military (with an ID), college students (19+ with an ID), and youth (13-18), and $25 for adults (19+). Find out more about the exhibit here.  
Want more buzz like this? Sign up for our Morning Buzz emails.
To leave a comment, please log in or create an account with The Buzz Magazines, Disqus, Facebook, Twitter or Google+. Or you may post as a guest.