Sunday Mornings with Rania: Bianca Devins' Murder Uncovers Teens' New World
Click the Buzz Me button to receive email notifications when this writer publishes a new article or a new article in this column is published.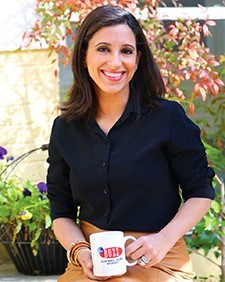 It was one of the most horrible cases I have seen in a long time. At the time of the news breaking, all we knew was that a teen Instagram personality was allegedly stalked, followed and killed following a concert last weekend. Her throat slashed, the culprit did in fact take photos and post them online. He was caught and is now in police custody.
While the facts have evolved, so much was revealed about the life of today's teens and what they are exposed to online. From learning about new terms common in their everyday vernacular, to red-flag sites, to how teens and young adults process tragedies, the tragic life and death of Bianca Devins was a wake-up call that exposed us to an online world I honestly didn't want to know about but for the sake of all teens, everywhere, we must. 
The Real Story
As a recent graduate of Proctor High School in Utica, NY, 17-year-old Devins - known on more popular Instagram account as @escty - had found a following on 4chan and ran an "anonymous server" on Discord and Tellonym giving the ability of many to follow her. (Before you think 4Chan? Anonymous server? Discord? I break it all down below.) Reports vary on the context of their relationship with some saying he became a family friend, others that they were dating for two or three months, and others that he was nothing more than a stalker - regardless, we know that Devins met Brandon Andrew Clark (21) online, that the two were together last weekend and that Clark slit Devins' throat, killing her as he nearly beheaded her.
As if that wasn't horrific enough, Clark took photos and videos that he immediately posted on his Instagram story and on Discord, tagging her. When police arrived on the scene, Clark stabbed himself in the neck and continued to take selfies. He survived his injuries and is now in police custody. Oneida County District Attorney, Scott McNamara, and local police continue to investigate the circumstances behind the murder; according to McNamara, they believe Clark was enraged after an altercation took place because Devins allegedly kissed someone else during a concert in New York City Saturday night. He was charged Monday with second-degree murder, a felony punishable by up to 25 years to life in state prison. Devins had planned to attend Mohawk Valley Community College in the fall and major in psychology.
Led to Murder with a Need to Post the Entire Time
Here's the problem - we are seeing a concerning increase of teens molded by a vain and brutally toxic Internet culture. In this case, both the victim and the suspect defined themselves by their online connections within this niche online communities known for "gamers and goths." 
Devins had two Instagram accounts, was on 4chan, Discord and Tellonym. She had orbiters and suffered at the hands of Incels. In his attempt to kill himself, Clark posted "Subscribe to PewDiePie" - what on earth does all this mean? Believe it or not, it's more current than we realize. Here are definitions of these terms: 
4chan was started in 2003 in the bedroom of Christopher Poole, a then-15-year-old student from New York City. It's a simple image-based bulletin board where anyone can post comments and share images anonymously. There are boards dedicated to a variety of topics, from Japanese animation and culture to video games, music and photography. Users do not need to register an account before participating in the community. Parents, anything goes on 4chan. You can connect to anyone, see anything, and do it all anonymously. 
Discord is an online messaging app popular with video gamers. It is a free app designed initially for the video gaming community that specializes in text, image, video and audio communication between users in a chat channel. As of March 14, 2019, there were over 250 million unique users of the software.
Tellonym is an app with 10 million monthly users that allows people to share their Tellonym link through social platforms like Snapchat, Twitter and Instagram, and wait for friends to reply to questions anonymously. Tellonym boasts the ability to allow users to answer anonymous questions and ask others the things you have never dared before. Like most social media platforms, a home feed displays all messages addressed to a user, and push notifications alert users whenever a new message or "tell" is delivered. Users can block and report people who send hurtful or harassing messages and can set a filter that recognizes words the user determines. A similar app called SARAHAH was removed from the Apple App Store and Google Play after a mother of a young girl who received death threats through the app created a viral petition. These apps are extremely dangerous. Parents beware. See more about this here.  
Orbiters is a term commonly used to describe men or boys who orbit around girls they worship online. Devins had many. In this case, Clark posted another message to caption the photos of Devins' body: "Sorry *****, you're gonna have to find somebody else to orbit...".  Parents beware - this term makes men/boys and other members feel like they are part of a club, they empower each other, they cheer each other on and, by definition, they have angry devotion that encourages revenge. 
Incels stands for "involuntarily celibate" and references an online community of men who complain that social movements like feminism have prevented them from finding a girlfriend and are "keeping them celibate." Devins specifically mentioned incels on her Tellonym board saying that they had been harassing her for at least two years making comments that ranged from cruel to sexual, again, all anonymously. Parents beware - this group scares me. Incels are angry that they are not able to connect with women blaming it on the progress of the women's movement - not on the fact that a woman or young girl may simply not be interested in them.
"Subscribe to PewDiePie": This is a strange one. PewDiePie (real name - Felix Arvid Ulf Kjellberg) of Sweden is one of YouTube's most popular Youtubers globally. With nearly 100 million subscribers, he makes videos of himself reacting to things, playing games and much more. His account was most recently surpassed by an Indian run studio. That said, PewDiePie's followers are mob-like and want him to remain on top. In this case, Clark posted photos of the Devins' death and his own attempted suicide and, in the posts, asked people to "Make sure to subscribe to PewDiePie," police confirmed. Why does this matter? Because it's trending in these murder-suicide situations. For example, the suspect in the Christchurch, New Zealand, mass shooting targeting Muslims shouted the phrase "Subscribe to PewDiePie" during a livestream of his attack.
This New Generation 
Parents, Devins' death is concerning and tragic for so many reasons. We join her family in mourning her death. We also must stop to look at what's going on in this trending teen underworld. What's concerning is that when you look at the number of users on each platform, it's not as "non-mainstream" as one would think. Millions are on each of these platforms. 
Additionally, not only did many flock to watch Devins' killing but teens and others started to use images of her slashed body as new profile photos on Instagram. And the comments were beyond concerning with comments from orbiters and incels praising Clark for the killing. Social media companies' struggle to remove and/or bury those photos is another example of these companies being ill-prepared to keep up with the widespread platform abuse. Parents, teachers, coaches, aunts, uncles and friends, we must be talking to our kids about this culture and why we need to stay away or tread at arms' length. For the sake of all kids and especially for Devins', let's add this conversation to a new list of priorities.
Read past Sunday Mornings with Rania posts here. Find more information on Crime Stoppers of Houston on their website or follow them on Facebook. Have topics in mind that you'd like Rania to write about? Comment below or email her at [email protected]. Rania is co-host of a weekly podcast which features interesting local and national guests who used their platforms for the good of the community. Connect with Rania on Instagram and Twitter. 
Editor's Note: Views expressed here are those of the author and do not necessarily represent the views of The Buzz Magazines.
Want more buzz like this? Sign up for our Morning Buzz emails.
To leave a comment, please log in or create an account with The Buzz Magazines, Disqus, Facebook, Twitter or Google+. Or you may post as a guest.