Flying High for Chimney Swift Night Out
Click the Buzz Me button to receive email notifications when this writer publishes a new article or a new article in this column is published.
Is it a bat? Is it a plane? No, it's a Chimney Swift! (Not to be confused with a chimney sweep, Mary Poppins fans!) The Chimney Swift is a small, grayish-brown bird with curved wings that swoops over rooftops and fields. They eat mosquitoes and other flying insects (yea!) and like to spend their summers in the eastern United States and Canada. 
Chimney Swifts are constantly flying, even drinking and bathing in the air, only stopping at night to sleep. Swifts can't sit on perches and need to cling to vertical walls like the ones in chimneys and caves. Sometimes people mistake Chimney Swifts for bats, but the birds go to bed at dusk, while bats are just going out for the night. 
A few years ago, Deanna and Steve Sheaffer and their three children were on a walk around Braeswood Place and stumbled on a Nature Discovery Center Swift Night Out at Pershing Middle School. It looked so fun and interesting, they decided to stay. Deanna shared, "It was a great experience. Perfect activity for families - educational, interesting, intergenerational and the kids brought scooters and bikes to play in the parking lot. I ran into people I hadn't seen in years and met several interesting new folks. We didn't count the birds. It was just beautiful and fun to watch." 
Over the next few weeks, Nature Discovery Center and Houston Audubon Society are partnering to offer Chimney Swift Night Out events at locations around Houston where attendees can learn about swifts and discover some of the unique places where they sleep around town (spoiler alert: It's not just chimneys!). At dusk, the Chimney Swifts start circling around the location where they are going to sleep and then start swooping into the entrance. Spectators will also have the opportunity to help count just how many birds can smoosh together to sleep in small places (sometimes hundreds). 
Mary Ann Beauchemin, senior naturalist at Nature Discovery Center, said that all the findings – how many Chimney Swifts are migrating through Houston - are entered into the eBird program run by Cornell University. "It really is a Citizen Science program where the public is helping scientists gather information for better research results. The numbers of Chimney Swifts are declining. One problem is that they used to live in hollowed out trees but those get cut down in the city. Now many chimneys insides are not made of brick but instead have smooth metal liners to which the Swifts cannot cling. Luckily people are building Chimney Swift towers to give the birds a place to sleep," she explained. 
Several towers have been built for the Nature Discovery Center including a few  as Eagle Scout projects. The Nature Discovery Center also provides information about Chimney Swifts on the kiosks around the base of the towers.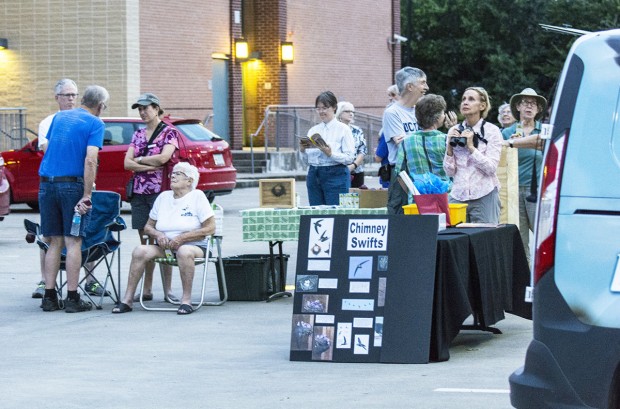 Josie and Taylor Brown and their children, Eleanor, Grant and Henry, who attend Annunciation Orthodox School, like to support any animal that is declining in population. Josie shared, "We are excited about the Chimney Swift tower structures being built around Houston to encourage nesting opportunities and Chimney Swift growth. Our kids have grown up a few blocks from the Nature Discovery Center in Bellaire and have enjoyed spending time exploring the park. Now that they are in the tween years, it's fun to have new activities to draw us to participate." The Browns plan to attend the Aug. 27 Swift Night Out at St. Paul's UMC to see the Swifts in action. 
This summer, Eleanor and Josie enjoyed volunteering at the Nature Discovery Center. Mom watered and Josie worked as a docent and assisted with the summer camp kids.
Mary Anne Weber, education director at the Houston Audubon Society said, "The Audubon Society is thrilled to have the community join us in learning more about birds living with us right in the middle of a big city and discover some of their interesting and unique characteristics."
Swift Night Out events are being held starting Tues., Aug. 27 and offer a great opportunity to "wing it" and learn more about these interesting birds and meet new neighbors. We're thinking you'll want to "swiftly" go back again!

Swift Night Out Events 
See the full schedule of these drop-in, family friendly events here.  
What to bring: A folding chair or blanket and mosquito repellent! Binoculars are optional (the swifts are visible with the naked eye as they enter the chimney so it's ok if you don't have binoculars). 
Tuesday, Aug. 27, 7:30 p.m.
St Paul's United Methodist Church 
1131 Binz St.
Houston, TX 77004
Meet in the Binz parking lot.
Tues., Sept. 3, 7:30 p.m.
Pershing Middle School
3838 Bluebonnet Blvd.
Houston, TX 77025 
Meet in the school's northwest parking lot off Stella Link.
Sat., Sept. 7, 7:15 p.m.
Nature Discovery Center 
7112 Newcastle St.
Bellaire, TX 77401
Meet at the playground next to the Evergreen Street parking lot.
Sun., Sept. 8, 7 p.m.
Sky High Sports
10510 Westview Dr.
Houston, TX 77043
Meet by Sky High Sports in the southwest corner of the lot near the detention pond.
Editor's Note: If you're interested in building a tower for Chimney Swifts, see details here.  
Want more buzz like this? Sign up for our Morning Buzz emails.
To leave a comment, please log in or create an account with The Buzz Magazines, Disqus, Facebook, or Twitter. Or you may post as a guest.