Section 120 Fan Club
Seatmates bond over Astros baseball
Click the Buzz Me button to receive email notifications when this writer publishes a new article or a new article in this column is published.
The road to the Section 120 Fan Club was long and loyal. SuZanne Feather and Leo Vasquez, proud Houstonians who bleed orange and blue, have been dedicated Astros season-ticket holders since the Astrodome days. SuZanne grew up on baseball fields with her older brothers in Lubbock. "I just love baseball," she says. "When I'm at a game, I feel like I'm home." 
In 1999 they joined their fellow Astros faithful in lovingly waving goodbye to three decades of Astroturf, Dome Foam and the scoreboard's snorting bulls and cowboys to choo-choo downtown to the bright and shiny train station turned ballpark, Enron Field. Leo and SuZanne's new seats weren't nosebleed, but they also weren't as close to the action as they had wished. 
The next decade and a half, the Astros had their ups and downs in wins and losses as well as team colors and uniform choices. Even the name of the ballpark changed in 2002 when the Enron debacle led to the field being renamed Minute Maid Park (lovingly called the Juice Box). When other ticket holders decided to throw in their bats, SuZanne and Leo remained true and kept putting on their rally caps. 
"Sometimes I was the only one sitting in our section," says SuZanne. "Many times I sent out emails, text messages and posted on Facebook for anyone to use our four tickets, and not a single person would respond."
The good news was that better seats came available, so SuZanne and Leo were able to upgrade. In 2014, the dedicated couple finally got the right-behind-home-plate seats of which they had always dreamed: in Section 120. They have been celebrating and bonding with their fellow season ticket holders ever since.   
Thankfully the Astros' luck started turning around about that time, too. "We love the Astros either way," says SuZanne, "but I gotta tell you, it's a lot more fun when they're winning! Just bury me in Astros Orange!" 
Soon after they moved to their new seats, Leo started a tradition of snapping a selfie of SuZanne, their two guests and himself in their seats and posting it on Facebook.
As they bonded with their Section 120 neighbors, more people would gather up for the group photo opp. Their Facebook friends never knew who might pop up in SuZanne and Leo's Astros games photos.  
After a few years, Leo decided to organize all of the photos into an online album. "It was fun to see all of our friends, family and guests that had used the seats over the years. I tried to decide what to name the album, and that's how the Section 120 Fan Club was born."
Different configurations of the Hale family sit in the four seats right behind SuZanne and Leo. Enthusiastic high fives are shared with the Hales and friends whenever the Astros score. The Hales' youngest daughter, Kate, a seventh grader at Annunciation Orthodox School, is an avid fan (even her bedroom is decked out in orange and blue) who is often in the seats with a friend and her mom,Tracy. 
Like a proud aunt and uncle, SuZanne and Leo glow, "We've enjoyed watching Kate grow up, and she really knows a lot about baseball!" Kate is a West University Softball Association pitcher. The Section 120 seats are similar to the umpire's point of view over the plate, so Kate likes to call pitches, and rumor has it she's pretty accurate.  
Kate says, "Sitting in our section is really fun because we all know each other.  Even my friends like being in the group picture. I like when my Altuve, Springer or Bregman 'big heads' (face-shaped signs) show up in the photo." 
Newlyweds Shahin and Brooke Naghavis' piece of Minute Maid Park real estate is the row behind the Hales. Shahin says, "We love how we've all bonded during the last five years. We've had opportunities to move closer to the field, but we don't want to leave our Section 120 family!"
It's hard to attend 80-plus home games during a season, so there's often assorted family, friends, coworkers, clients and friends of friends filling the seats.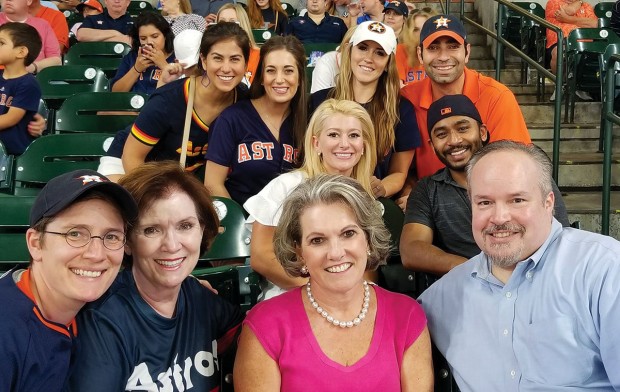 Shahin says, "It's entertaining when SuZanne, who's never met a stranger, huddles everyone, including confused guests and people that don't know us sitting in one of our 12 seats, together for the group photo."
The Naghavis admire Leo's consistent taking of the section selfie.  Shahin says, "Brooke and I ask them to please wait until we're in our seats so we don't miss taking the picture. We like checking Facebook after every game to see our group, or if we weren't at the game, we can see who ended up sitting in our seats."
One frequent Section 120 Fan Club regular is Jason Fuller. "At first I'd see photos from the Astros games on SuZanne and Leo's Facebook posts. Then I started noticing there was a picture of them and their guests sitting with them at every game. Then you'd wonder (jokingly), 'How come I'm not there with them in those awesome seats?!' It's become a regular thing to check the album and see who Leo and SuZanne are taking. They have so many friends it's fun to see who's there that you might know as well. It's sort of like Six Degrees of Separation from Leo and SuZanne!"
SuZanne and Leo's niece, Alex Fowler, says, "Loving baseball is in our family's DNA. Aunt SuZanne is seriously one of the biggest fans you'll ever meet. She even dyed her hair orange for the World Series. It took her three days because she had to bleach her hair out and then dye it orange!" 
SuZanne and Leo's daughter, Jennifer Feather, is also a true orange and blue fan. Suzanne says, "Jennifer lives in North Carolina but is such a devoted Astros' fan that she plans her October work schedule around the playoffs. The last three years she's made sure she can be off and available to go to the games in case the 'Stros need' her."
Twila Carter is executive director of the Astros Foundation but said that title is only surpassed by being a Section 120 Fan Club member. 
Twila says, "It's neat how Section 120 has become a community of fans that have gotten to know each other. They have some great seats and are having a good time supporting the team."
Twila tries to stop by to say hello every game. "I know they're always posting their pictures on Facebook. Sometimes I try to photobomb because I'm always working, and they're having a good time!"  
Another VIP to appear in the Section 120 Fan Club is Barbara Hauser, one of the original Astros Spacettes, who were female ushers in out-of-this-world uniforms when the Astrodome opened in 1965. The biggest VIP photobomber has been Houston Astros president Reid Ryan.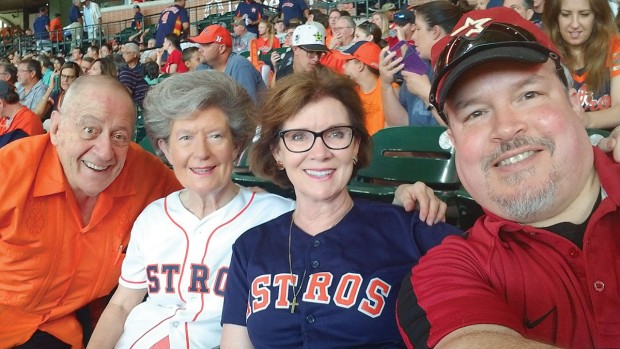 SuZanne said fans of other teams sit in their seats sometimes, too. "We appreciate all fans supporting their team, but it is a rule that you cannot dislike the Astros. In fact, our daughter's partner, Audra Abt, is an equally devoted Cleveland Indians fan. They were here for the Indians/Astros playoff games last year. We allow each to appreciate their team! It's baseball, a gracious and civil sport."
So exactly who can be part of the Section 120 Fan Club? Anyone who sits in Section 120, anyone whose picture is taken in Section 120, and anyone who's seen a picture of someone that was taken in Section 120. Basically anyone who likes baseball. Especially the Astros.
"We love all the players," says SuZanne. "This team has a 'we are a team' attitude and such skill. It is just a pleasure to watch all of them. I think they should all stop by to see us – but I would really like for [Jake] Marisnick to do a photobomb. I'm a devoted Marisnick fan. I think he is the best center fielder in the sport. Leo would want Justin Verlander and his wife to stop by. I think he mostly wants Kate [Upton] to stop by!"
SuZanne reflected on some favorite Astros moments they've been lucky enough to witness in person. "The18-inning 2005 NLDS game against the Atlanta Braves when Chris Burke hit the home run! We actually had an elderly friend with us who probably wasn't up to an 18-inning game. When we left, he said, 'I think next time I will bring my own car!' and he never went to another game with us without his own car.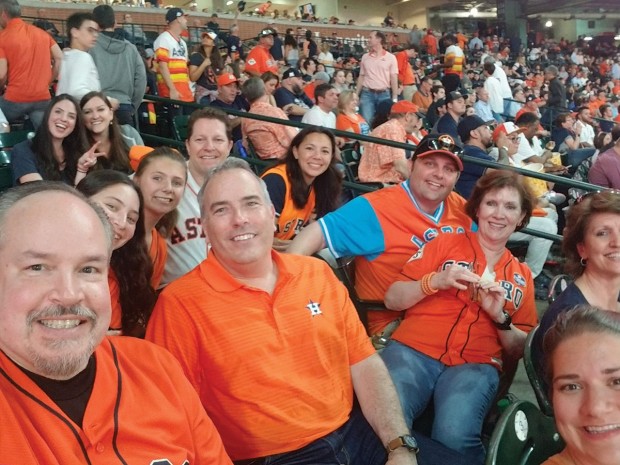 Then there was the Cardinals' Albert Pujols' mammoth three-run homer off Astros closer Brad Lidge in Game 5 of the 2005 National League Championship Series. "Minute Maid went from the loudest, most roaring, ecstatically gleeful crowd ever to complete dismayed silence in the span of one second as the ball flew into orbit. As Leo says, 'That ball is still in orbit circling the earth!'"  
But of course SuZanne and Leo's best memory will always be the epic 13-12 win against the Dodgers in Game 5 of the 2017 World Series, the 10-inning thrill ride also described by SuZanne as the "best game ever in MLB history."
SuZanne and Leo's thoughts on the Astros playing in October? Leo replied, "Could [Jeff] Luhnow and [A.J.] Hinch be or build a better team? No and No. May as well send the trophy to Houston right now.  The team's talent is precision at its best; the team ethos could not be better; the competitive spirit is at a peak."
No matter where you watch Astros games, Minute Maid or home, or with whom you watch, Section 120 seatmates or your cat, or what you wear, an Astros jersey or pajamas, Astros fans are saying, "We will take it back!"
Want more buzz like this? Sign up for our Morning Buzz emails.
To leave a comment, please log in or create an account with The Buzz Magazines, Disqus, Facebook, Twitter or Google+. Or you may post as a guest.