Forty and Sporty: West U Softball Association Celebrates its Birthday and Alumni
Click the Buzz Me button to receive email notifications when this writer publishes a new article or a new article in this column is published.
On Sunday afternoons in 1971, a small group of determined women started organizing casual softball pickup games for West University girls in the area behind West University Elementary, next to the West U Scout House. The games were on Sundays because there wasn't a dedicated field built for softball yet, so the girls had to squeeze their games and practices into whatever times were left over after the scheduled boys Little League events. At the time, there were very few opportunities for organized offerings for girls' sports. There were enough players for about five teams of various ages. In 1974, the West U Recreation Department took over the league. The first dedicated girls' softball fields opened in 1975. After lots of hard work, the West University Softball Association (WUSA) was incorporated in 1979. This year marks WUSA's 40th anniversary.
Some of the many founding leaders were Creag Childress and Sonny Ahrens, the namesake of the Sonny Ahrens Softball field. Another early WUSA advocate was David Allums who left quite a softball family legacy. His oldest daughter, Carlin Allums Morstead, started playing for the league during its humble beginnings, when she was in first grade. "I have wonderful memories of playing softball for my coach and dad, David Allums, who was instrumental, along with some early family friends, including Sonny Ahrens, in securing field rights for the 'girls' back in the day. We have come a long way since then and it is now a thrill to watch our own daughter, Julia, an 8th grader at Pin Oak, play in the leagues and for tournament teams. Like then, it is parent and community involvement that makes it all work." 
Carlin fondly remembers other coaches like Mrs. Betty Hord and Mrs. Ann Wallin (the majority of the coaches were women), watching her little sister, Kacy Allums Pierce, play and being cheered on by her mom, Jayne Allums, who now cheers on her granddaughter.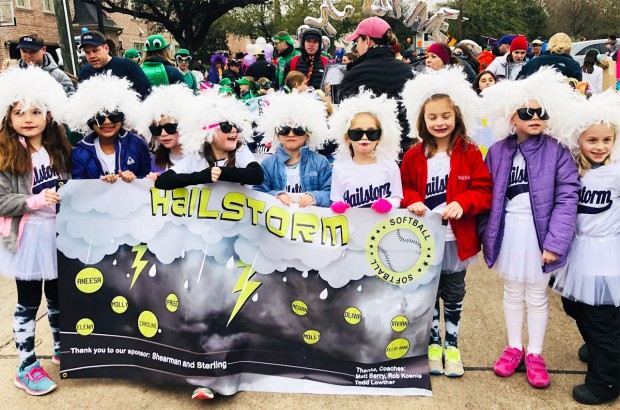 Thanks to WUSA, generations of Houston neighborhood girls have been able to enjoy the game of softball and its fun ongoing traditions like marching down Edloe Street for the Grand Opening Day parade in a variety of crazy accessories representing their team colors and names, sporting stylishly polka, tie-dye, crazy decorated knee-high socks and dusting off field dirt to clean up for a special night out with Dad at the Father/Daughter Valentine's Day dances. 
Julia Waller, now a sophomore at University of Chicago, recalled some favorite softball memories. "During one summer practice we had 'sliding practice' where we practiced our base sliding skills on a Slip and Slide. Then there was the 'Pop Fly Practice' with a giant slingshot that catapulted water balloons high into the air so hard and so high they were pretty impossible to catch without breaking."
Out of the thousands of girls who have been part of WUSA the past four decades, there have been 51 extremely dedicated and talented ladies who have advanced to play at the college level. This past spring, a record-breaking 19 former WUSA alumnae played during the 2019 NCAA season, 12 of whom were from the high school class of 2018.
Cameron McKelvey, dad of Laurel McKelvey (UPenn) shared, "It is so great to see these young ladies now playing on the biggest stage - it seems like just yesterday we were driving them and their friends to practices, trying out various softball nicknames, and umpiring epic WUSA/WULL sister vs. brother showdowns."
Many in that college freshmen class participated in the memorable summer of 2009 when WUSA fielded three 10U (10 and under) tournament teams: The Wave, Splash and Tsunami. Throughout the hot summer, the West U teams battled other teams from all around Houston but regularly ended up facing each other on Sunday afternoons in the finals or semifinals. 
The majority of these now-collegiate players grew up competing against each other in the spring and fall recreational league seasons, during summertime tournament play and as they aged out of WUSA together or against each other at area middle schools and high schools.
Emily Bergin, a current shortstop at Macalester College in Minnesota, shared, "Playing on the WUSA tournament teams helped me realize how much I loved softball and that I wanted to continue to play at the next level. It's fun to think back to all the players that I played with or against during WUSA spring, fall and tournament seasons that are now playing in college."
Occasionally, the girls play against their former WUSA teammates' colleges in conference play or at tournaments. This past March, Alexis Aboulafia (Tufts) and Julia Waller (Chicago) ran into each other at a Spring Break tournament in Florida and were able to catch up. The majority of the girls' colleges are out of state, so it's always a rewarding experience to see a familiar face. 
During his 10 years of WUSA coaching in the early 2000s, Kenny Mercado had the privilege of working with many in this stellar group. "I am so proud of these young women. For me, it wasn't about winning softball games. It was about developing our female athletes' self-confidence and self esteem so that they could be prepared for success in life. I know they are equipped to handle all the challenges of college, career, and family. And I look forward to smiles and hugs when our paths cross again."
WUSA Board Member George Polydoros shared, "Having coached most of these young ladies (and coached against nearly all of them), I must say that, in addition to their athleticism, they are all students of the game. At varying points, each committed to make the climb to the top of the fastpitch ladder, and they worked to master the nuances and complexities of the game. These young ladies have demonstrated desire, focus, and hard work throughout their softball careers, and I know they will be successful long after they hang up their cleats."
Former WUSA president Greg Waller laughs, "I remember arriving at the fields in Deer Park for our daughter's first WUSA summer team tournament, when she was 7. The fields were full of 6-8 year old girls screaming 'Mine! Mine! Mine!' before every pitch, just like the seagulls in Finding Nemo. It was so loud. I turned to my wife, Dale, and laughingly said, 'Wow, looks like we're in for quite a life experience.' And that's exactly what it's been."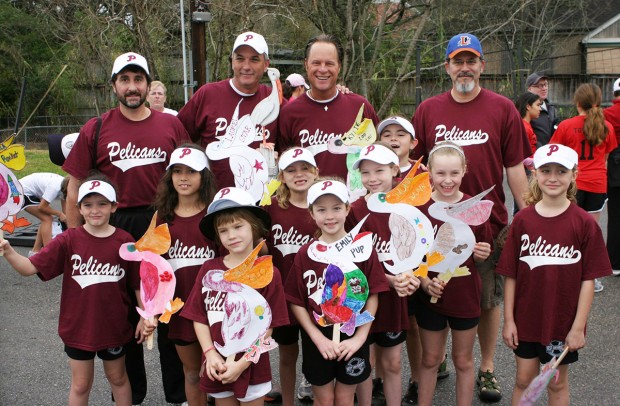 Players that saw college action this spring were: Jolie Duong, Army West Point Black Knights (Bellaire, 2018); Julia Waller, U. Chicago Maroons (St. John's, 2018); Megan Dickson, Colorado School of Mines Orediggers (Lamar, 2017); Anna Brooks Pacha, Georgetown Hoyas (St. John's, 2016); Emily Fraser, Hamilton Continentals (Episcopal, 2016); Sarah Hudler, Harding Bisons (Seven Lakes, 2018); Isabella Haugh, Harvard Crimson (Episcopal, 2016); Sarah Venker, Houston Baptist Huskies (Episcopal, 2018); Brianna Leon, UH Victoria Jaguars (Energy Institute, 2018); Maddie Heno, Jefferson Rams (St. Agnes, 2016); Emily Bergin, Macalester Scots (St. Thomas' Episcopal, 2018); Danie Garrison, Missouri Tigers (Ridgepoint, 2018); Mary Tindall, NYU Violets (Lamar, 2016); Quinn Biggio, Notre Dame Fighting Irish (St. Agnes, 2018); Bailey Zornes, Oklahoma Wesleyan Eagles (Prosper, 2018); Laurel McKelvey, U. Penn Quakers (St. John's, 2018); Taylor Le, Southern Wesleyan Warriors (St. Agnes, 2018); Christian Cain, Tufts Jumbos (Episcopal, 2015); Alexis Aboulafia, Tufts Jumbos (Episcopal, 2018). 
 
Courtney Taylor (Lamar, 2016), is also part of this special group, but was unable to play this year after suffering a career-ending injury in 2018. She played for the Kansas Jayhawks her freshman and sophomore years of college.
 
A few more WUSA alumnae joining the college list are this year's 2019 grads: Laura Hernandez, San Jacinto College Gators (Ridgepoint) and Amber Hatfield, Concordia College Corncobs (Episcopal). 
WUSA offers recreational teams for girls ages 5-15 and competitive tournament teams ages 7-16. See Wusa.org for more information about the program. 
Editor's Note: A photo of Emily Bergin taken by her father Patrick won first place in the Sports and Action category of The Buzz Magazines' 2019 Photo Contest. See this photo and all winners here.  
People in this article:
Brooke Mansour
,
Nina Ozuna
,
Addison Conner
,
Catherine Hricik
,
Faith Puzon
,
Katelyn McCollum
,
Bella Stewart
,
Elena Sepesi
,
Kyra Nguyen
,
Claire Johnson
,
Maggie Johnston
,
Lulu Flores
,
Yutia Li
,
Hailey Lane
,
Michelle Gaw
,
Anita Thrash
,
Sydney Monkmeyer
,
Payton Fishman
,
Lily Hughes
,
Riley Most
,
Meg Dellinger
,
Sophia Broyles
,
Ellen Buja
,
Avery Marx
,
Reagan Hayden
,
Creag Childress
,
Sonny Ahrens
,
David Allums
,
Carlin Allums Morstead
,
Julia Morstead
,
Betty Hord
,
Ann Wallin
,
Kacy Allums Pierce
,
Jayne Allums
,
Julia Waller
,
Cameron McKelvey
,
Laurel McKelvey
,
Emily Bergin
,
Alexis Aboulafia
,
Kenny Mercado
,
George Polydoros
,
Greg Waller
,
Dale Waller
,
Jolie Duong
,
Megan Dickson
,
Anna Brooks Pacha
,
Emily Fraser
,
Caroline Pacha
,
Daryn Grahms
,
Peggy Polydoros
,
Sophie Clayton
,
Sarah Hudler
,
Isabella Haugh
,
Sarah Venker
,
Brianna Leon
,
Maddie Heno
,
Danie Garrison
,
Mary Tindall
,
Quinn Biggio
,
Bailey Zornes
,
Taylor Le
,
Christian Cain
,
Courtney Taylor
,
Laura Hernandez
,
Amber Hatfield
,
Natalie Stone
,
Corinne Mercado
,
Jon Clayton
,
Julia Michalec
,
Divya Jain
,
Kate Williford
,
Lily Cone
,
Olivia Jones
,
Aneesa Ali
,
Caroline Cozart
,
Paige Berry
,
Megan Jennings
,
Molly Lipp
,
Molly Austin
,
Vivian Koenig
,
Ellis Anne Lowther
,
Elena Chapman-Ramirez
Want more buzz like this? Sign up for our Morning Buzz emails.
To leave a comment, please log in or create an account with The Buzz Magazines, Disqus, Facebook, Twitter or Google+. Or you may post as a guest.