An Interview with Mary Laura Philpott: Author Extraordinaire
Click the Buzz Me button to receive email notifications when this writer publishes a new article or a new article in this column is published.
As a bookseller and book reviewer, I receive countless advance review copies and galleys of books to read and review. The challenge for me is twofold: first, to read as many of them as I can get to for work and publisher commitments and second, to try and read those books that I believe will resonate with me the most. I am firmly in the "judge a book by its cover" camp and frequently find that I end up loving the books that I pick that way when I have no other knowledge of the author.
I Miss You When I Blink: Essays is a book that I picked up because I loved the cover. I read the review copy's summary, which described it as a memoir in essay format about reinventing yourself when life is not going as you planned and decided I would try the first essay to see what I thought. Several hours later, I had finished the entire collection having shed numerous tears and laughed out loud countless times. I immediately contacted the author, Mary Laura Philpott, to see if she would come to Houston for a Conversations from a Page event. Eventually a September date was set pairing her with Katherine Center. Needless to say, I was thrilled because I absolutely loved her book.
We had a record turnout for the Sept. 19 event, and Mary Laura experienced firsthand crazy Houston weather when we ended up stuck at the event for three and a half hours after it ended because the streets had flooded. While her initial flight was cancelled, she thankfully found another leaving Hobby Airport on one of the few flights out that night and made it home. 
While Mary Laura was here, I interviewed her about I Miss You When I Blink: Essays and other authorly things. I hope you enjoy reading her answers as much as I enjoyed interviewing her; she is every bit as delightful as she appears to be in her book.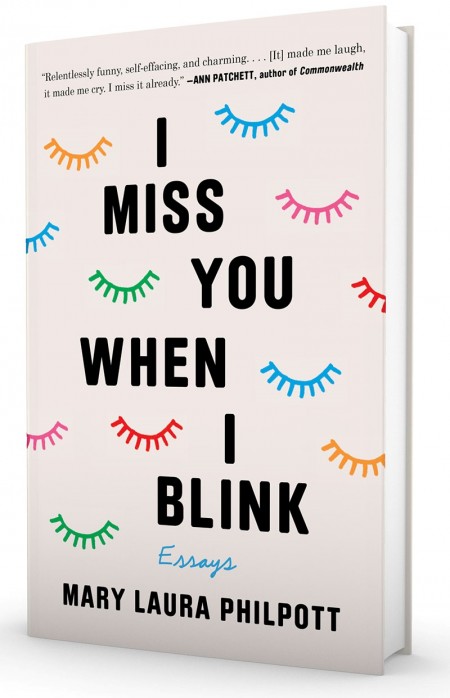 How did you come up with the title?
Ah, that's the story I tell in the very first essay of I Miss You When I Blink! I won't totally spoil it, but I'll tell you I wasn't the one who coined the phrase. It came from the mouth of someone I love, and with the exception of maybe one day when I entertained other title ideas, it has always been the title of this book. I had the title before I had anything else, in fact. 
Did you have any say in what the cover looks like?
From what I hear, this varies somewhat from publisher to publisher. In my case, my wonderful editor sent an email shortly after she acquired the manuscript and asked, "Any input you want to offer before we start the cover concept?" In retrospect, I wonder if maybe that was just a polite question and authors aren't really supposed to answer with a nine-slide PowerPoint presentation like I did. But I'd been working in a bookstore for years — of course I had thoughts on covers! I sent back pictures of covers I loved, covers I hated, fonts I did and didn't like, colors and motifs… it was very specific. I even sketched a concept to illustrate one of my points, and in the end, the cover that the Simon & Schuster art folks came up with is a more professional rendering of that scribbled concept. I love it. 
What is the most difficult part about writing for you?
The step between having a wonderful, brilliant, expansive idea (because the idea is always wonderful, brilliant, and expansive while it's still in my head) and trying to express that idea in words on paper. Once I have a workable draft, I enjoy editing. But there's always a moment early in the drafting process where it seems impossible and I think, "Oh no, I ruined the idea."
Can you share something with me about your book that's not in the blurb description?
It contains a dinner-party-gone-wrong scene that has become known as "the chicken salad incident." (That's what NPR's Audie Cornish called it during our interview on All Things Considered.) Readers have been sending me emails about their own "chicken salad incidents" — and pictures of chicken salad, which cracks me up.
What do you hope your readers take away from I Miss You When I Blink?
What I hope more than anything is that friends will share this book with each other. I wrote about some things I wished people talked about more — particularly how lonely it is to feel like you're the only one who's not happy with the life everyone around you seems happy with. I hope it will help people feel less alone when they get that "What the heck am I doing with my life?" feeling. And I hope they laugh some.
What were the key challenges you faced when writing this book?
I Miss You When I Blink is partly about living with perfectionism, and the funny thing is that perfectionism nearly derailed the creation of the book. If you only like to do things at which you can succeed, the fear of not succeeding can stop you before you even start. When I thought of this project as "writing a book," it overwhelmed me. So I told myself I was just writing one essay. And then one more essay. Just one at a time, no big deal. After a couple of years, I had a memoir's worth of little stories that added up to a bigger story.
What was the highlight of writing this book?
I'll never forget the day I spread all the pages out on my living room floor, cut them up with scissors, and rearranged them like puzzle pieces for hours. When I finally got the essay chapters into the right order, I could practically hear them click into place.
What do you like to do when you are not writing or reading?
I'm in a phase of life where my little kids have grown up into big kids. While there was once a period when all I craved was time away from home, now I'm away from home all the time and I find I want to get back and be with them as much as possible. All of a sudden, it's hitting me that our days together in one household are numbered. Slow down, time!
If you could describe yourself in three words what would they be?
Pep talk giver.
For more book recommendations and bookish thoughts, see @ThoughtsFromaPage on Instagram or Cindy's Reading Recs. 
Want more buzz like this? Sign up for our Morning Buzz emails.
To leave a comment, please log in or create an account with The Buzz Magazines, Disqus, Facebook, Twitter or Google+. Or you may post as a guest.