Living near family
Click the Buzz Me button to receive email notifications when this writer publishes a new article or a new article in this column is published.
Buzz Baby is a column about life with little ones. Writer Annie McQueen has three children age 5 and under.
People say it takes a village to raise a child. Meet the Jackson village – where 18 immediate family members live within several blocks of each other (some on the same block) in West University Place.
The crew includes four grown siblings, four spouses and eight cousins, ranging in age from 1 to 17, and one set of grandparents.
The oldest of the four grown siblings, Marina Christensen, along with her three younger brothers – Alex, Scott and George – are tackling the ups and downs of parenting alongside each other.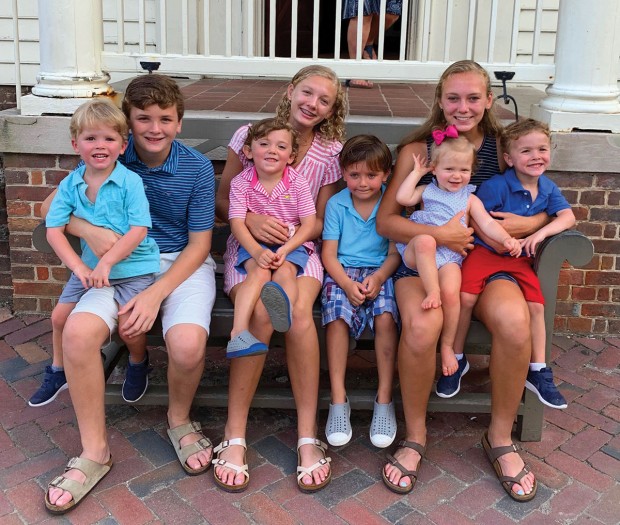 For the three Jackson brothers, "alongside" means literally – all three live on the same block of Tangley.  Marina and her family are close by on Vanderbilt. Their parents, Gil and Katina Jackson, live in the siblings' childhood home over on Nottingham. 
Living close to each other was not a strategic plan from the start. Marina, her husband Alan and kids Katina, 17, Alexa, 14, and Andrew, 10, moved to West U first years ago, followed by all three brothers moving within several years of each other – mere houses away.
The first to arrive on Tangley Street were George and his wife Kristen about two years ago, followed by Alex and his wife Ginny about one year ago, and finally, Scott and Emily this past year. 
Alex and Ginny have two sons, Hughes, 6, and Brooks, 4; Scott and Emily have 3-year-old twin boys, Ford and Davis, and George and Kristen have a 16-month-old daughter, Leighton.
Evenings on Tangley Street often are spent with Jackson cousins in bare feet in the grass in their front yards. The younger cousins blow bubbles together and push along scooters, while the older cousins hit golf balls and baseballs. Even their dogs, Archie, Ginger and Dolly, play together. Sometimes the older cousins from Vanderbilt Street come over to babysit and play, too.
All six of the Jackson parents living on Tangley have full-time jobs, on top of the demands of parenting, so they often lean on each other. 
Already, living nearby has come in handy, when a nanny was sick, sports schedules were complicated, and anniversary and birthday celebrations needed celebrating. "If we get in a pinch, we can always count on my family for help," said George. "It's also great being close so the cousins and adults can play."
George said his childhood memories are coming full circle, with Leighton and her cousins. "I grew up riding my bike over the Tangley bridge, and now Leighton is making the same memories riding her wagon over the same bridge while her cousins tag along on their bikes," he said.   
Kristen, a speech therapy manager, says, "Instead of late-night runs to Walgreens, we just walk across the street to get cough medicine. Missing ingredients for a recipe? Just go across the street instead of to the store. Need a yard tool? Go across the street."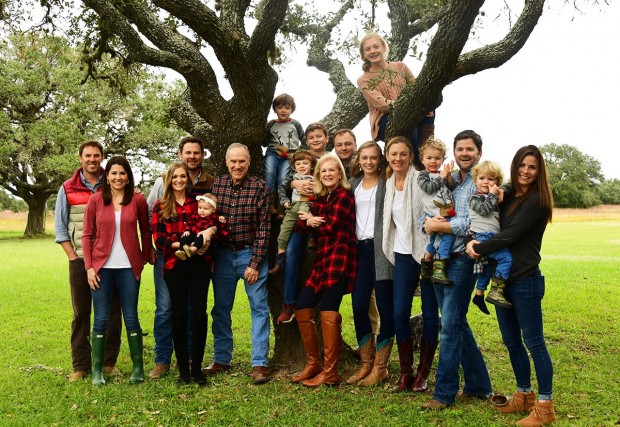 For the Jacksons, it is more than just childcare and playtime and medicine; it's emotional support during some of life's busiest years. "It is support from our family through life's ups and downs," said George. 
Ford and Davis sprint across the yards after school, thriving in a world surrounded by their cousins and extended family. They call their cousins their "best friends." 
"It's an incredible blessing that we have siblings and the cousins have each other just seconds away to lean on and to spend so much time together," said Emily. Emily also grew up nearby, playing sports in West University, so life is coming back full circle for her, too (her parents are not far – they're over in Bellaire).
"We all have demanding jobs that force us to rely on help and each other from time to time," said Emily, a banker. "Or when any of us just need a minute to ourselves, the cousins are right there to give us that time to tend to our personal needs." 
It's a constant give and take of extra hands, support and guidance through the years of raising children – in the family village. 
Want more buzz like this? Sign up for our Morning Buzz emails.
To leave a comment, please log in or create an account with The Buzz Magazines, Disqus, Facebook, Twitter or Google+. Or you may post as a guest.