Twenty-five Years Later, 'Friends' Still Draws Fans
Click the Buzz Me button to receive email notifications when this writer publishes a new article or a new article in this column is published.
Over the past decade, the number of television shows has soared, giving viewers a seemingly unlimited list of titles to scroll through on Netflix, Hulu, Prime Video and other streaming services. Yet even in this era of so-called "Peak TV," some superfans can't get enough of Friends, the iconic TV sitcom that, in September, celebrated 25 years since its inception.  
Episcopal High School junior Marisa Angulo – who is nine years younger than the Friends TV series itself – started watching the show religiously when she was in sixth grade. At this point, she's seen every episode at least five or six times. 
"I've always kind of watched it," says Marisa, who has a poster of the six Friends stars hanging in her closet. "I remember we'd be staying at a hotel, and we'd turn on Nickelodeon and fall asleep, and then you'd wake up at 3 a.m., and Friends would be on. It's one of those shows that's always on."
Friends ran from Sept. 22, 1994 through May 6, 2004, spanning 10 seasons and 236 episodes. The show follows six friends – Monica, Rachel, Phoebe, Ross, Joey and Chandler – as they navigate their careers and relationships during their 20s and 30s while living in Manhattan. 
When Marisa discovered the show on Netflix, she binge-watched the whole thing. Then, she did that all over again, says her mom Gina Angulo with a laugh. Marisa says she loves Season 5, and her favorite episode is "the one where Emily calls Ross, and Ross spazzes out and just grabs this lampshade and hands it to Chandler." I personally could not recall this episode, but a quick Google search reveals it was Season 5, Episode 4. Many seem to love that clip where Ross hands Chandler the lampshade. You can watch the clip here. 
Marisa's mom Gina is a Friends fan herself, but, having watched each episode only twice or so compared to her daughter's five to six, she says she's nowhere near Marisa's level of Friends loyalty. Still, when Gina is scrolling through the TV guide trying to find something to watch, she does often land on Friends, if only because the characters are so relatable. 
"It's the relationships they have," she says. "You can almost see yourself having those conversations. Or you know someone who acts like Joey, or you know someone who's as smart and as idiotic as Ross." Gina's favorite episode is "the one where Ross has that crazy Unagi thing," which is Season 6, episode 17. "Ross kept jumping out at Pheobe and Rachel to scare them, but when he does it to his sister, she doesn't flinch," says Gina. "That's so my brothers and I." 
Paige Albert, a second-year law student at South Texas College of Law, says part of her draw to the show was that she always saw herself as a blend between Monica Geller – the type-A neat freak who leads the pack - and Rachel Green – the funny, daring fashionista.  
Even as technology and culture have developed over the past 25 years, fans still find the plotlines of Friends relatable. And in some ways, the show brings a sense of nostalgia to a less complicated era where the distractions of social media and iPhones are nonexistent.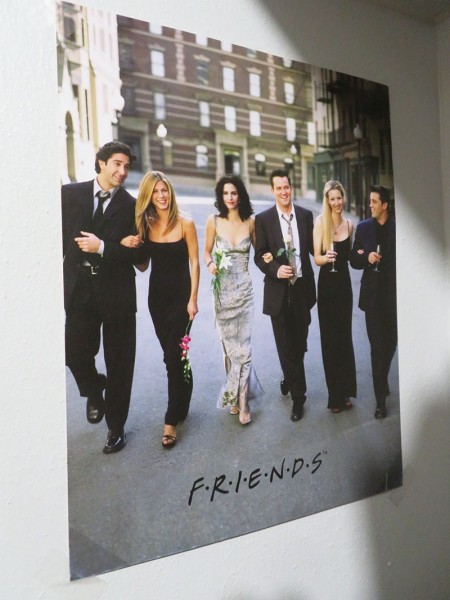 "It's fun to watch a time before technology where the characters sit around playing cards and games instead of texting," says Meredith R., 25. "And there is no mention of Instagram."
Meredith started watching the show the summer before her senior year of high school at St. John's School because her summer camp was planning a Friends-themed skit. As Meredith went on to college at Washington University in St. Louis and now medical school at UT Southwestern, she's continued turning to the show for entertainment or stress relief. She's now seen each episode five or six times. 
"It's something I watch when I'm stressed, like when I was studying for my Step exam," says Meredith.  Meredith says her favorite episode is "The One With The Routine," where Monica and Ross resurrect a high-school dance routine while on the set of Dick Clark's New Year's Rockin' Eve. "Can't beat Ross and Monica and their dorky dance moves," Meredith says.  
While Meredith, Paige and Marisa are all younger than Friends, Frances Rubin is an original "Friends" fan, having watched the show since it first debuted. "I've been watching from the beginning," Frances says proudly.
Frances has always loved Phoebe Buffay, the off-the-wall masseuse/self-taught musician portrayed by Lisa Kudrow. "She's just so out there, and her way of looking at things is just hysterical," she says. 
Although Frances has seen every episode twice and some three, four or five times – like the one where Rachel starts flirting with one of her customers at Ralph Lauren – she still tunes into the show every now and then. 
"It's so well done and so comfortable," she says. "It's like putting on an old shirt. It's easy to go back and watch the show and feel good about that time."
Want more buzz like this? Sign up for our Morning Buzz emails.
To leave a comment, please log in or create an account with The Buzz Magazines, Disqus, Facebook, Twitter or Google+. Or you may post as a guest.