Bellaire to Welcome Bagel Shop in 2020
Click the Buzz Me button to receive email notifications when this writer publishes a new article or a new article in this column is published.
As far back as Lauren Straus Sorkin can remember, New York Deli & Coffee Shop has been her go-to breakfast and lunch spot, no matter where she lived. 
The Meyerland delicatessen and adjoining bagel bakery has been around for nearly 45 years, and Lauren, 41, indicates she'd be willing to make a trek for those bagels – and the nostalgia she feels when she walks through its doors. "We grew up in Fondren Southwest, then we moved to Memorial and we still went over there," says Lauren, who now lives in Bellaire with her husband and three kids.  
But come fall 2020, Lauren won't have to drive very far for her kids' favorite cheesy eggs and home fries, as both New York Deli & Coffee Shop and The Bagel Shop Bakery are set to open a second location at the corner of Bellaire Boulevard and Chimney Rock in the third quarter of 2020. 
The new location at 5422 Bellaire Blvd. will offer the same laid-back atmosphere and nostalgic menu as the original spot on Hillcroft St. But the larger, 12,000-square-foot space will feature some additions, such as a drive-through window for coffee and bagels, plus a private party room, outdoor seating and a special kid-friendly section. 
"An issue that comes up at the current location is, when you have kids and you have to wait in line, the kids are crying and get antsy," said Michael Saghian, who joined the team as a co-owner eight months ago. "With the new location, there will be a lot more space. We'll be able to seat people faster, and we'll have a kid-friendly area, whether that's a play area or something else to entertain them." 
New York Deli & Coffee Shop prides itself on being a community outpost that attracts a diverse clientele, from 2-year-old first-timers to 90-year-olds who grew up eating the bagels and chatting with co-founder Ed Gavriles, who remains a co-owner. 
When you enter the deli, you'll likely be greeted by Ed himself, an endearing man who knows more about the history of bagels than you know about pretty much anything in life. He asks your name – and then remembers it the next time you come in. 
"It's so nice to walk into a place where you know the owner, and they hug you, and they treat everyone that way," says Sara Speer Selber, a long-time customer who grew up in Meyerland. 
Beyond the friendly atmosphere, it's the quality of the bagels that keep people coming back. At 3 a.m. every morning, the bakers are already at it in the back of the bagel shop. Four hundred pounds of flour – the premium kind – are dumped into a steel mixer and combined with water, salt, brown sugar, yeast "and certain other ingredients" Ed refuses to divulge.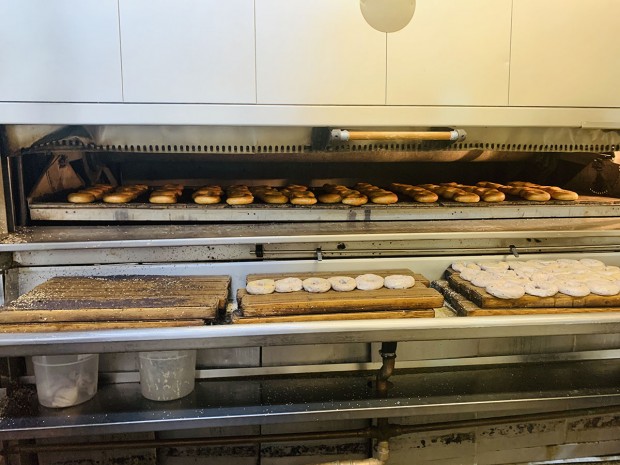 "They don't even make mixers like this anymore," Ed says while showing off the machinery. 
After the dough is created, the process continues with the bagel former that shapes the dough. The bagels are then put into a refrigerated room for a process called "retarding" – the cooler temperature slows down the activity of the yeast and adds flavor. 
Critically, the bagels are then boiled, a step that's often skipped, I learned, but is key for forming that signature chewy crust and denser interior of quality New York bagels. 
"Why I think we've been here for 45 years is that we use the right ingredients and we still have the process," says Ed. "We could save a lot of money if we bought flour that didn't have the right protein count. But we make the real deal and people recognize that. You can't fool the public."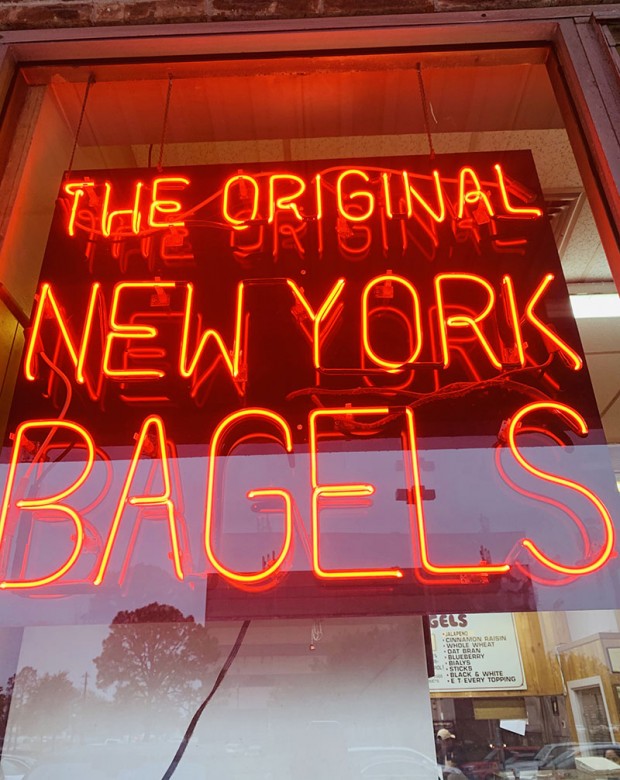 The new location will, of course, have the signature bagels and shmear on its menu. But it'll also offer a dinner service – the original is only open for breakfast and lunch – and will offer an expanded menu that even dabbles in seafood. 
The company's catering business, Houston Catering Concepts, will also open a kitchen inside of the new space. That is set to open during the spring of 2020, while the restaurant, bakery and party room are scheduled to open in fall 2020. 
The original outpost is located at 9720 Hillcroft Street and is open daily for breakfast and lunch. Hours are Mondays, 6 a.m.-3 p.m., Tuesday-Friday, 6 a.m.-5 p.m. and Saturdays and Sundays, 6 a.m.-4 p.m. 
Want more buzz like this? Sign up for our Morning Buzz emails.
To leave a comment, please log in or create an account with The Buzz Magazines, Disqus, Facebook, Twitter or Google+. Or you may post as a guest.