The Passionate Pianist
From childhood dreams to virtuoso performer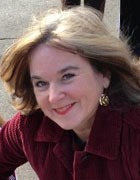 Click the Buzz Me button to receive email notifications when this writer publishes a new article or a new article in this column is published.
It's a bright, sunny day, not a cloud in sight. But inside Gayle Martin's small Bellaire home, a storm brews upon a Steinway's keys, plumbing the depths and fury of master composer Ludwig van Beethoven's wildly foreboding Appassionata Sonata. Gayle's long, pale fingers flitter through eerily beautiful passages. Notes boom like thunderheads over mountains.
And through it all, her dog Eddie, a cute scruffy mix, lies beside the grand piano, his pug-like tail occasionally thumping as if keeping beat. Lucky dog. He gets front row seats to all of his owner's practices as well as living room performances attended by family and friends. "He barks when they applaud," says the concert pianist. "Such a joyful little dog."
Yes, Gayle mesmerizes audiences. But they're usually of the human kind. Over the decades, she's filled venues throughout the world with her passionate, artful, yet technically precise playing. The virtuoso performer becomes totally immersed in the music, as if every note is stored somewhere within her soul.
"The musical connection to people is what matters," says the 67 year old, classically trained at The Juilliard School in New York. "I've always felt the emotion in the music, even as a child."
She need look no further than her living room window to bring back memories of her earliest piano days. Her childhood home, a 1930s saltbox, used to sit across the street. Her parents, by intention, didn't own a television set. So Gayle and sister Mayola were avid readers. And the family had inherited a small Betsy Ross spinet piano. 
Gayle recalls sitting under the piano, at her mother's feet, delighted at the booming vibrations.
At age 6, a babysitter taught her a couple of tunes. When her parents arrived home, she proudly played what she'd learned. And, oh my, her folks thought, who were they to deny promising talent? They immediately solicited Bellaire piano teacher Charlotte Hillbolt for lessons.  
The love affair between student and piano began.
"I threw myself into it," says Gayle, who, at age 8, performed her first solo recital at the University of Houston. She took to the stage at Dudley Recital Hall in a long, yellow dress, performing Chopin, Beethoven and a self-composed sonatina. Houston legend Ruth Burr, a renowned pianist and teacher, took note from the audience.
"She wanted to take me to the next level. I became Ruth Burr's student at age 9," says Gayle, who performed yearly class recitals at the University of St. Thomas. "I remember playing a Josef Haydn sonata, and it was so beautiful and sad that I got worked up, almost to crying. Miss Burr encouraged that. It's like the quote, 'Music is the language of emotion.' I feel that's true, and so did she."
Gayle relished Burr's tutelage, visiting her Museum District home for lessons on her Steinway. "It was like a cultural experience for me," she says of her worldly, European-trained teacher. At age 11, Burr prepped Gayle for a competition. The prize? Playing with the Houston Symphony. "I won. I played the Beethoven 1st Piano Concerto with the Houston Symphony," Gayle recalls. "Of course I was a bit nervous, but nervousness turned to excitement."
Excitement took hold, too, when she returned to Dudley Recital Hall in 1970 as a Bellaire High School graduate, wooing the audience and reviewers alike with her solo performance. In a long, flowing green silk gown, she took to the keys with gusto, testament to years of practice under Burr and a desire to become a concert pianist. 
Next stop, The Juilliard School.
"I was naïve back then. I didn't have any idea that it was difficult to get into Juilliard," explains Gayle. "It's like there might be two positions open, but tons of people trying to get in. I didn't think about that at all. I just assumed that's where I'd go."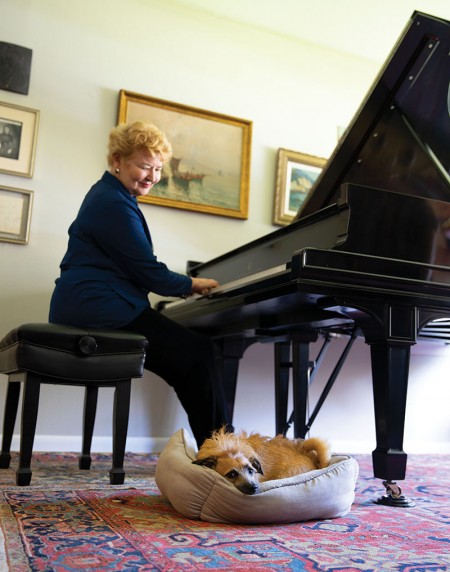 She was accepted, with scholarship, studying under Russian-born Madame Rosina Lhévinne, one of the greatest pianists of the 20th century. "I was like a big fish in a little pond in Houston. But when you go to Juilliard, everyone is a big fish in a little pond," Gayle quips. "I was so happy and so impressed with how talented everyone was the first day of school. The second day it was like, 'Oh my gosh, we are all competitors!'"
But she had the chops. 
The undergrad won a Tchaikovsky concerto competition during her sophomore year, edging out an all-male field of graduate students. As a result, she got to play with the revered Juilliard School orchestra. Through student and teacher connections, she began touring overseas during summers and breaks. Puerto Rico. The Dominican Republic. Argentina. Upon graduation, she was awarded a prestigious scholarship toward master studies.
"But it wasn't something I wanted to do then," Gayle explains. "I was ready for another kind of adventure."
Vienna beckoned. She packed her bags. She embraced the Austrian capital for its culture and music. But the piano teacher she studied with there unexpectedly died of a heart attack. 
Within a year, Gayle returned to the states, choosing New York University (NYU) to pursue her master's. "I was ready. And again, I studied under a magnificent teacher."
That teacher was Eugene List. The famed piano player performed for U.S. President Harry S. Truman, the United Kingdom's Prime Minister Winston Churchill and Soviet dictator Joseph Stalin at the Potsdam Conference, a meeting held to settle postwar issues. List went on to perform at the White House during several subsequent administrations. And one day in 1980, Gayle performed there, too, as part of List's entourage at a White House tea during President Jimmy Carter's tenure. 
"My master's years were very busy," says Gayle, who, herself, taught piano lessons while a student. She also played chamber music with some New York musicians and performed at Lincoln Center's Alice Tully Hall. And, at age 26, she was the only American among 12 pianists in the final rounds of the five-week Tchaikovsky musical competition in Moscow.
"I poured every bit of myself into that," says Gayle, who became a media darling in Moscow, her image gracing international news.
"I was given the princess treatment, and I discovered I didn't care for that," she adds. "And The Today Show and Good Morning America called. I didn't know who they were. We didn't own a TV growing up and had never paid attention to TV."
While she didn't win the competition, she figures she still got the grand prize upon return to New York: husband Jack Henry, a handsome securities analyst she met through friends. They've since divorced, but remain close. "You know, relationships can change. It's sometimes the evolution of life."
Life brought a few curve balls. Intense preparation for Moscow left Gayle with an injured right forearm. She had to relearn her technique, which took time. "I had to go back to a beginner's mind and give up everything I thought I knew, kind of like a pitcher who has to make mechanical adjustments. I found a great teacher to help me work on this, and I haven't had a problem since. But in doing so, I somehow divorced myself from the emotion of the music. What, then, was the point?"
So, like a long, restful pause in a soul-stirring concerto, Gayle took measure. Then a break. For 10 years.
"From 1985 to 1995 I worked at Estée Lauder in New York as an executive assistant," she explains. Friends lured her out of retirement a few times "to play concerts here and there."
But she jokes that it took God knocking her on the head to really get her back to piano.
While doing a dive-roll in a lunchtime gymnastics class with her Estée Lauder friends, she fell on her head. "I couldn't feel my body from my neck down for a minute or so," she recalls. "I felt my life flash in front of me, and I thought, 'It'll be okay. I can always put a paintbrush in my mouth and be a mouth artist.' That's literally what went through my mind."
Her body tingled back, but her arms were slow to do so. She'd suffered a spinal injury that took time to heal. "I felt like my hands were on fire for about three days afterward." After a week, she drew a picture, proving fine motor control.
Close call. She wasn't going to take her hands for granted, waste her talent. Fingers now yearned for the keyboard.
Before long, she was playing a short Tchaikovsky piece for a friend's gymnastics floor routine. Concerts slowly followed, including a tour in mainland China. Gayle was back. Music to the ears of followers, friends and family. 
These days, she practices daily on her refurbished 7-foot, 5-inch shiny black 1894 Steinway grand and plays venues all across the country, mostly on the east coast, some local. She's put out a CD titled To Keep the Dark Away. And she coaches a slate of ambitious students, many she's taught since NYU days, who look to her as that masterful teacher.
"Gayle is just magnificent, not just her playing, but her as a person. She's one of the most generous, deep-thinking people I know," says her next-door neighbor and friend, attorney Lynne Gomez. Gomez has attended numerous concerts through the years as well as run-through practices at Gayle's house. 
"And her dog, Eddie, is always there, really paying attention. I have an English Pointer, and when we walk past her house and she's playing, my dog gets to listen, too," Gomez adds with a chuckle. 
Connecting through the music is the goal, says Gayle, Eddie at her side, his tail wagging like a fluffy metronome. "And that makes me happy."
Editor's note: Gayle Martin performs at the Forum Music Teachers Association meeting April 1 at 10 a.m. at the Kawai Piano Gallery at 5800 Richmond Ave. The public is welcome. Her CD can be purchased on Amazon.
Want more buzz like this? Sign up for our Morning Buzz emails.
To leave a comment, please log in or create an account with The Buzz Magazines, Disqus, Facebook, Twitter or Google+. Or you may post as a guest.